Hi all I've put this thread together after reading all the other threads regarding nettle cordage as I now have more questions than answers and want to improve my technique.
I guess I'll start by telling you what I did so you can tell me if I went wrong any where and how to improve it and then I'll ask the questions I now have.
I went and got my self 3 or 4 nettles cutting them as close to the ground as I could about an inch above the ground. I then stripped off the leaves and with no wilting/drying time went on to the next step.
I stood on the stems to break up the inner part of the stem as per Toddy's suggestion in one of the other threads
I split the tube of the crushed stem down one side to create a flat strip suggested by Hoochi in a thread
I peeled of the outer layer I'll call it the bark and hung it up to dry in the greenhouse. It then looked like this

(sorry about the quality of the photo)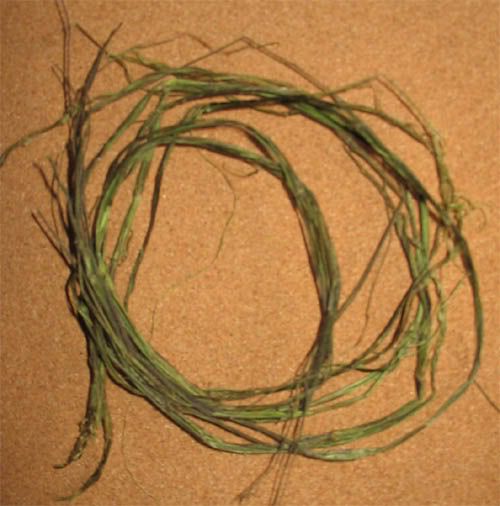 I separated the now dry bark into thin and as long as I could get strips about 2 to 3mm wide and rolled them into small twists about 1-1.5 mm in diameter so they looked like this.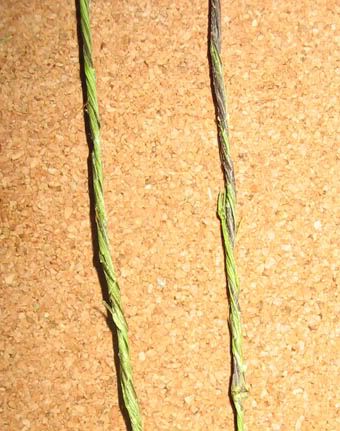 I took two of these lengths and bent them at about 2/3 one side and 1/3 the other (I think I explained that the best way) I don't know who suggested it but it was to stop the splices on each side of the twist being together and making a thick part to the cord when new lengths of fibre were added.
I then started to twist as in this diagram I think this is the method Hoochi described in another thread.
I spliced new lengths of small twists as the lengths were wound into the twist like in this diagram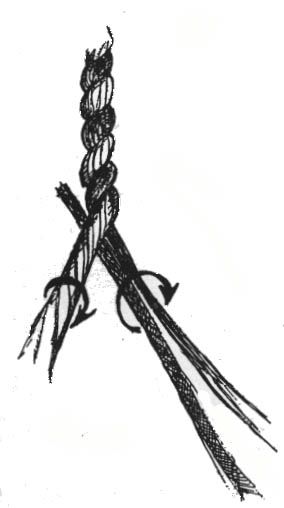 The resulting cord was about 3mm in diameter and just over a meter long, it looks like this. I don't think its

too bad for a first go at making cordage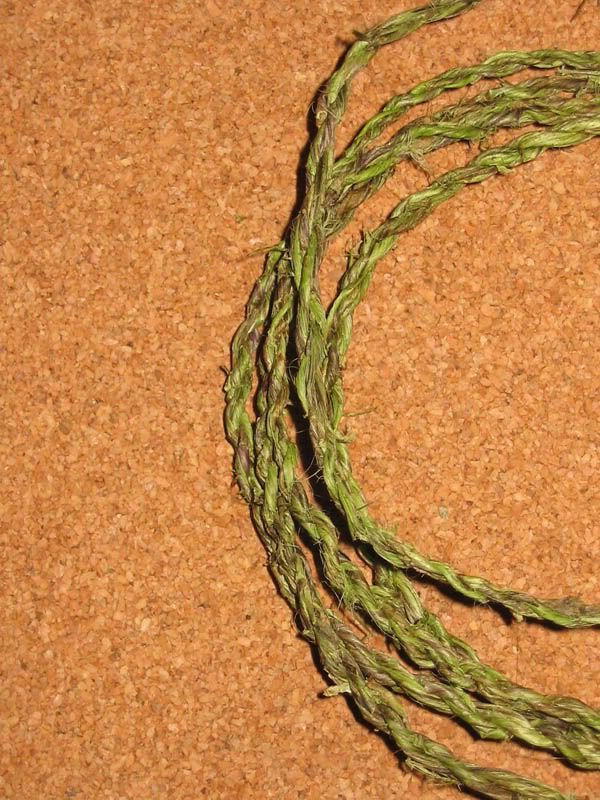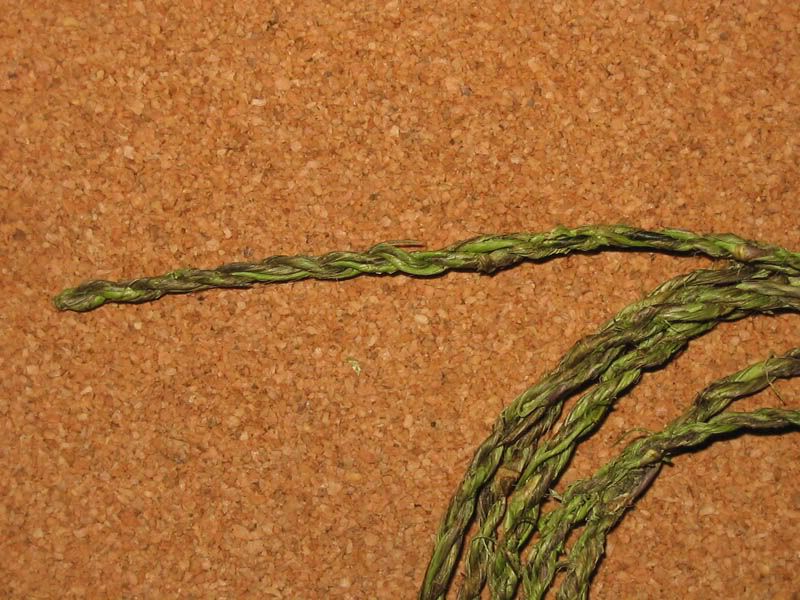 So now onto my questions:-
1.
As I was working the twist I noticed the very fine light green fibres had a coating that I could guess as the out side of the nettle so how do I remove this to refine my fibres and up the quality of my cordage?
2.
I think the answer to the first question is retting, I am currently retting some fibres one set in a bucket of tap water (I think this is called the water method), the other set on the lawn (I think this is called the dew method) how long should I do this for? What do I look for in the fibres to tell that they are clean/ready to use?
3.
Once the retting is done what do I do with the raw fibres to improve the quality of my cordage, how do I treat, clean, handle and store them?
4.
Do I leave the fibres straight or twist them before I start to twist them into cordage
5.
Can I colour my cordage? If so what do I use as dye stuff and what colours can I get?
6.
What are the different lays that I can use to make a nice thick piece of cord say for the top and bottom lines of a gill net or a nice fine piece to make into a lanyard?
7.
If I want to make a fishing kit with some cordage how thick should it be and how should I attach it to a hook? Also what design of woods built (by this I mean non metal) hook should I use, a black thorn or some sort of wood and bone combination maybe?
I'm looking forward to what you have to say and trying out all your hints and tips.
All the best