Having been fortunate enough to upgrade to a DD 4 x 4m tarp and A frame mesh inner I've been giving some thought to how ro hold the ridgeline they will be fixed to. Finding two trees with the right distance between and orientated the way I want to keep the rain off, wind out or view I wanted etc can be a pain so I thought, use a tree and guy out a staff to hold the other end of the ridgeline.
Using the mesh A frame bug net means that unless I want to change the length of the prussik loops I need the ridgeline to be a certain height above the ground each time. To this end I decided to mark the staff so I can easily set the line at the right height on the tree and on the staff. I carved a piece of dark coloured plum wood into a peg, drilled a couple of holes 3 mm deep and glued and hammered two sections in and when dry sanded them flush and reoiled the wood which brought the dark colour out.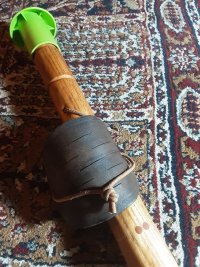 As it happens these are 126cm above the top of the thin part of the Alpine spike ferule. I can always adjust the line above or below this Mark, it just makes life a bit easier. It doesn't show up in the pic but I ran a very shallow notch around the stick with a thin Permagrit file to help hold the ridge as I'm setting up.
The knob on the end was a little large to take the tarp protecting mushroom so I carved that down and sanded it smooth to fit. For no good reason I then applied several coats of my home made polish so the top groove and knob are nice and slippery.
I've never liked how the wrist cord dug in so decided to add a leather cup which I dipped in beeswax , shaped and buffed the edges of. It will lighten up as the wax cures. The pattern of chisel cuts allows the leather to stretch and deform to shape around my surprisingly boney wrist. Incidentally the leather thong has a groove sanded into it do it will snap before my wrist does.
When I can I will add a leather thong wrap to the where my hand normally goes, another quarter inch of diameter will improve comfort for me and you never know when two of three foot of strong cordage will be useful.
ATB
Tom
Last edited: