Oct 7, 2006
22,435
1,976
64
I found a couple of knives in my local Junkshop and although they looked abused, pitted, covered in filth and rather rubbish in themselves, I thought I could see potential in them....
I should have taken some "before " photos but did not think of it...
Once I got the knives home I reshaped the blades tips, straightened out the edges, reground the edges, cleaned up the woodwork and set to sharpening them - resulting in razor edges!
I then gave them a bath in vinegar to "patinate" the blades and polished the woodwork. Unfortunately one had lost part of a rivet so I made a powdered metal and Superglue replacement...
The knives ain't pretty but look usable so I made a couple of sheaths for them - in a "Hi-riser" style but with a brass ring so a dropper can be fitted.
The photos do not do the knives or sheaths justice - all are bright shiny but the flash has given marks and white flecks that do not notice in real life!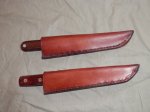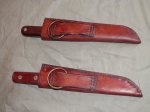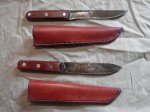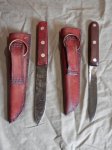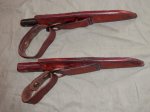 The Total cost?
Junkshop knives, off-cut leather and bits from the "bits box"
£5.00