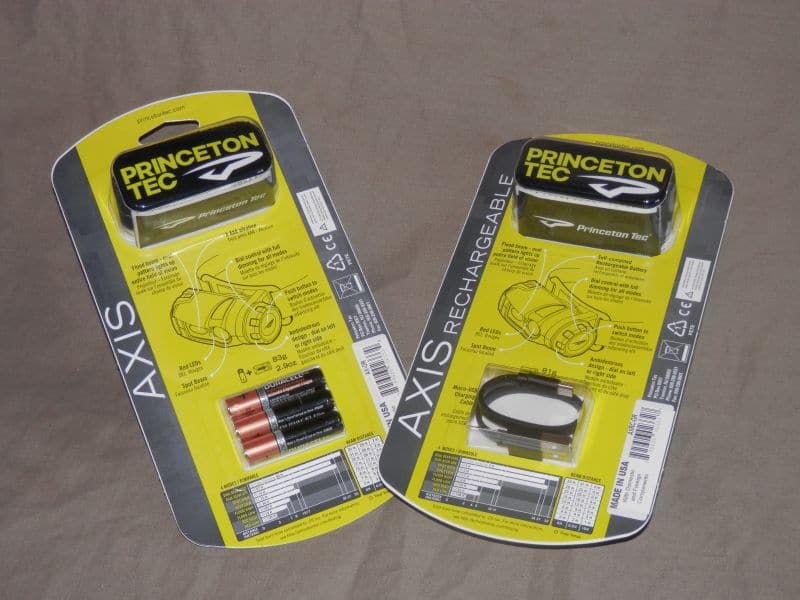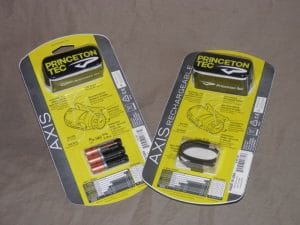 For a long time I have preferred a head torch to a hand-held torch in most circumstances – after all, it points where you are looking and leaves both hands free! One maker of head torches that I have found to be amongst the very best is "Princeton Tec" and over the years I have used many of the head torches they have produced. I was therefore very interested in trying out their latest models, the Axis and Axis Rechargeable.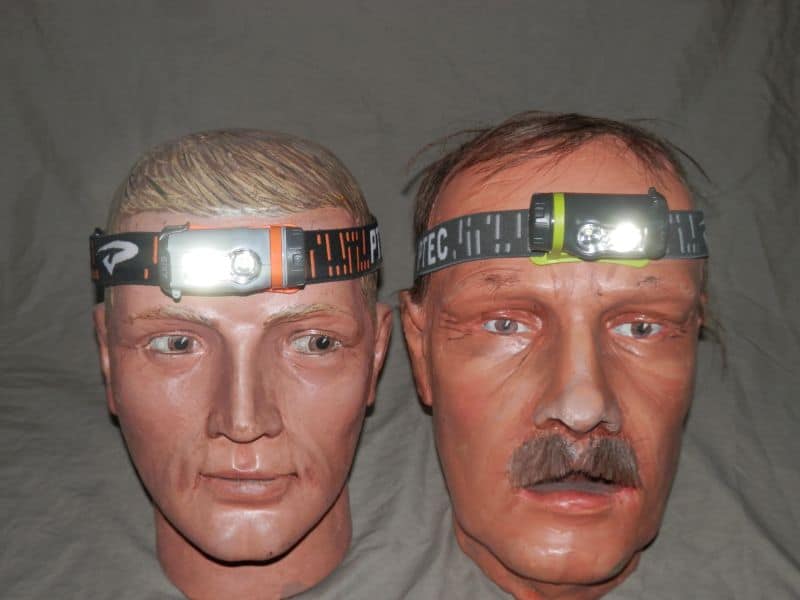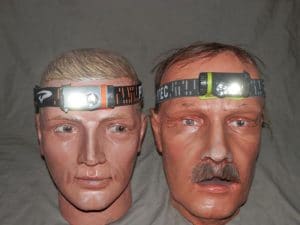 These two torches share the same basic configuration of an adjustable soft and comfortable elasticated headband onto which the base plate of the head torch is clipped. The base plate supports, via a single ended pivot (by which you can alter the angle of the light) the torch body. At one end of the torch body there is a clipped cover to the battery compartment. Open this on the lime green accented rechargeable model to expose the standard USB charging point, on the orange accented battery-powered model, to expose the battery compartment.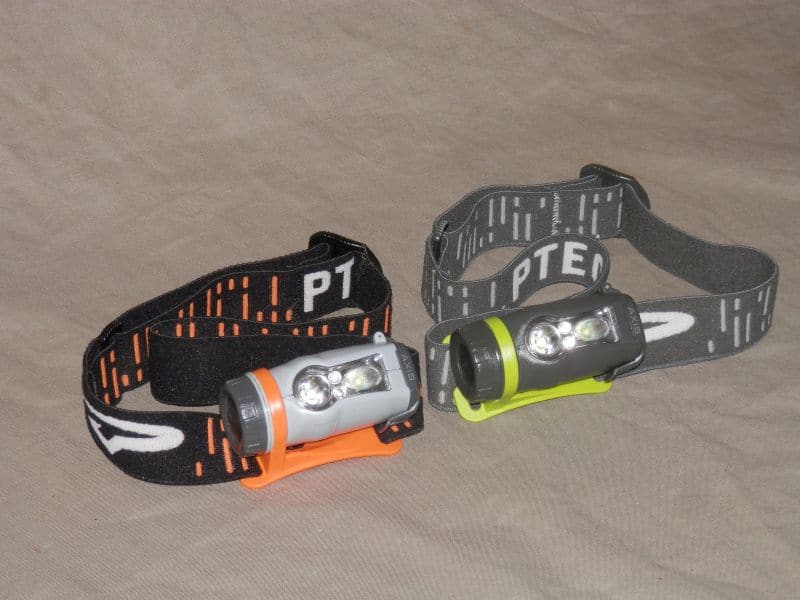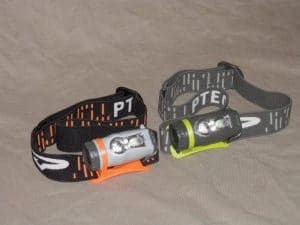 At the other end of the torch body you find the press button control. From the "off"
Press once to turn it on to give a low power red light
Press twice to switch to a medium power white spot light
Press and hold for a low powered white, diffused, flood light
Press once from "On" to switch the torch off
From "Off"
Press for a count of five and the beam is locked off
Press from locked for a count of 5 and the torch is unlocked.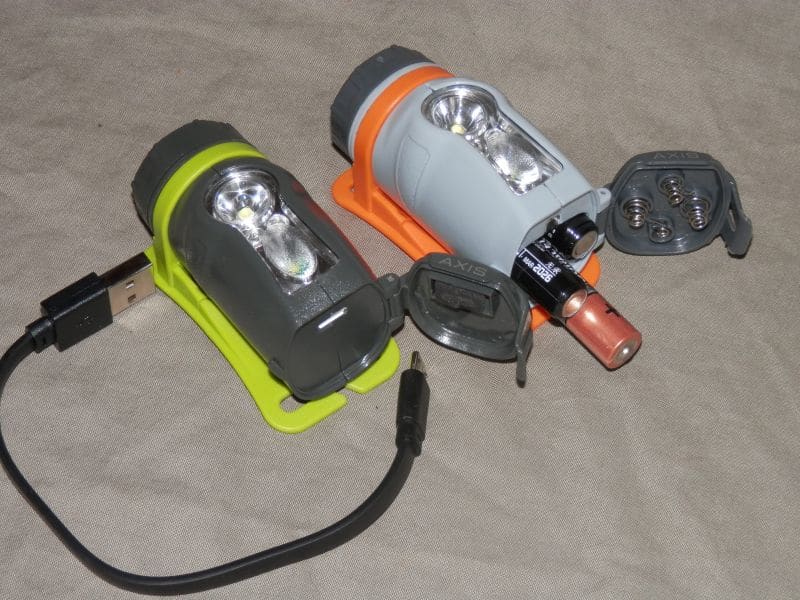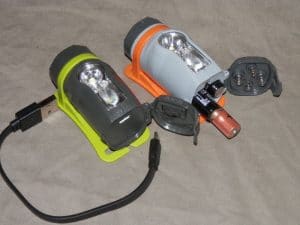 As you lock or unlock the torch, the two red LEDs flash to indicate the charge left in the batteries – once is about 25%, twice 50%, three times 75% and four flashes 100%.
When recharging the rechargeable model the red LEDs flash during charging and are both fully illuminated when the battery is charged.
Surrounding the press button is a rotating ring by which you can "dial up" or "dial down" the brightness in both red and spot mode, or dial up from flood mode to dual beam mode.
Unfortunately, these torches are not of "immersible" status but are very water resistant and have coped well with Welsh rain…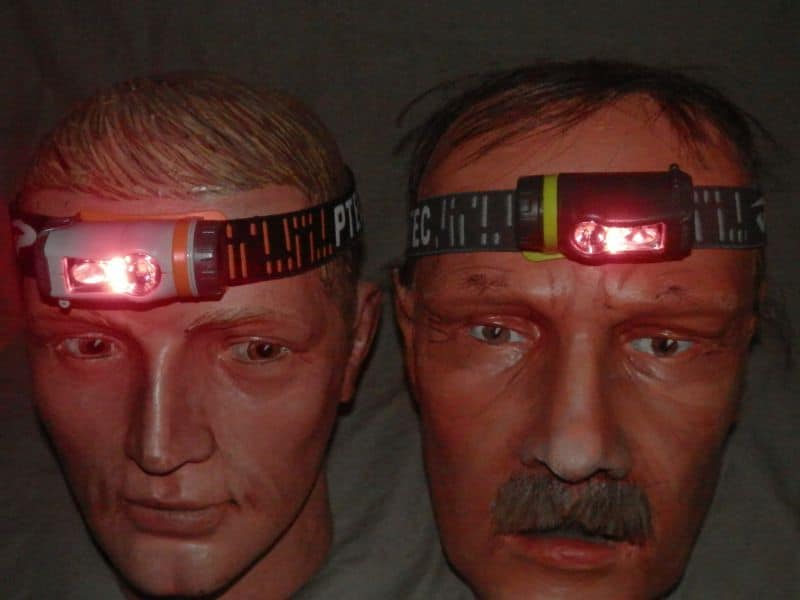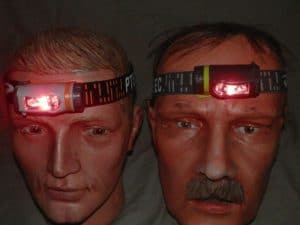 During testing, I have found the way the torches work very convenient. I particularly like the fact that they come on to "red", thus saving your night sight if you do not want more than a brief look at a map or similar short-lived use, while the ability to dial the intensity of light allows you to switch from just the right light for reading to longer range light easily and to just as much as you need, not some preset "dim-bright-blinding" steps.
Manufacturers details
Lightweight, compact, powerful, versatile, robust, reliable and easy to use, the Axis and Axis Rechargeable Head Torches from Princeton Tec come with a 5-year warranty and are now proving to be my torch of choice for bushcrafting and other activities.
Princeton Tec Axis Headtorches
Tech Spec
Rechargeable version
Size 6.5x4x3 cm
Power:

250 lumens

Lamp:

1 Maxbright LED with spot beam (dimmable)

1 Maxbright LED with flood beam (dimmable)

2 Red Ultrabright LED (dimmable)

Burn Time:

Up to 138 hours (red mode)

Batteries:

Lithium Ion Rechargeable (built-in)

Weight:

81g with batteries

Water Resistant:

IPX4

5 Modes:

Burn Time | Distance

Dual Beam:

2 hrs | 23 m

High Spot:

2 hrs | 27 m

Low Spot:

17 hrs | 24 m

Low Flood:

54 hrs | 5 m

Red:

138 hrs |2 m

Colour: Grey body with Lime Green accents. Grey on Grey adjustable head band
Price: £79.95
Battery version
Size: 6.5x4x3 cm
Power:

250 lumens

Lamp:

1 Maxbright LED with spot beam (dimmable)

1 Maxbright LED with flood beam (dimmable)

2 Red Ultrabright LED (dimmable)

Burn Time:

Up to 109 hours (red mode)

Batteries:

3x AAA alkaline (included)

Weight:

83g with batteries

Water Resistant:

IPX4

5 Modes:

Burn Time | Distance

Dual Beam:

50 hrs | 35 m

High Spot:

67 hrs | 31 m

Low Spot:

75 hrs | 17 m

Low Flood:

102 hrs | 8 m

Low Red:

109 hrs | 3 m
Colour: Black with Orange accents. Black and Orange adjustable headband
Price: £54.95
Contact
www.whitbyandco.co.uk