The HS6R is a rechargeable head torch which packs one heck of a punch, a 1400 lumens punch.
First view:
The body of the torch is black aluminium, and the black face plate and silver mounting back plate are stainless steel. The body is affixed to the mounting plate with a spring retainer which allows the torch to be angled up or down. It has an elasticated and adjustable single head band which is wide and comfortable to wear. There is a on off switch on the top to toggle through the flood or red steady or blinking light and a charging port on the bottom. The main on off switch for the main beam is located on the side of the body, the other side has a screw cap to gain access to the 2600mAh battery.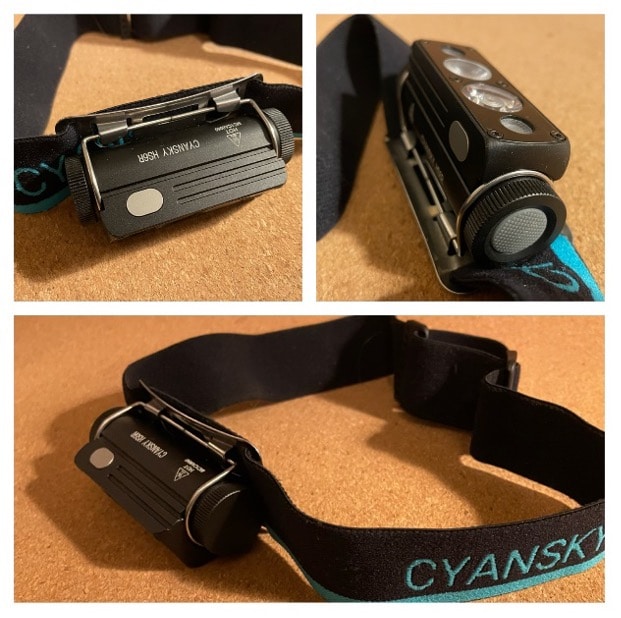 Using:
Like I have said, this torch is bright, so much so that it brings daylight to the darkest of places. The flood light throws out a large amount of light at a wide angle and the main beam goes further than you would need in normal use. With a total of 1400 lumens of both the main and flood lights on together, it will kill the battery in less than 2 hours, I'm not sure when this would be used and if you tone it down to the lowest of the four power settings on the main and three on the flood, you can get 60 hours from the both the main and flood light when used alone. The red light will give you 60 hours on low, and 120 on blinking. That's more than enough for a long weekends use without the need for a recharge.
When it does come to recharging the battery, it's done via the included Type C USB cable and with a 2A socket it will be good to bring day to night in about 3 hours.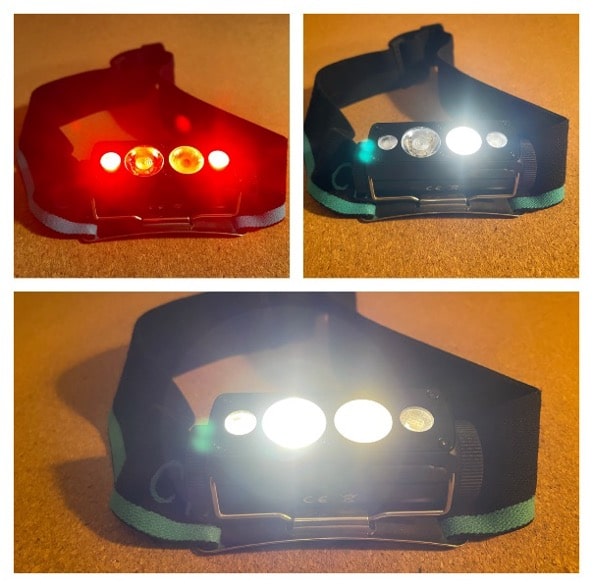 If I am honest this is a heavy torch, weighing in at 163g it does feel heavy on your forehead and tends to bounce up and down as you walk. I'm not a massive fan of this, however Cyansky have dubbed this torch as "outdoor searching and rescuing, and industrial operation". I have to agree that for searching areas with a head torch, you will find it hard to beat and once mounted to a helmet, although it does seem a little front heavy.
Cyansky do offer accessories such as a helmet mount so to make this a standalone helmet mounted touch, you'll be onto a winner.
I really want to like this head torch I really do, however with the weight I'm just not sure about it. In a head torch I want to just stick it on my head and not really notice it there, with the HS6R you can't but notice it.
It does have some very positive points about it, the main one being the amount of light it throws out, it's metal casing allows it to take a fall from 2 meters and its IPX8 water proofing will allow to be submerged down to 2 meters, then when the snow comes in you should be good for -30c and then upto 50c (they do say that when using at a low temperature, a low temperature resistant battery is recommended)
Quality of build:
It appears to be built well with its solid metal body, however if you give it a little shake the light flickers, and on the second charge the little light to say its charging doesn't come on.
Positive points:
Incredible power for the size.
Easy to operate with gloves on
Negative points:
The single strap doesn't help with holding it on you're head
What do the makers say…
Main Application: Outdoor searching, rescuing, activities and industrial operation
Light Colors: White and Red
LED: 1*LUMINUS SST 40 LED (spotlight), 1* LUMINUS SST 20 LED (auxiliary floodlight), and 1*Everlight 2835 red led
Maximum Output: 1400 lumens / 170 meters
1*18650 / 2*CR123A battery
Charging: Type-C USB Port
Weatherproof: IPX8 waterproof and 2-meter impact resistant for harsh weather and tough environments
CYANSKY HS6R is a full metal TYPE-C rechargeable headlamp specially built for outdoor searching, rescuing, camping, hiking, running, climbing, cycling and industrial operations. It features triple outputs with the main light of white spotlight and auxiliary lights of white floodlight and red light. The main light and auxiliary lights of high output rechargeable headlamp work simultaneously and beam a maximum of 1400 lumens.
Moreover, the independent dual switch design on the headlamp for main and auxiliary lights allows single-hand operation extremely easily.
1*LUMINUS SST 40 LED for the main white spotlight, 1* LUMINUS SST 20 LED for auxiliary floodlight, and 1*Everlight 2835 red led with a lifespan of 50,000 hours.
Powered by 1*18650 Li-ion battery and compatible with 2*CR123A batteries.
3. Overheat protection against high surface temperature for better user experience and longer lifespan of the light.
4. Independent dual switch design for main and auxiliary lights.
5. Aero-grade A6061-T6 aluminium alloy material shell.
6. Premium type HAIII hard-anodised anti-abrasive finish.
7. Grade 10 Super Impact-resistant PC Lens.
8. Low-voltage warning.
9. Type-C charging, 3 hours for a full charge.
10. Maximum output is 1400 lumens.
11. Maximum beam distance is 170 meters.
12. Maximum runtime on a single charge is 30 hours.
13. Intelligent memory circuit.
14. IPX8 waterproof – 2 meters underwater.
15. 2 meters impact resistance.
16. Workable from -30℃ to 50℃.
17. Storage environment: -35℃ to 65℃.
18. 160 grams(battery & headlamp band included)
22. Dimension: 80mm(length)×40mm(height)×36mm(width)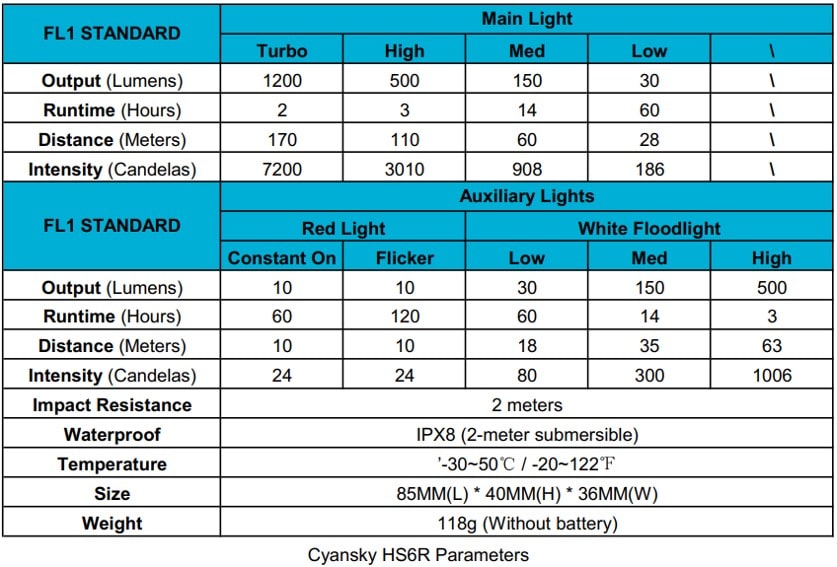 Conclusion:
Would I part with my money for this torch, in a word, no. Don't get me wrong this is a great torch in terms of the light it throws out, however I like a lightweight head torch, and don't mind a heavy hand held torch. If the technology in this could be put into a small pocket torch I would be adding one to my kit in heart beat!
If I was to make changes to the torch, I may look to replacing the metal back plate with plastic, or aluminium, and an upper strap would help with the extra weight.
Like I have said before it does have some good positive points, it's easy to use with gloves, solid build and my word, it really does pack a punch with the amount of light. I have been using it on and off for a few weeks, and it's been charged twice, so I think it's battery life is good, I just can't get away from the discomfort from the weight.
If you are happy with heavier torch to get that extra power and robustness, this torch is for you. If you want a lightweight lamp to show the way, this just fit the bill.
At the moment Cyansky don't have a UK distributor, however the torch can be purchased directly from their website for $67.45
https://cyanskystore.com/products/hs6r-headlamp