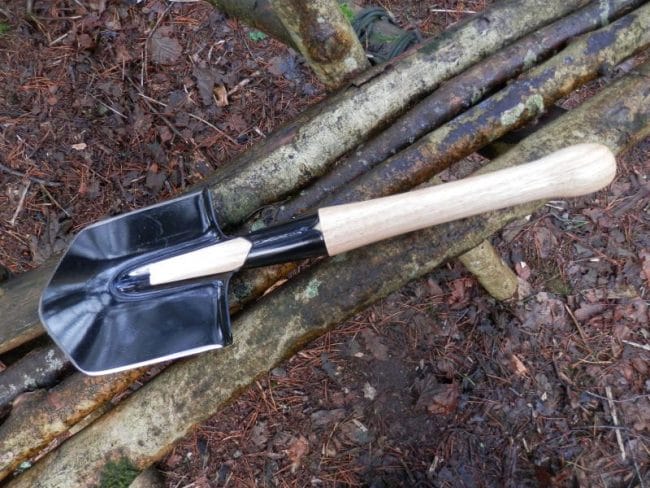 The Cold Steel Spetsnaz shovel – also known as their "Special Forces Shovel" and "Cold Steel Throwing Spade" – is in essence a straight-forward copy of the Soviet Special Forces (Spetsnaz) digging tool and appears at first glance to be nothing out of the ordinary, just a metal shovel head on a wooden handle…
Appearances can, however, be deceptive. The metal in this Cold Steel offering is a medium carbon tool steel (coated to avoid rusting) and all the shovel's edges are sharpened to give it great versatility.
As a shovel it performs well and the sharpened edges help it cut through turf, roots and clay better than most, and it is ideal for moving hot coals around your fire while cooking, especially when using a Dutch oven and coals need to be lifted onto the lids.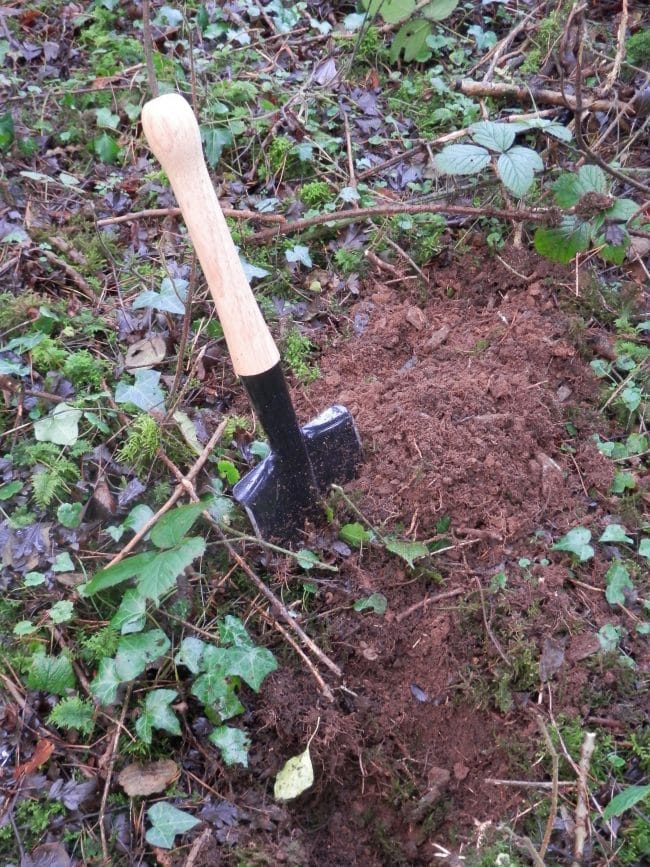 The sharpened edges of the shovel do not last well if you are digging in stony ground, but are easy to restore with basic tools and can even be taken to razor sharp if so desired.
As a hatchet the shovel out-performs some "survival" hatchets I have tried out in the past, chopping medium thick branches into firewood lengths, adequately snedding poles for construction use, splitting poles in half for rails, splitting kindling, pointing up tent stakes and slashing down undergrowth, all with ease.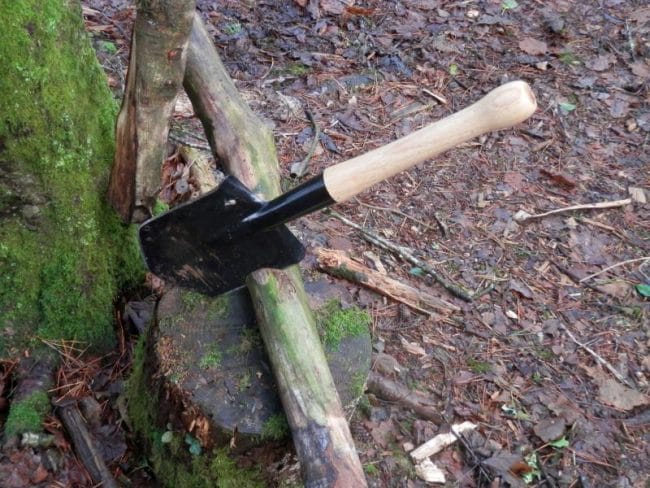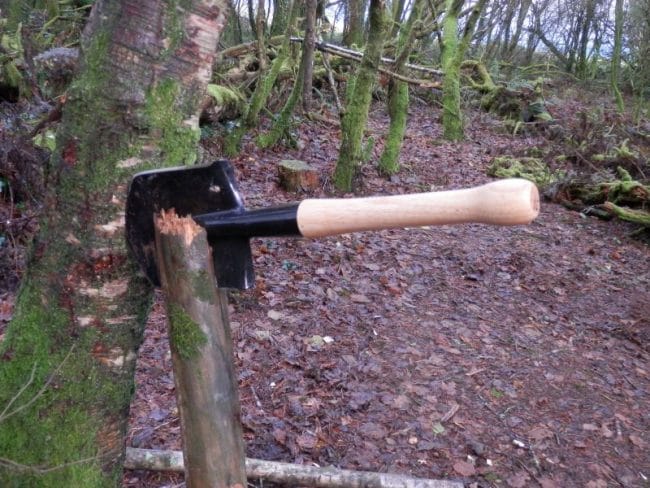 The wooden handle fits the tapered socket snugly and is held with two chunky cross-head screws, but on my example the screws were poorly seated with a big "step" between the wood and the steel at the back of the socket and proved very uncomfortable when I was digging. A few minutes with sandpaper and reseating the screws fixed this with ease and made the handle comfortable.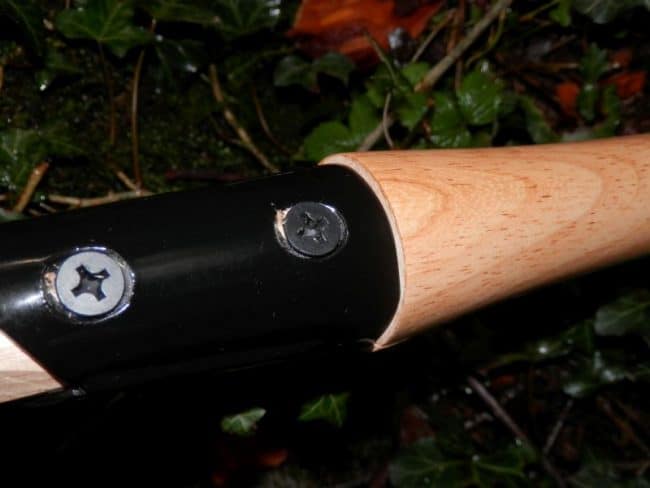 The black synthetic cover or sheath that the shovel came with is well made and secure with a Cor-Ex material (a Cordura covered insert?) body and webbing hanging loop and belt loop as well as twin snap fastener secured closure straps. The cover is of a sewn and riveted construction with bound edges and is very strong.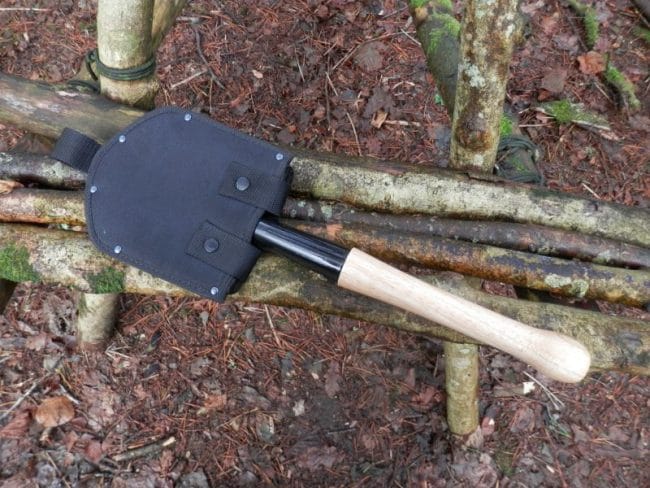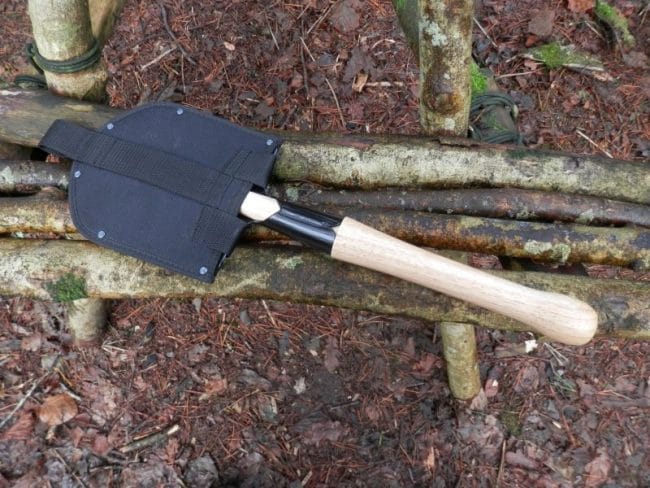 If you have ever enjoyed a game of darts or done a bit of knife, axe or tomahawk throwing, you are in for a treat with the Cold Steel Spetsnaz Shovel – it is great for throwing and you can spend enjoyable hours "shovel-throwing" at dead stumps or rounds of wood – pure bushcrafty fun!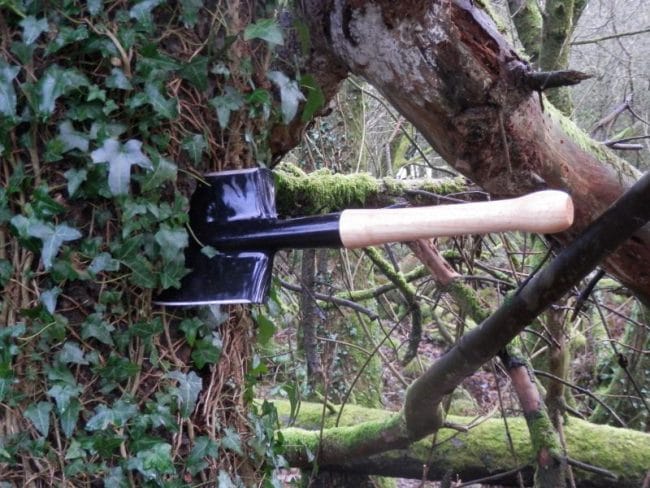 In all, I have found the Cold Steel Spetsnaz Shovel a practical, functional, robust – and fun – piece of bushcrafting kit that will be a constant companion whenever weight considerations do not make it impractical to bring along!
ADDENDUM
Although the shovel is great as it comes, the varnish finish on the handle is not my favourite, so while I was removing the excessive "step" between the handle and the head, I also sanded off the varnish and replaced it with a wood oiling and a beeswax/wood-oil finish – the same as I use on my axes.
I also decided that the "tactical black" cover is not quite my style and I crafted a copy from 3.5 leather using a welted construction with copper rivets and sewn with synthetic sinew to match my other bushy tools.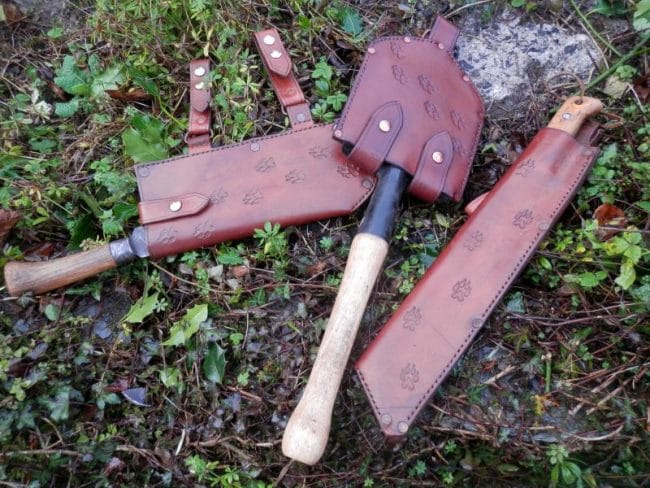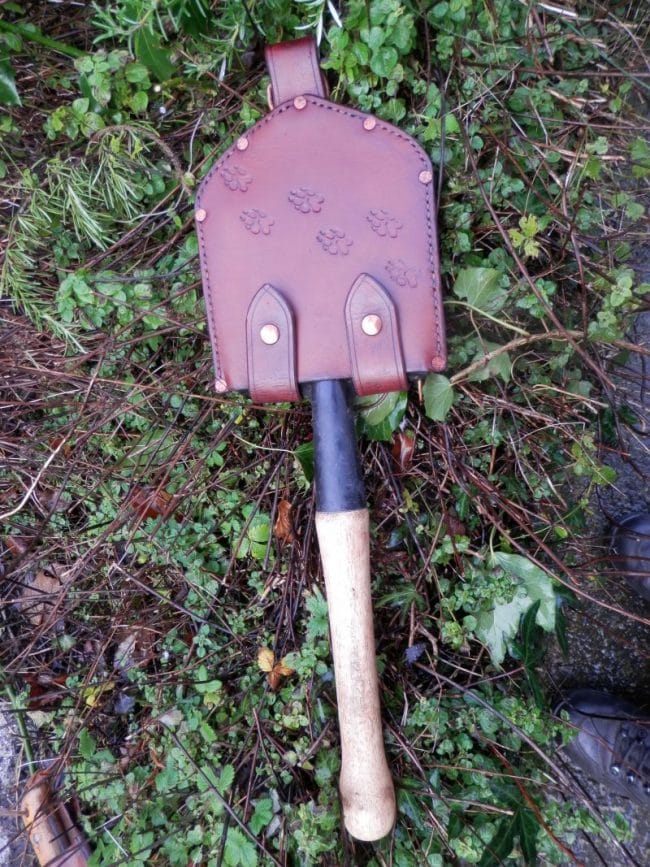 COLD STEEL SPETSNAZ SHOVEL WITH SHEATH
TECH SPEC
Length of head (and socket) 28cm
Width of head 15cm
Length with handle 52.5cm
Weight 0.75kg
Steel type medium carbon tool steel, coated
Steel thickness 2mm
Sheath material "Cor-Ex" TM (Cordura type synthetic with insert) with webbing straps and snap fasteners, black, only
Handle material Hardwood varnished
Spare handles and sheaths are available separately
Price Around £35
I bought my Cold Steel Special Forces Shovel from The Bushcraft Store and was impressed by their service
www.the bushcraftstore.co.uk