The Full name of this headlamp is the Fenix HM65R ShadowMaster, it's a bit of a mouthful, but there again, it's quite a lot of head torch, so we'll let it slide.
Fenix contacted Bushcraft UK a while ago asking about reviewing some of their rechargeable products, and we ended up receiving a few things from them. There's more to come soon, but for now, we have the very capable ShodowMaster.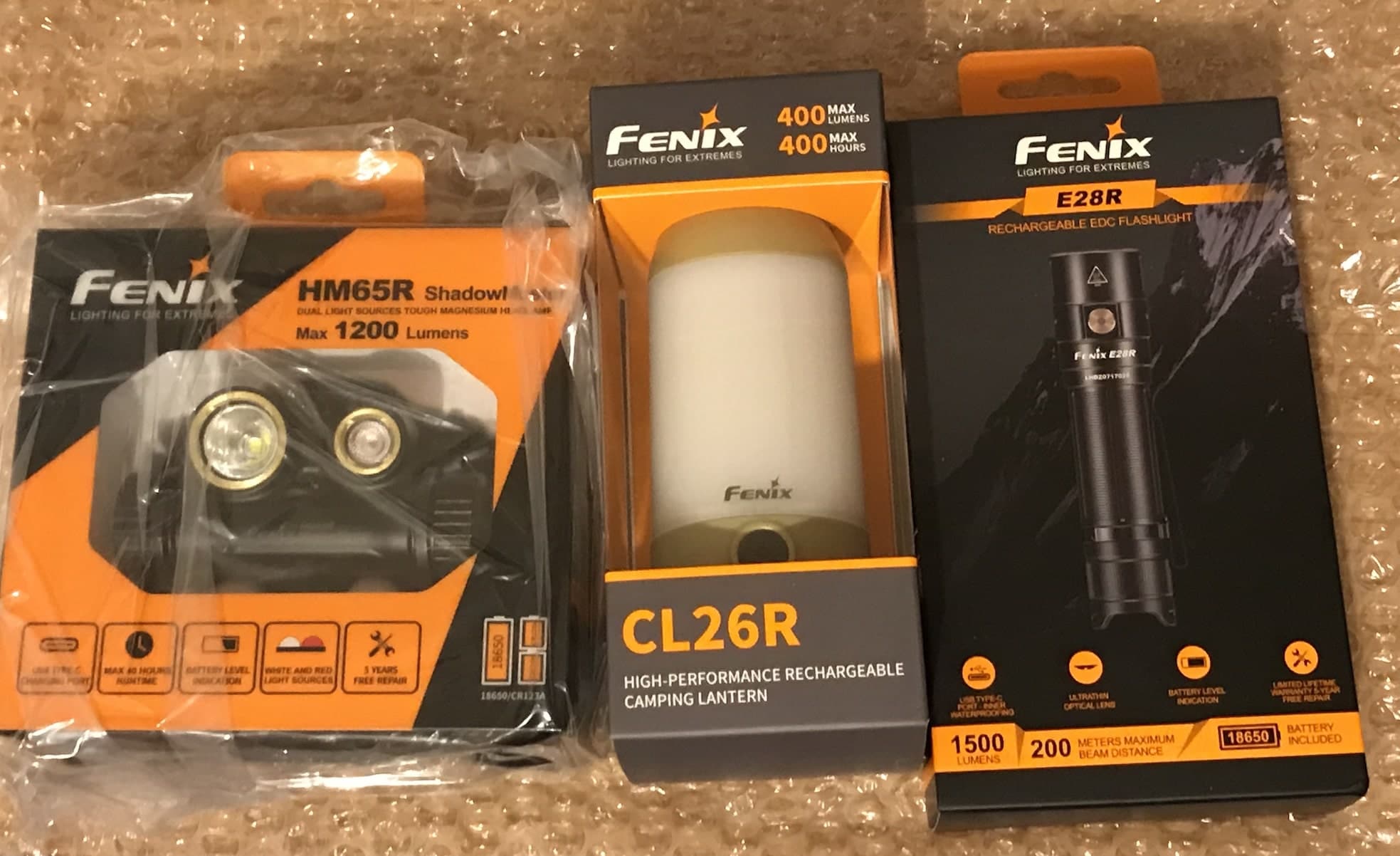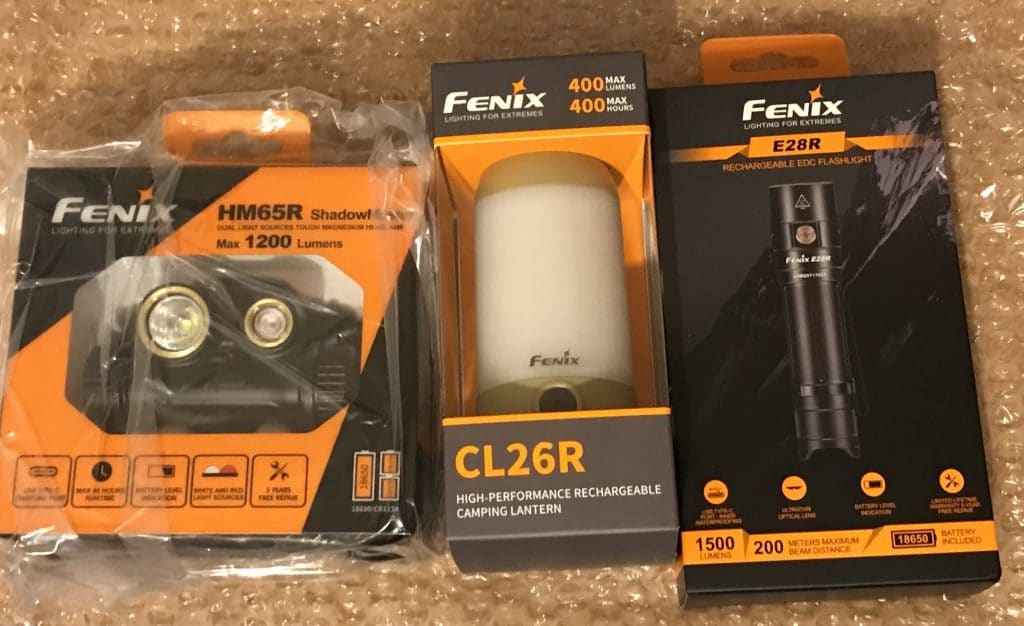 Initial thoughts
Initially, I thought it was the lesser sibling to the straight HM65R headlamp, which produces a max output of 1400 lumen compared to the ShadowMasters 1200 lumen. I quickly realised that there's nothing lesser about this headlamp.
Based on the popular HM65R, but instead of twin white beams, it has a white main beam and a powerful red floodlight. For us in the bushcraft world, it's a great combination; the main beam produces plenty of useable light, it goes low enough to use close up if you were cooking or carving and high enough to see far ahead if you're on the move, or if you need to illuminate an area. The red light is very usable at all settings for reading through to keeping you on the path at night if you don't want the brightness of the white light.
I'll leave the actual specs for later in the review and focus a bit on using the headlamp.
In use
It's comfortable and stable, the headband with the top strap works well and feels secure at all times thanks to a grippy rubberised strip, and the perforated design of the strap probably adds to its breathability, making it comfortable over more extended periods.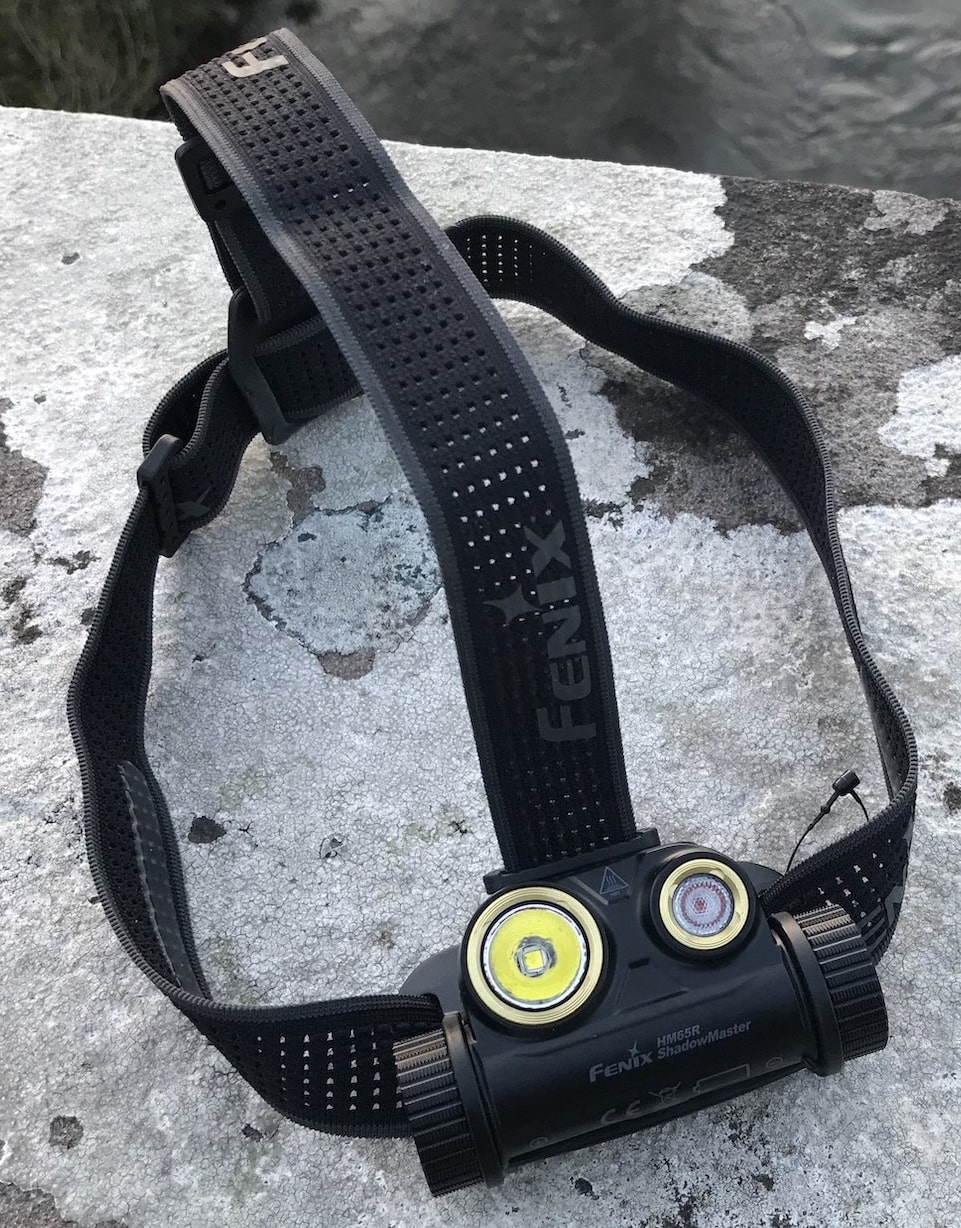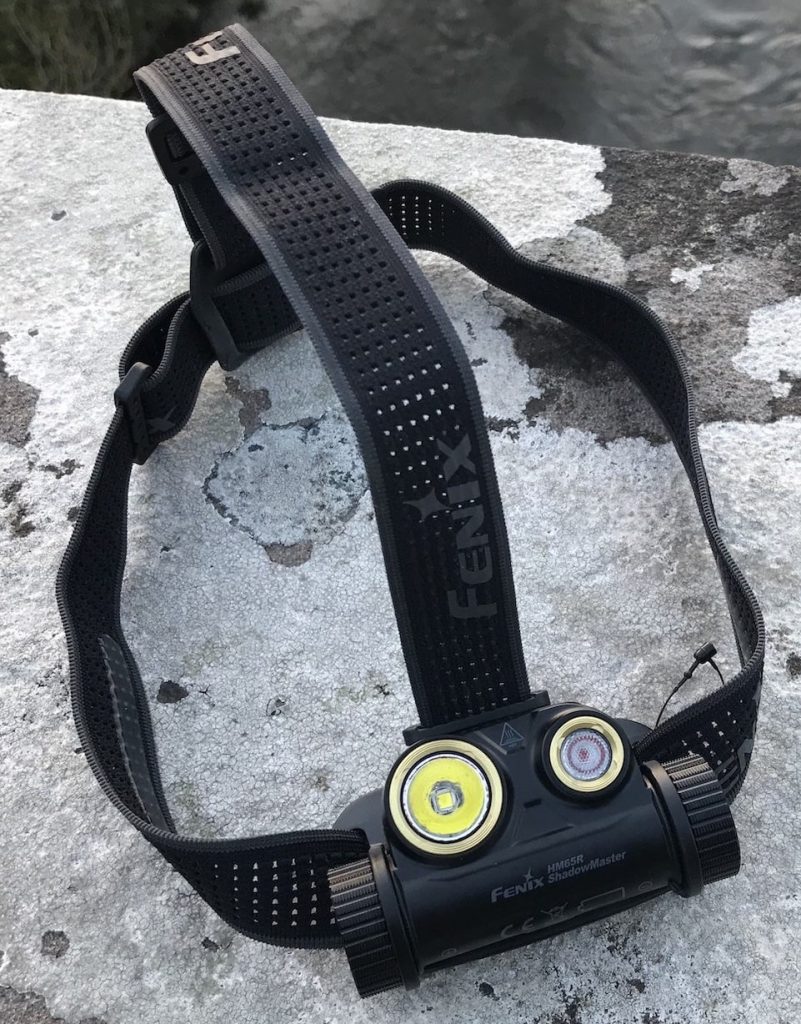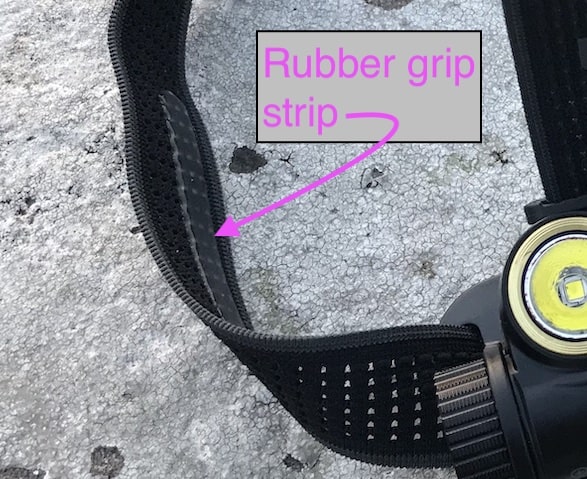 The Shadowmaster feels solid and well made. The main body is magnesium, helping to reduce weight while being tough enough to take a battering.
The weight is reasonable at less than 100g, although this does jump to about 145g once the excellent 3500mAh 18650 battery is in place.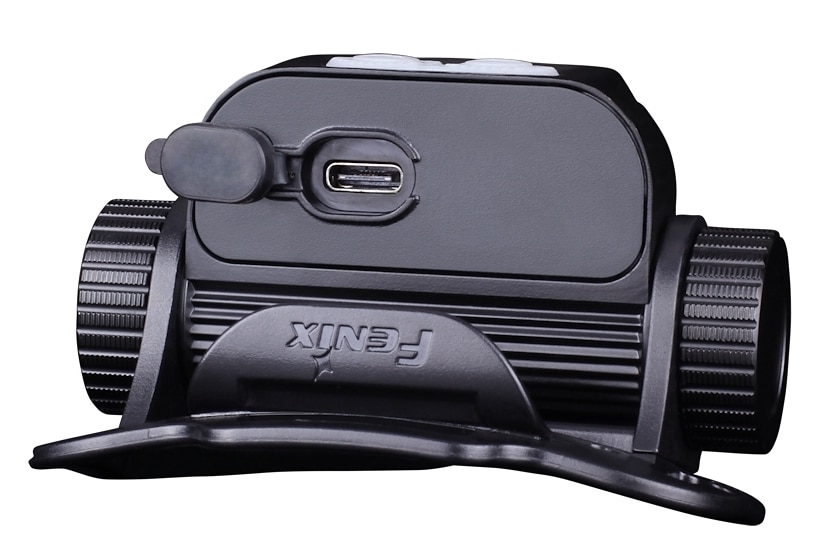 Charging is via USB-C, which is becoming the standard, so there should be plenty of cables around, improving the ease of charging. You can always carry spare batteries if charging is going to be an issue. In the past, the 18650's were for the enthusiast, these days, they're easy to get hold of, and they're affordable.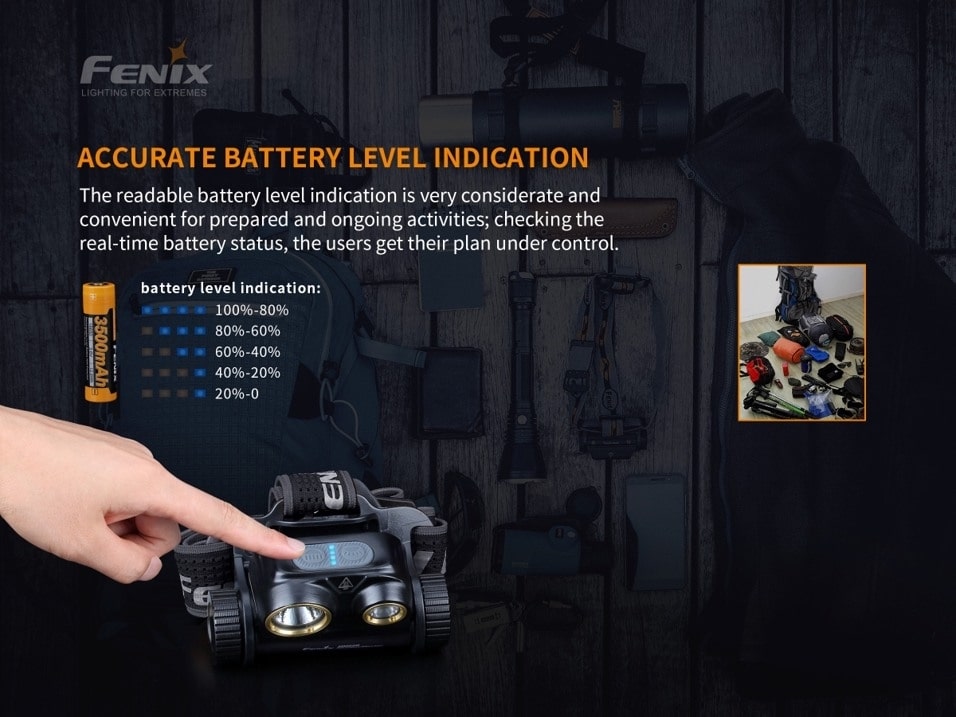 Having the main beam and red flood beam is a great combination; it doesn't quite kick out as much total light as the dual white beam HM65R, but it's more versatile, and that counts for a lot, especially if you want to be using the headlamp for night time nature watching and other activities.
The video below demonstrates the different modes on the headlamp (you might want to turn your sound down as it's just loud footsteps for a soundtrack)
If anything, it would be nice to have an even lower output than the 8 lumens; that's still quite bright for some circumstances. When the headlamp was tilted forward, it was easy to use with bare hands. Putting gloves on made it more challenging and cumbersome, a bit hit and miss at times.
My biggest gripe is that when the lamp isn't tilted forward, the on/off/mode buttons are partially obscured, making it difficult to change modes; although this wasn't often a consideration on occasion, it was.
I would have liked a mode button on the opposite end to the battery compartment screw cap as this would be easy to access, but I suspect that would have added more bulk.   
I used the headlamp in some torrential rain and it functioned fine, I didn't submerge it but I've no doubt that it would have worked as described.
Conclusion
Before you have a look at the specs, I'll conclude with praise for a great headlamp. It's comfortable, powerful and versatile while being rugged and dependable; it's got great runtime; the few negatives I have experienced are more inconvenience than issues.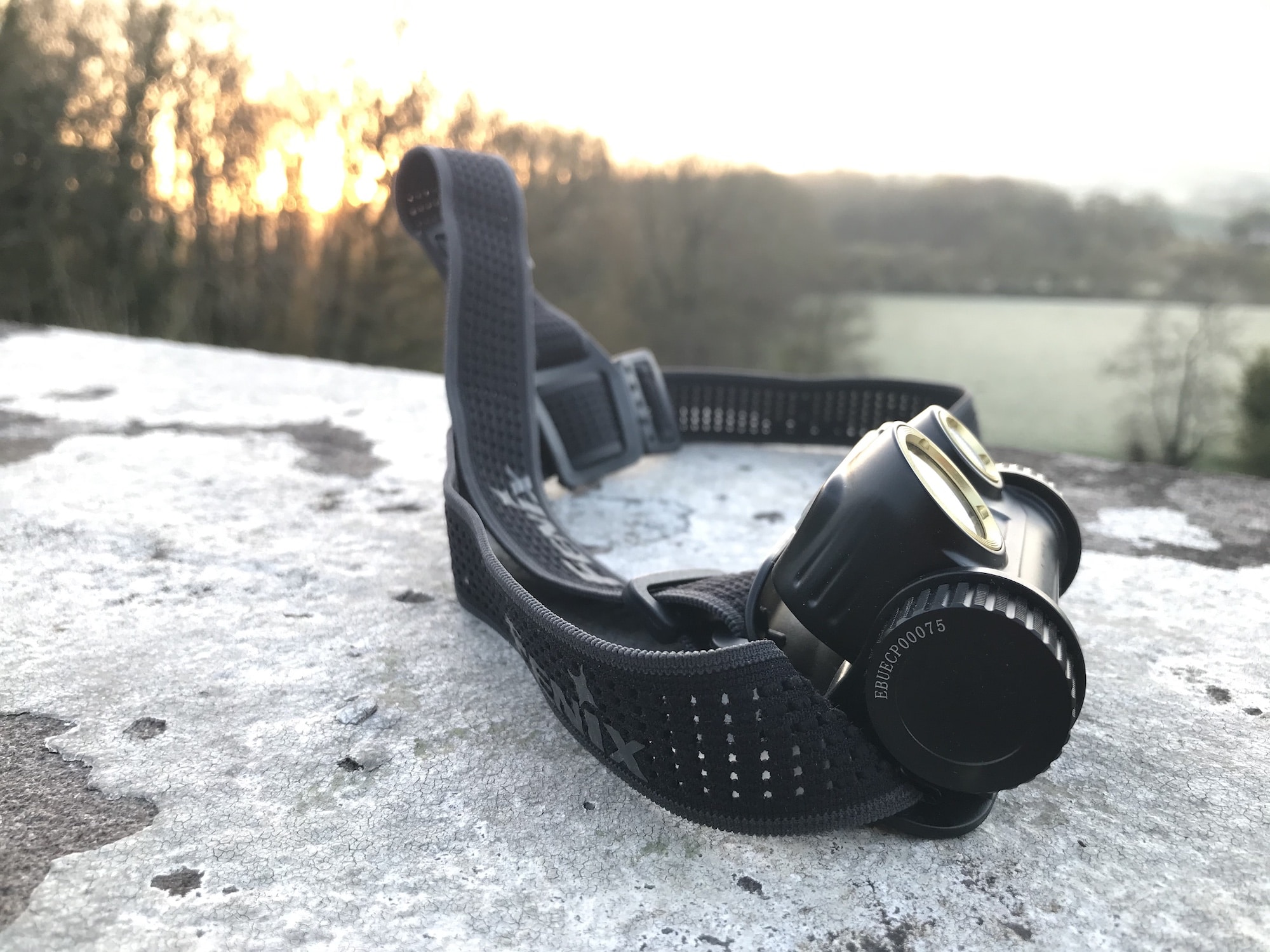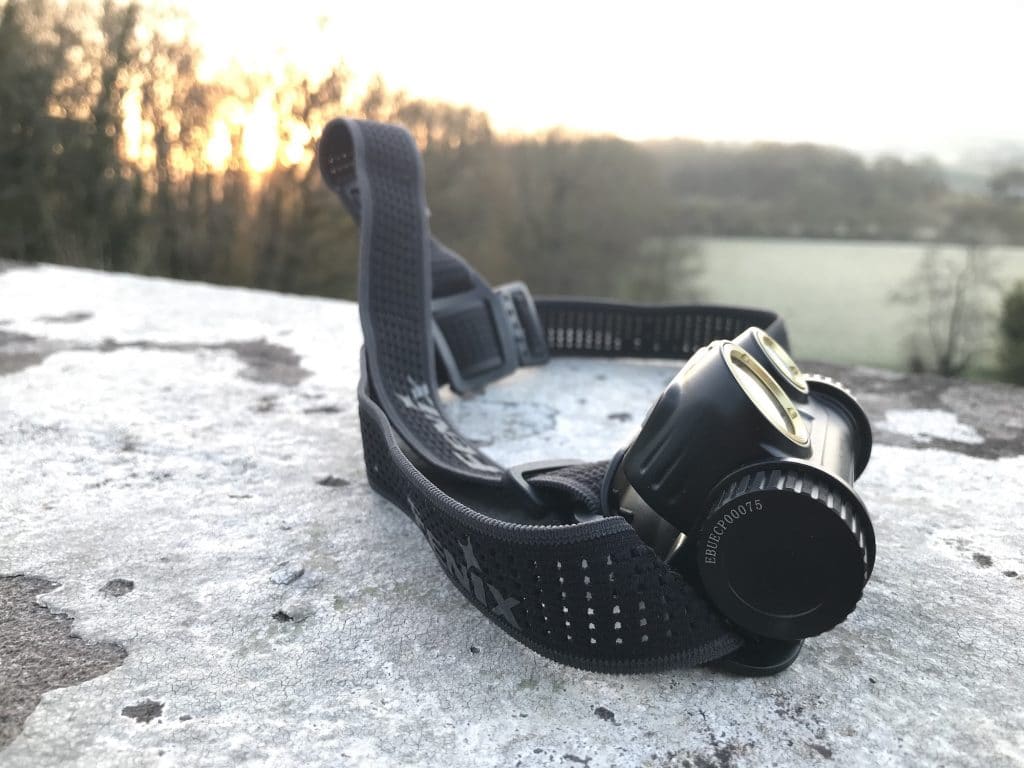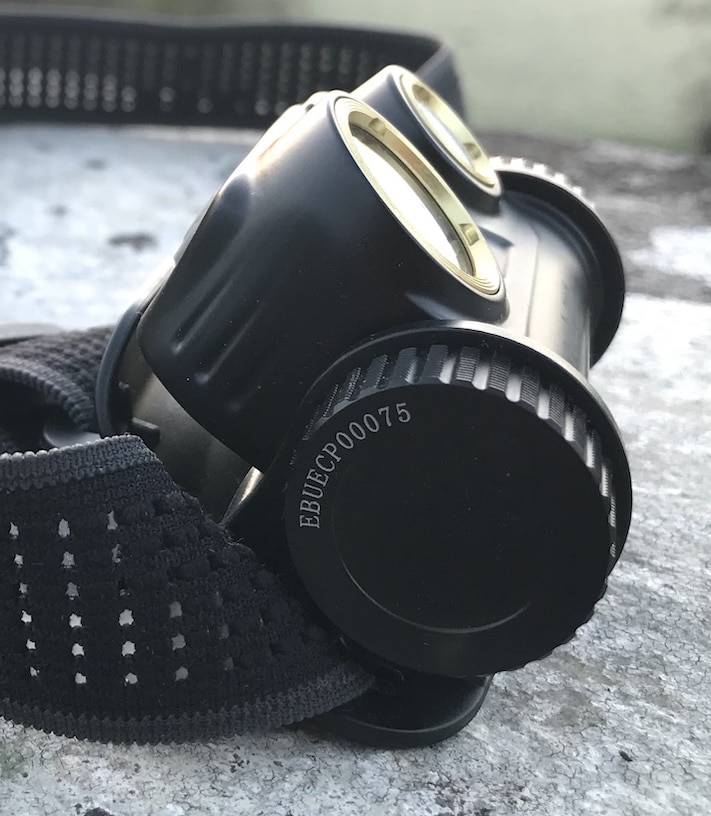 It's pricy for a headlamp at about £100, but it should for last years of regular use, so it should be a good investment if you're looking long-term or you want something that covers your bases and kicks out a lot of light.
You can purchase the Fenix HM65R ShadowMaster through the UK MyFenix Distributor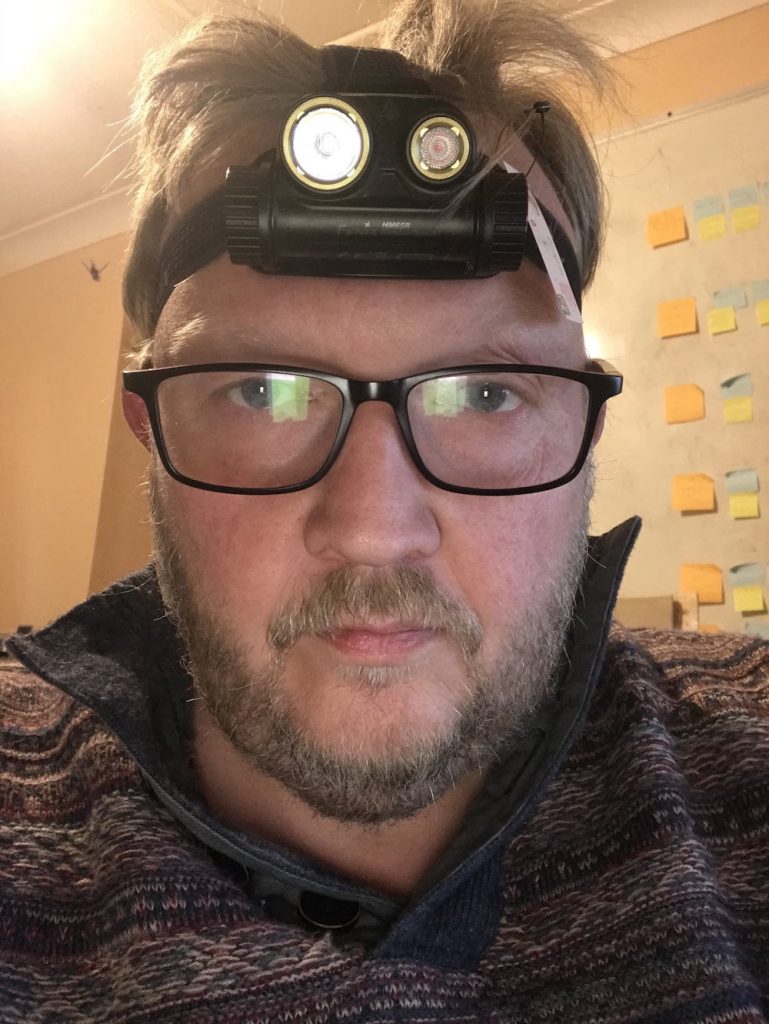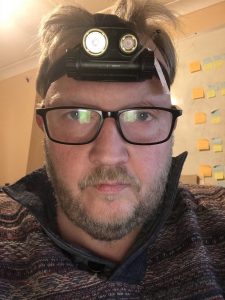 SPECIFICATIONS & EXTRA INFORMATION
Here's some more info and sales blerb from Fenix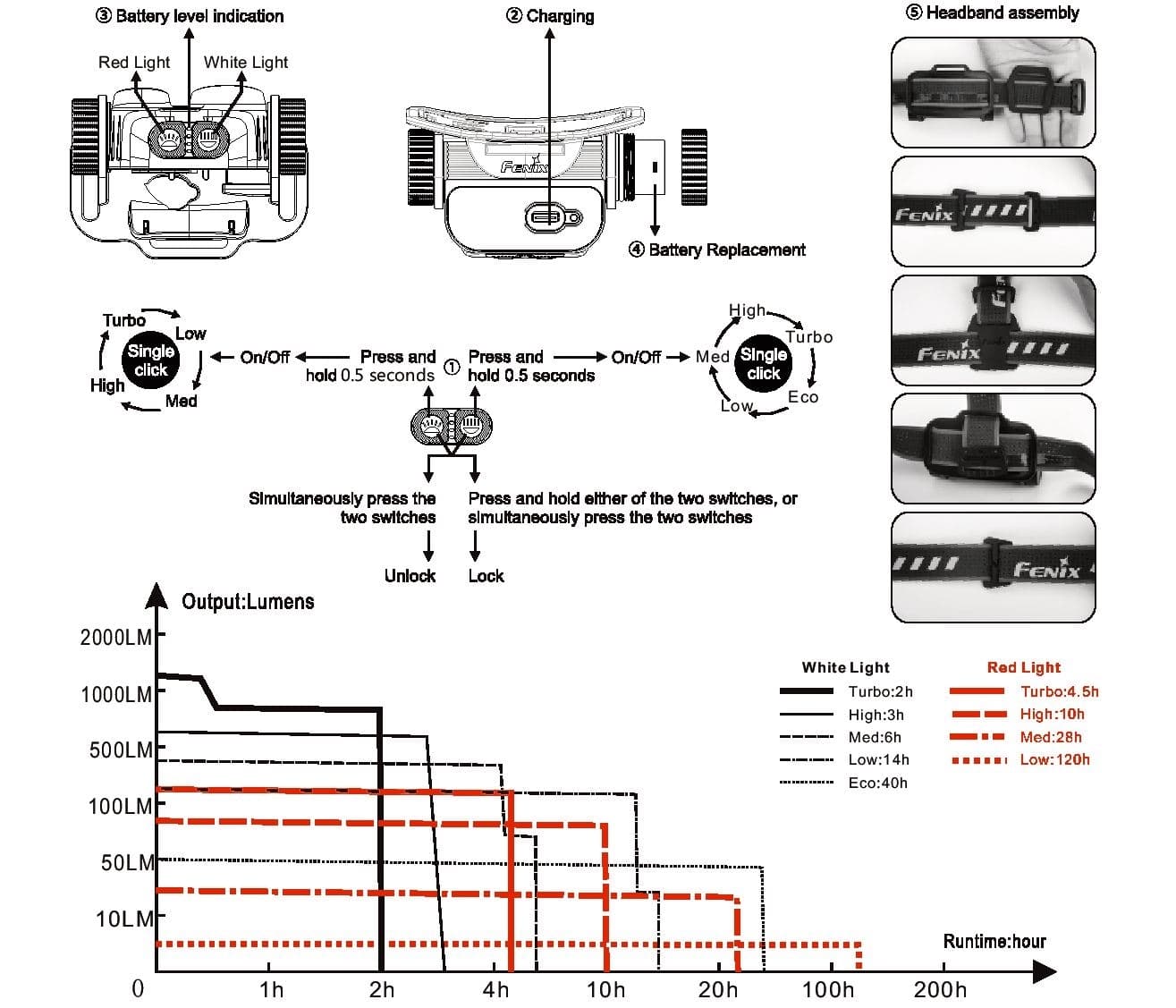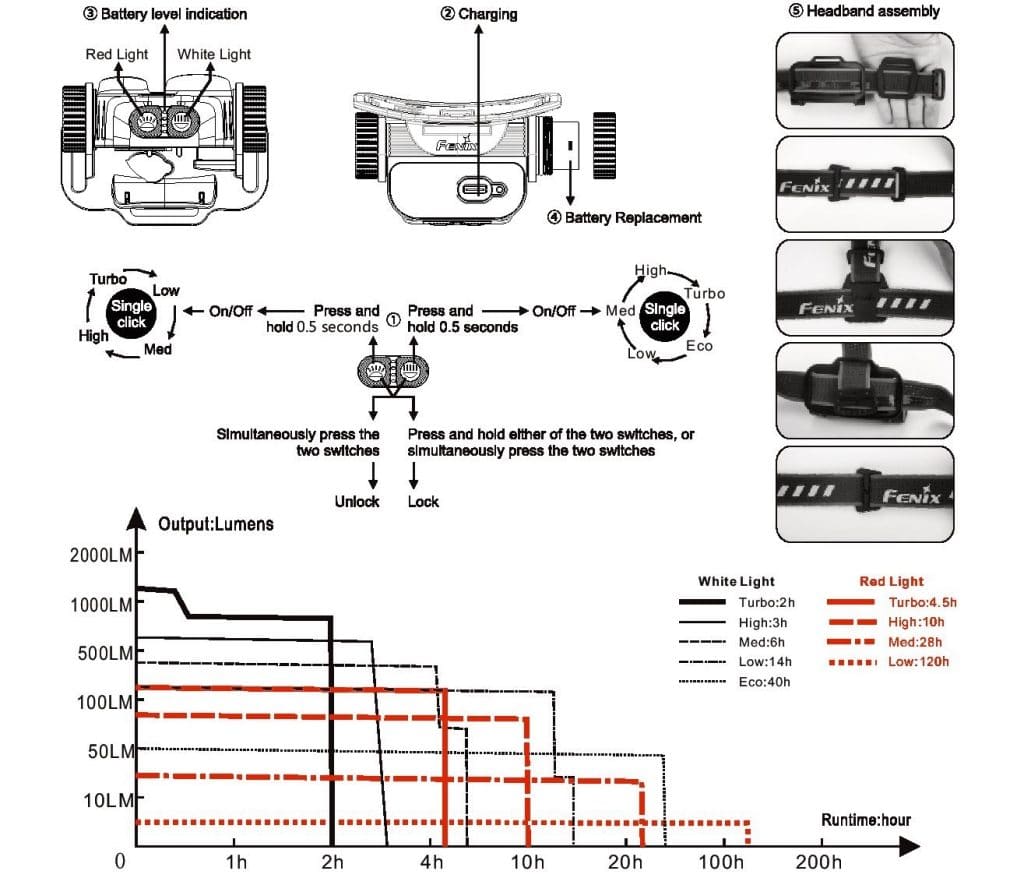 Description
HM65R ShadowMaster headlamp has been developed jointly with Fenix as an elite Fishing Headlamp, Hunting Headlamp and Military Headlamp. It features a powerful main beam boosted from 1000 to 1200 lumens, a 150 lumen red floodlight, upgraded non dimming power electronics and stealth black headbands. The lowest red light setting of 5 lumens is particularly useful for protecting dark adapted eyes and is less likely to spook wildlife than white light.
Our ShadowMaster headlamp utilizes a magnesium alloy body for ultra light weight and excellent heat dissipation. It features a focus free perfectly balanced main beam with 5 brightness settings that reaches out up to168 meters whilst also generating a wide area flood light to safely light your surroundings. A powerful red flood light offers 4 brightness settings from 5 to 150 lumens giving the choice of night vision protection / stealthy operation or red flood lighting out to a useful 30 meters.
The included Fenix ARB-L18-3500 mAh 18650 rechargeable battery delivers maximum run times whatever lighting mode is in use. The battery is easy to swap for a spare simply by unscrewing the battery cap, keeping your adventure going indefinitely! The battery is charged on board via the supplied USB-C type cable and your choice of mains or outdoor charger, whilst a 4 LED battery meter between the individual beam switches indicates charging status and remaining charge.
Worries about durability ? No concerns here. Fenix HM65R ShadowMaster is rated 2M drop resistant, dust proof and waterproof to 2 meters for 30 minutes. HM65R has proven ultra reliable in the toughest situations.
Fenix HM65R ShadowMaster headlamp other features:
* 4 non dimming brightness levels of 50 lm (40 hrs), 150 lm (14 hrs), 400 lm (6 hrs), 600 lm (3 hrs)
* Continuous Turbo output: 1200 lm (20 mins) dropping to 800 lm (1 hr 40 mins)
* 4 Red Floodlight non dimming brightness levels of 5 lm (120 hrs), 25 lm (28 hrs), 85 lm (10 hrs) and 150 lm (4.5 hrs)
* Individual switches for each beam control on / off and brightness
* Charges in just 3 hours from a 5v 2A mains USB adapter (not supplied)
* Ergonomic headlamp holder for comfort during long periods of use
* Hollow headband structure – breathable for comfort during long periods of use
* Headband silicon strips keep sweat out of your eyes during intense activity
* Low level main beam and Mid level red flood output can be used whilst charging
* Fits into Fenix compact APB-20 headlamp storage case (only just) and APB-30 headlamp storage case
Fenix HM65R ShadowMaster operation:
* Press and hold the left switch for 0.5 seconds to turn on / off the red flood light or the right switch to turn on / off the main beam
* Tap the switch on the operating beam to cycle one brightness level with each tap
* Pressing the inoperative switch while a beam is lit will switch between beams (beams cannot be combined)
Lock Out Mode (Prevents accidental operation)
* Press either or both switches for 3 seconds. The light will blink 4 times on low red light mode to indicate locked status.
* To unlock, press both switches for 3 seconds. The light will blink 4 times on low red light mode and activate in low output red light mode.
* When locked, pressing either switch will activate 4 blinks in low red light mode to indicate locked status
https://www.myfenix.co.uk/product/fenix-hm65r-shadowmaster-1708
Specification
MODEL
HM65R ShadowMaster
BATTERY TYPE
18650
BATTERY QUANTITY
1
ADDITIONAL BATTERY TYPE
2 x CR123A non-rechargeable (Do NOT attempt to recharge CR123 batteries in this product)
LED TYPE
Luminus SST-40 White and Cree XP-E2 Red LED's
OUTPUT/RUNTIME
White Light – Turbo: 1200 Lumens (2 hrs), High: 600 Lumens (3 hrs), Med: 400 Lumens (6 hrs), Low: 150 Lumens (14 hrs), Eco: 50 Lumens (40 hrs)

Red Light – Turbo: 150 Lumens (4 hrs 30 min), High: 85 Lumens (10 hrs), Med: 25 Lumens (28 hrs), Low: 5 Lumens (120 hrs)
FLASHING MODES
N/A
MAX BEAM DISTANCE
168m
REFLECTOR
Aluminium orange peel reflector
LENS TYPE
Optical lens and flood diffuser
SWITCH TYPE
Dual on – off – mode switches (separate controls for spot and flood LEDs)
CONSTRUCTION
Durable high strength / light weight magnesium alloy
FINISH
Premium Type III hard-anodized anti-abrasive finish
TAIL STAND
No
POCKET CLIP
No
WATERPROOFING
IP68, 2m depth & dustproof
DIMENSIONS/WEIGHT
80.5mm (Length) x 55mm (Width) x 40mm (Depth)

97 grams (excluding battery)
FURTHER INFO
N/A
You can purchase the Fenix HM65R ShadowMaster through the UK MyFenix Distributor