The knife I have most recently had to try out is the "Woodsman" Knife designed by Roger Harrington (of Bison Bushcraft) and produced by Casström in a "custom collaboration".
The "Woodsman" is one of Roger Harrington's most popular models and Casström produce the design in a Bohler tool steel K720 (02) hardened to HRC 58-60. Although the model I have been testing has ancient Bog Oak scales and a plain deep pocket sheath, it is also available in Curly Birch, and either version is available in a sheath that has a matching "fire steel" mounted.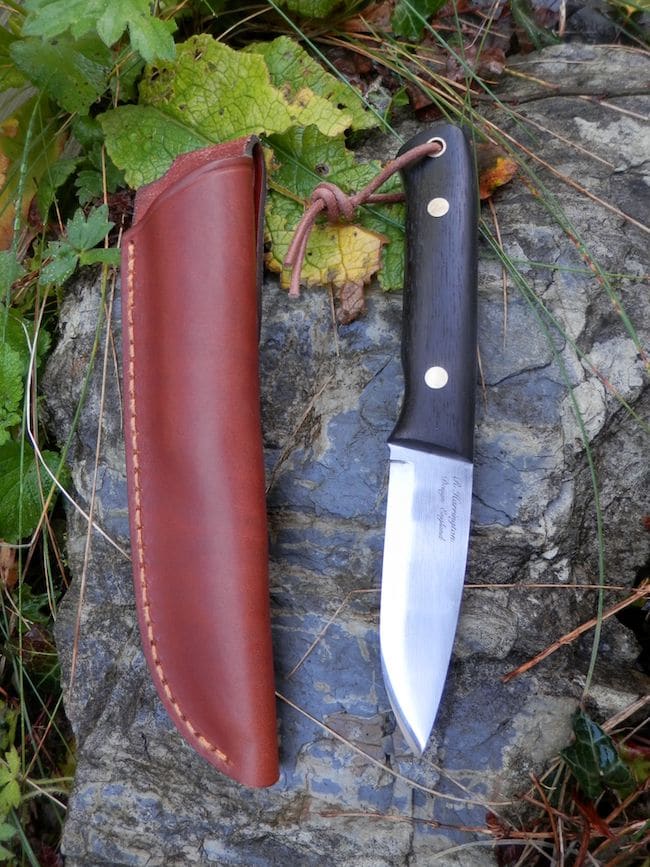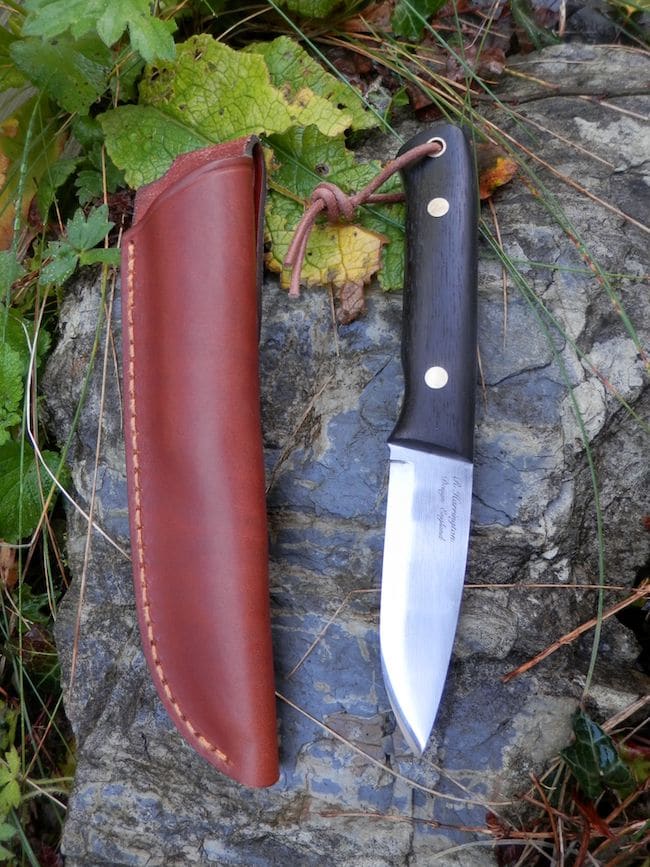 The knife features a full tang construction with the handle scales mounted with black liners and brass pins and lanyard tube. A leather thong comes fitted in the tube (but I found this unwanted and removed it) and the handsome sheath is made from 3.5mm veg tanned leather, welt sewn and with a sewn and single riveted belt loop.
Overall, the knife weighs only about 157gm and measures about 20.5cm with the drop point blade measuring some 8.9cm, 2.6cm wide and 3.8mm thick. The Scandi grind is about 7.5mm deep at the ricasso, tapering to about 4.6mm at the tip, which gives a very strong blade and point.
The handle is about 11.5cm long and 2.5cm wide by 2cm thick at the centre and is gently contoured for a very comfortable grip. The "fit and finish" on the sample under test is excellent and the knife has proved comfortable over extended periods of use in all the various grips I have employed during testing.
The blade is easy to field sharpen with basic tools and takes and holds an excellent edge – which does not appear prone to rolling, chipping or cracking, even under extreme usage such as battoning though seasoned hardwoods (both with and across the grain). This ensures that tasks from cutting through hide, flesh and sinew to chopping veg (though it does tend to ping slices of carrot off the chopping board) to whittling try sticks, are all very easy.
With the Woodsman, I was able to produce some excellent feather sticks, while the squared spine of the knife produced showers of sparks from a Ferro rod to turn the feather sticks into cooking fires with ease.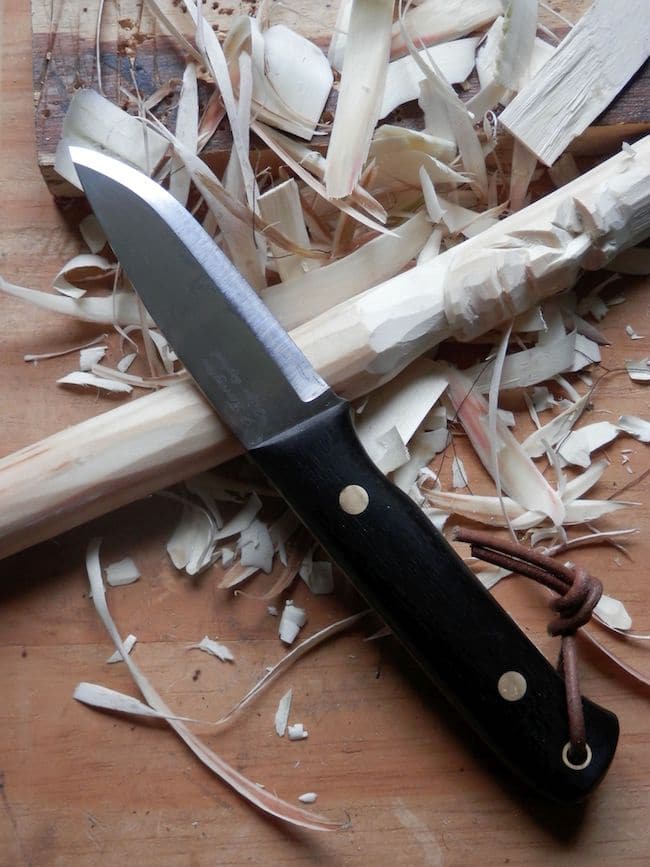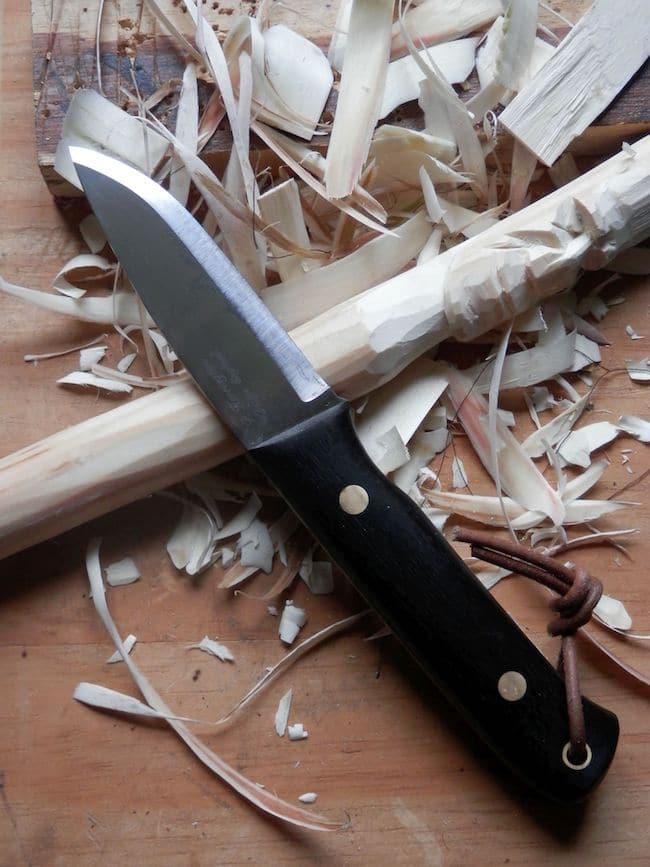 The fairly obtuse shape of the tip makes the point very strong and unlikely to snap under heavy use, but does limit its penetration, making hole-boring or fine carving more difficult, but I find this a fair trade-off of design.
The length of the blade gives excellent tip control and, overall, the knife is a good strong, practical, functional, yet handsome, tool for all-round use while bushcrafting.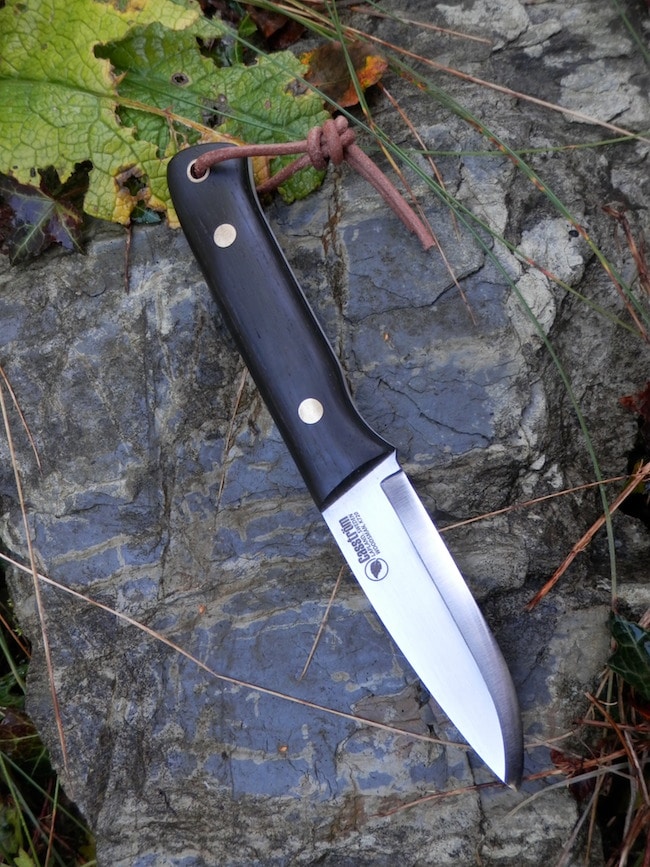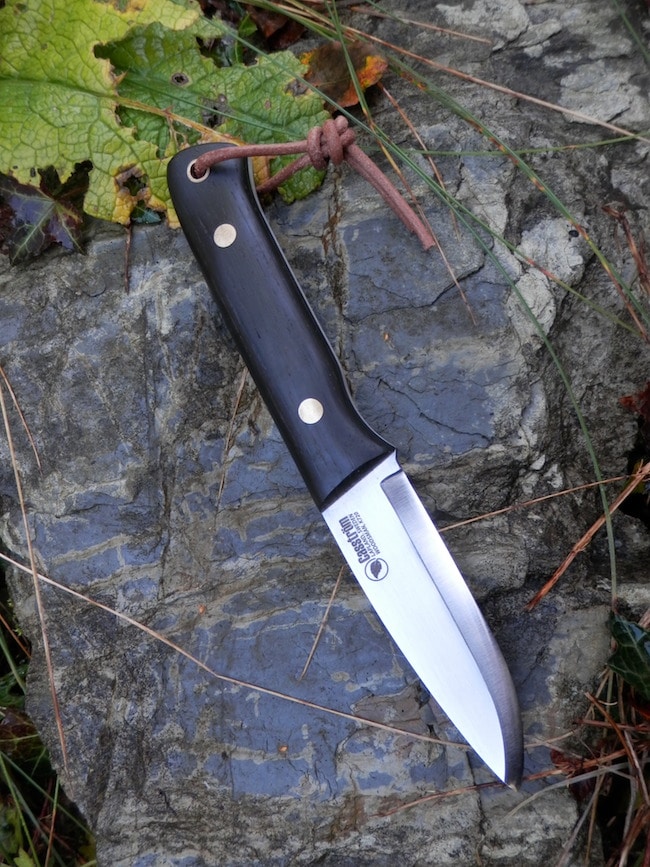 I am not a fan of lanyards or cords on knives – unless I am working over deep water or at heights – and so I removed the supplied leather "cord" from the knife lanyard ring and, as I like a low carry, I added a Casström No 3 dangler karabiner and belt loop to extend the sheath. Otherwise, I found the Casström Woodsman Knife to be an excellent tool, well thought out and well made from very good materials for general bushcraft usage.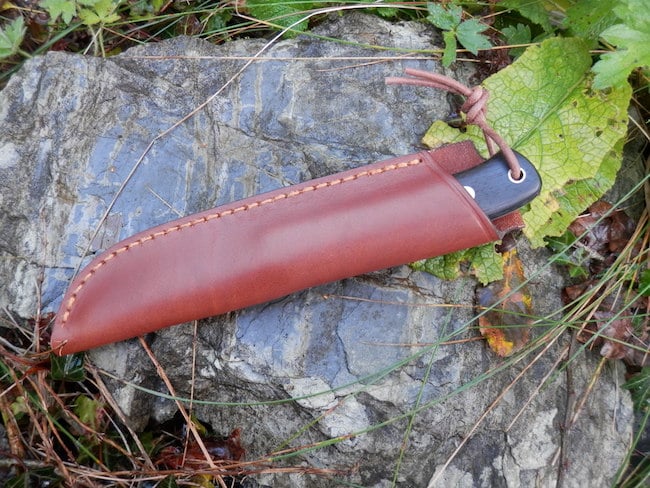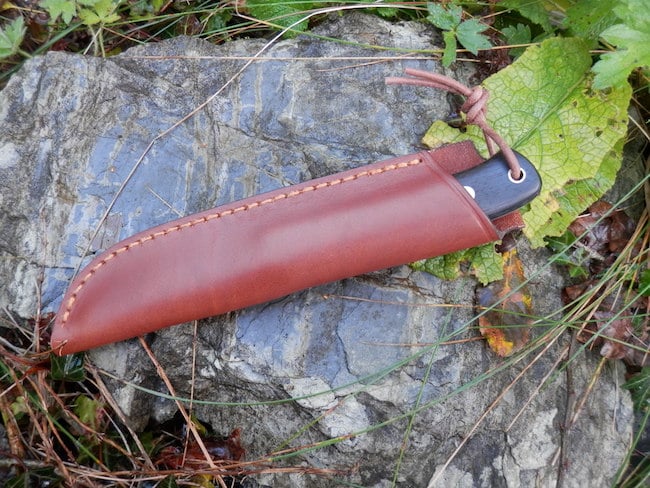 The Woodsman Knife in either Bog Oak or Curly Birch (both with black liners) in a plain sheath costs £112.00 or, with a sheath with a matching fire steel, £133.00.
Casström's No 3 dangler costs £16.95 (see my previous review of this item.
For more information visit www.casstrom.co.uk