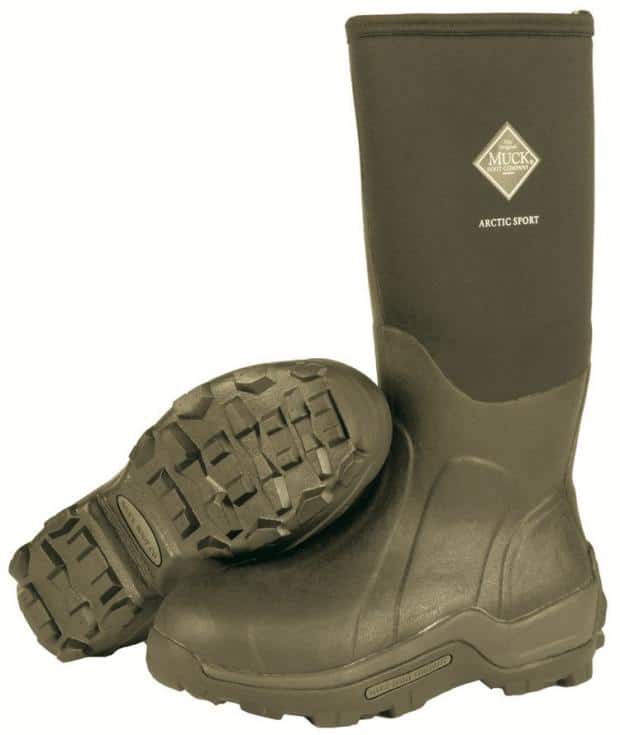 Review
By Mark Aspell
Muck Boots have long been associated with their trademark design of making foot wear comprising of a natural rubber bottom half and neoprene upper; this combination provides both strength and flexibility from the product when wearing.
Muck recently released a new version of their Artic Sport. In common with their other styles these boots are made with the trademark neoprene upper with a 'stretch fit' top to hug the calves, natural rubber on the lower half and a rugged tread pattern. The Arctic also has extra neoprene all-round the foot (including increasing the inner sole) to help keep the cold out.
I often find that wellington style boots tend to come up short on the leg when I put them on – I am pleased to say that the Muck boots do not belong in this category as the top of the boot sits quite comfortably a couple of inches below my knee. As with most rubber boots, I also have a problem with the rubber not 'breathing'. This makes for hot, sweaty feet which can lead to blisters when you have been wearing them for some time. However, the lining in these boots managed to wick the sweat away so even after a hard days walking my feet were kept warm and not sweaty by the time I came to take the boots off. Absolutely fabulous was my reaction and should be commended!
The boots handled everything I threw at them without complaint. I tested them through many terrains – mud, puddles, thorns and brambles – the soles gripped reassuringly on muddy slopes and when stood still for several hours on wet grass my toes were still toasty. They even did a reasonable job of staying on my feet when I tried running!
Do I like these boots? Absolutely.
Would I recommend them? Most definitely a Yes.
The Artic sport is designed to provide practical footwear in in cold weather and performs extremely well in the wintery conditions of the UK.