Review – Fjallraven: Vintage 20
By John Fenna
Fjallraven have quite a following within the bushcraft community, being admired by many for their tough, comfortable and practical clothing and equipment.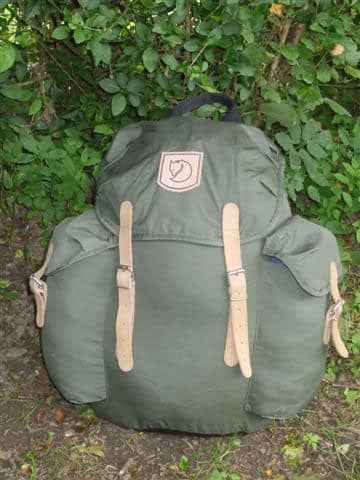 The Fjallraven Vintage 20 is a daysack which combines "traditional" vintage styling with some modern technology and design to give a lightweight, comfortable and practical piece of kit that should appeal to many bushcrafters.
This single compartment sack has two side pockets and a shaped lid and seems generously sized for its 20 litre capacity designation.
The main body of the Vintage 20, the lid and side pockets are made from Fjallraven's famous impregnated 65/35% polycotton G1000, which is light but tough, while the base of the sack is made from tougher, more water resistant fabric which is (I believe) a PVC coated nylon. The top of the sack has a drawcord closure with a locking toggle and a ripstop nylon snow lock, again with a locking toggle drawstring closure. Inside the bag you find a nylon lining on the back panel and this incorporates a shaped nylon water bottle/flask pocket with, again, a drawstring closure with a locking toggle.
The side pockets, which will easily accommodate such items as a Jetboil stove or Crusader mess tins with room to spare, have shaped lids with leather strap and white metal buckles for a practical, but "traditional" vintage look.
The lid of the Vintage 20 is also shaped and has leather strap and metal buckle closures and, on the inner face is lined with nylon, which forms a useful zip-closed pocket.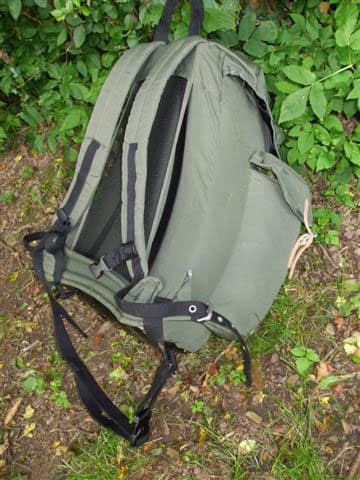 The harness has a haul loop, 2 padded G1000 covered shaped shoulder straps with webbing straps (which look like cotton webbing but seem to be matt polypropylene) with white metal buckles and eyelet for size adjustment and weight spreading "fin" attachments at the base of the sack.
The fully adjustable waist strap, however, has a plastic quick release buckle, as does the fully adjustable chest strap.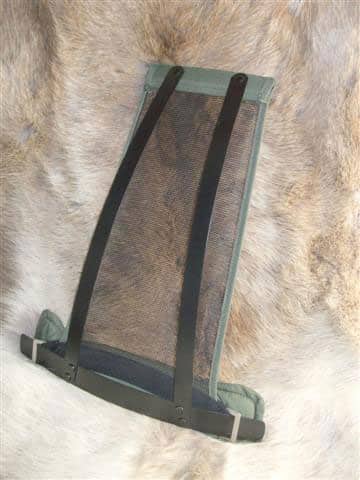 The sack has a very useful air-gap maintaining "air vent" back panel comprising a sprung metal frame kept in a curve, a mesh "body contact" section and a padded lower edge. This ventilating panel keeps the body of the sack away from your body to stop you getting too much of a sweaty back in warm weather without losing the stability you get from full contact with your pack.
For use of the Vintage 20 in colder weather (when you want a warm back!) or when you just want a "soft" pack, the sprung panel is removable.
Although the G1000 is a fabric used for Fjallraven's clothing range, it is surprisingly tough and stands up to wear even when used as a daysack fabric. The Vintage 20 looks very smart, is very well made with bound main seams and edges and is a pleasing blend of vintage and modern looks. The Vintage 20 is very comfortable and quiet in use, holds more than you think, and is pretty tough for a lightweight daysack, though I would be careful not to overload it with heavy sharp-edged items. It is a lightweight fabric after all, weighing only about 850gm.
Available in Light Khaki or Olive, the attractive and practical Fjallraven Vintage 20 Daysack costs around £65.
The G-1000 fabric is machine washable at a 40 degree wash and can be re-proofed with Fjallravens own "Bees wax", which can be purchased in blocks (soap size). To re-proof, just rub the wax all over the garment, and gently heat by either hair-dryer, or gently over an open fire.
I would highly recommend this daysack
For more information check out www.fjallraven.com
Previously published 19 April 2008