The Vitesse is Vango's offering to the ultralight market, a single skin tent with a variety of pitching options.
Manufacturer's Description
Meaning speed, meaning business¦ for the extreme racer, super lightweight backpacker or as an emergency shelter, the Force Ten Vitesse has a variety of pitching options including loops for suspending from trees or paddles (whatever floats your boat) or use walking poles if you have them to hand. Simple but inspired design and enduring fabrics complete this excellent piece of kit.
Manufacturer Specifications
Weight: 1.3kg
Pack size: 43 x 20cm
Pitch time: 5 minutes
Price: £130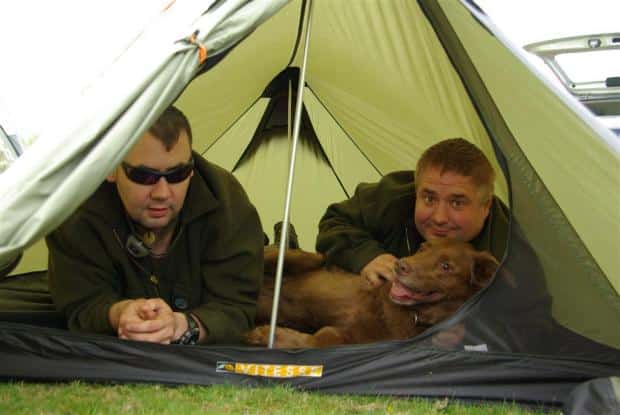 Review
The first time I pitched this tent I was quite dubious about spending much time using it, in fact it's taken me until recently, (after re-read the manufacturers description), that I could actually begin to appreciate it. The tent is very low to get in and out of, looking very much like the ridge tents of the past, the main difference is that the ridge is formed from the tension created in the fabric when pegging out – similar to tunnel tents. The Vitesse is big enough for 2 but you would want to be quite friendly.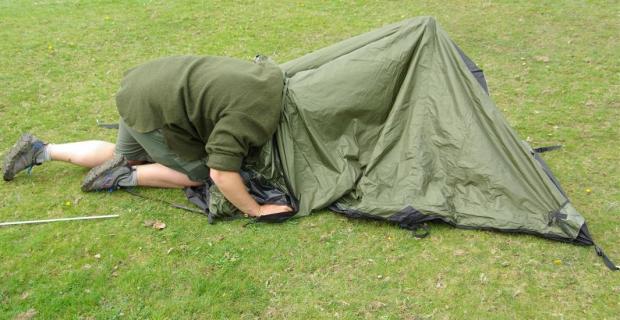 Pitching is quick, the 5 minutes given by the manufacturers specifications is quite conservative, with practice this can be a lot quicker as there is no inner to worry about: roll out, peg down and insert the poles.
The supplied poles can be substituted for walking poles either on the inside or on the outside – there are loops at each end of the tent for rigging an external ridge line or to string from trees.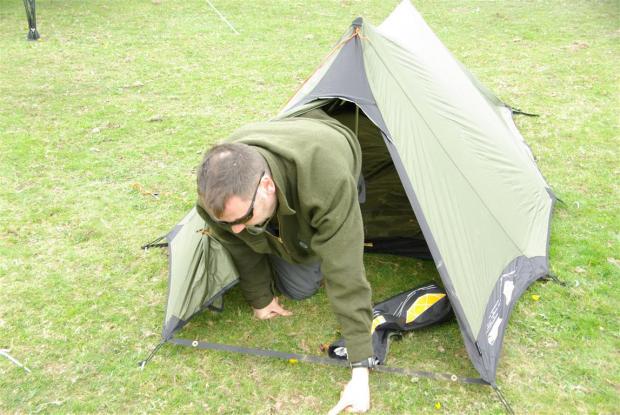 My biggest issue with single skin tents is the condensation build up that usually accompanies them. Despite having reasonable ventilation the Vitesse is no difference and touching the sides of a tent this small is almost inevitable – especially if there are two of you sharing.
Getting in and out successfully does take some practice to manouver around the front pole without touching the sides – and you are going to get muddy knees!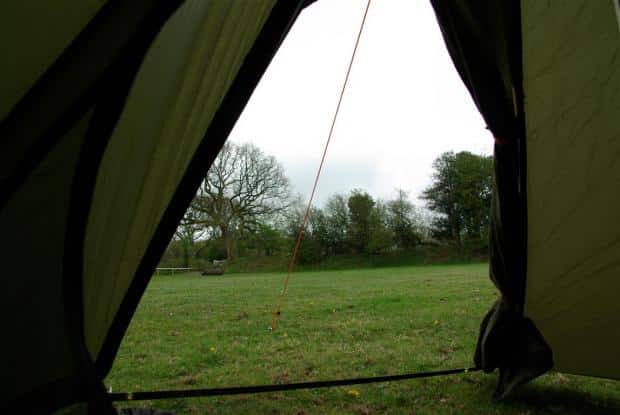 The front door has a no-see-um mesh panel as well as an outer door with a porch that is just about adequate as a gear store, putting too much here though does increase the challenge of entering and exiting the tent.
This was where I'd got to with latest in Vango Force Tens – then I re-read the description and had to re-evaluate the tent. "for the extreme racer, super lightweight backpacker or as an emergency shelter". At 1.3kg it is light, it will keep you out of the elements, if you pitch it properly and leave the front door open you might even stay completely dry. The Vitesse takes up minimal space in your bag and does exactly what it says on the tin. Personally for the money I'd probably invest in a decent bivvy bag but for 2 people going fast and ultralight for short periods of time the Vitesse definitely fits the bill.
Ratings:
Fit for Purpose  – 4/5 – Does exactly what it says on the tin!
Versatility – 3/5 – Multitude of different pitching methods but realistically this is a fast and light tent, probably not something you'd want to use on a daily basis.
Durability – 4/5 – Difficult to say as it's only had a year of light use.
Value for Money – 3/5
Overall – 3.5/5