Lloyd's Bannock
2 parts multigrain flour.
2 parts powdered skim milk.
1 part demerrera sugar.
Lot of raisins.
Some baking powder.
Add small amounts of water and mix until dough like.
Heat olive oil and mash into pan.
Tilt the frying pan on a rock or stick so that the dough is facing the coals in the fire testing occasionally for consistency.
The bottom may scorch a bit, but will still be tasty.
Cook until done.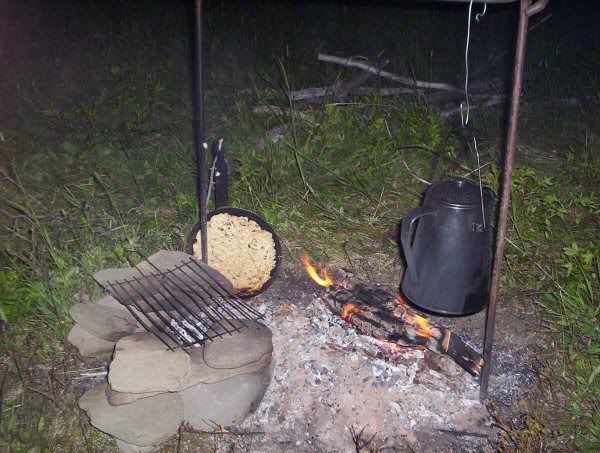 I use a few other recipes too but this is the most popular with people.
Also there are a bunch of Canadian Recipes on this site from BC.
http://www.for.gov.bc.ca/rsi/fnb/fnb.htm
The Fort Garry recipe is pretty good too and even works pretty good in the oven.
Bannock Recipe
Ingredients
3 cups of flour
1½ tsp baking powder
½ tsp salt
¼ cup of fat (shortening or butter)
1¼ cups of warm water
Steps
Mix all dry ingredients together
Make a hole in the middle and add fat
Pour water on top of the fat
Blend mixture together with your hands
Divide the dough into two balls
Flatten each ball into 1cm thickness
Punch holes in both with a fork
Cook in well-greased frying pan for 20 minutes