Hi all
I'm in the market for a lightweight but sturdy windscreen to use in conjuction with a alcoholstove and the multifuelstove shown below. The windscreen I use now is this one of Primus: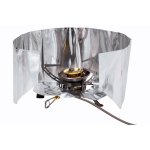 After 4 years it is about to break in two pieces because of it being folded over and over again.
—
I am now looking for something in the same style but a bit more rigid. Any suggestions would be much appreciated!
—
Note: I tried the harmonica-screens before, don't really like those...