Apologies for my staccato progress when writing this report, I'm doing it while 'working' on night shifts and will have to do the report in a piecemeal fashion...
The seed was sown back in 2012 when Chris The Cat and I agreed to return to Scandinavia in 2014 and spend a week in a cabin somewhere. However this was not to happen as we had agreed to join a trip with Teepee and Barethrills to Karasjok, supposedly the coldest town in Norway. The trip dates were set at 4th - 18th February for the main party and 29 January - 18th February for me. The early dates were chosen in the hope that we'd get some really cold weather, typically around the -40C mark. Personally I'd have rather travelled in early March to benefit from the much longer days.
Before the trip there was much discussion via the Interweb and C The C kindly hosted a planning weekend were we sorted out out logistical and kit issues but, sadly, we did not nail down the purpose of the trip or the route we would take. Here's a link to the initial planning thread for those that are interested-
http://www.bushcraftuk.com/forum/showthread.php?t=116047&highlight=karasjok
Interweb discussions continued after the planning weekend and we had 2 main choices of route, either north along an interesting ski/skidoo route which followed an old postal route or south along the river. The route north was on the Finnmarksvidda Plateau and visited many fine lakes and hills but had fairly sparse tree coverage while the route south had better tree coverage and easier hauling. After much discussion the route south was chosen. This was not my preferred choice and I was no longer sure that I could commit to staying with the group for the full trip. After much soul searching I decided to commit to the trip but not to the group meal planning as I couldn't be sure that I wouldn't throw my toys out of the pram and set off on my own.
I was due to fly from Gatwick on Wednesday 29th. I finished my night shift that day at 0530 and drove to the long stay car park where I managed to park next to one of the shuttle bus pick up points. I had about 6 hours kip in the van then got up to pack my bags. I still hadn't decided whether to pack my mountaineering kit and head off alone or pack my bushcraft kit and stay with the group. I was leaning towards the first option but as I was carrying one of the group first aid kits, a group shelter and various other items of group safety kit I was obliged to go with the latter option, and anyway I'd already booked a second visit to the area in March/April as I knew that this trip would not scratch my itch!
So the bushcraft kit got packed, the ice axe and crampons left behind and I loaded my 5 bags onto the Gatwick shuttle bus. Initially I only had 4 bags (inc. hand luggage) but one was slightly overweight and it was cheaper to pay for an extra bag rather than an extra 3KG of excess baggage.
From the bus stop there is a 200 metre walk to the check in desks so I went in search of a trolley. I found plenty but needed a £1 coin to release one. No problem, I had a £5 note and there was a change machine next to the trolleys, only problem now was that the machine was out of order! I really wasn't feeling any enthusiasm for the trip and was about to board the next bus back to the car park and go home when a good Samaritan asked me if I needed a pound coin. This chap had seen me struggling and freely gave me a £1 coin to help me on my way. The rest of the trip was trouble free, the only down sides were the lack of catering on the flight and the overnight wait at Helsinki airport but this was 2 hours shorter than expected due to the UK/Finland time difference.
Me fighting for a chair in a busy Helsinki airport.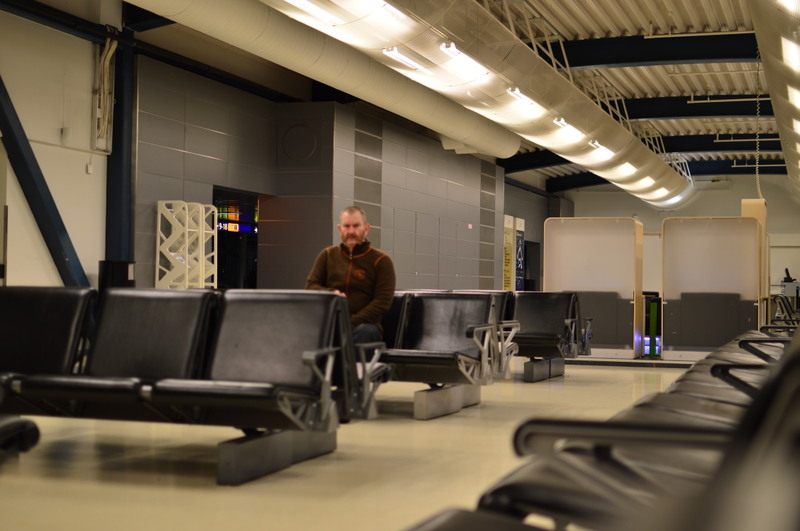 The highlight of the airport, vending machines that sell Haribo Click Mix.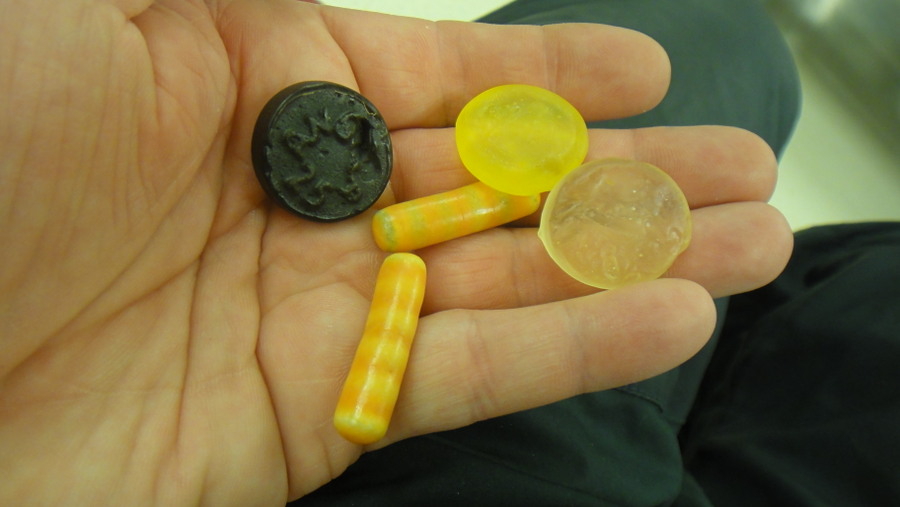 The January edition of the in-flight magazine had an article about some geezer who holds various records for doing things in cold conditions, I was going to borrow their title for my trip report but given what we were about to experience it seemed inappropriate. An alternative and apt trip report heading of 'What a Karasj(h)oker' was suggested by one of the team members.
In-flight mag, I so wanted to plagiarise this title...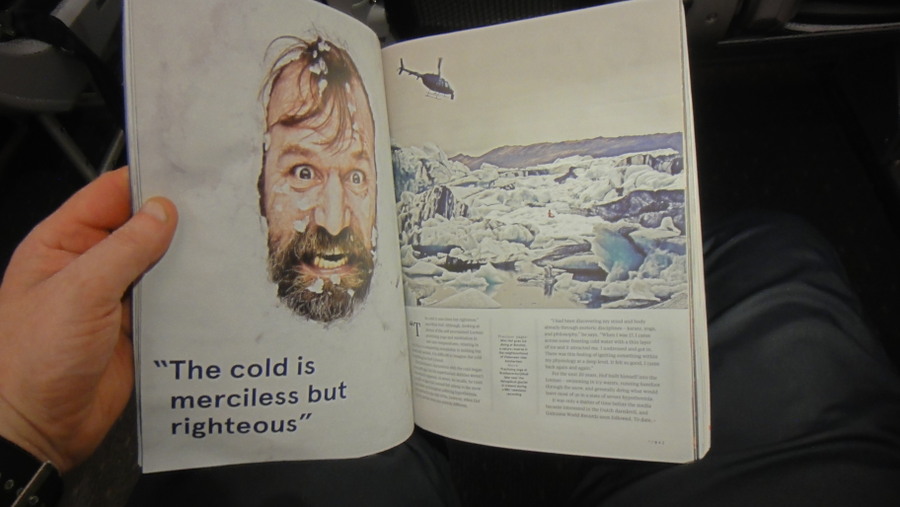 I finally arrived at Ivalo airport at about 10am and took a taxi into town to do some food and fuel shopping then I carried on in the taxi to the village of Kopello which has easy access to the lake. I was about to find out that I was carrying too much kit for my pulk, lack of snow back home was a fair excuse for not doing any hauling practice but there was no excuse for not doing a trial pack. The fact that I was carrying both a complete wool and a complete synthetic clothing system (for comparison) only compounded the problem. Whilst packing my pulk I was visited by a local old bloke and despite having no common language we managed to have a conversation about skiing on the lake. I also had a visit from a local dog, most people seemed to own a dog or two.
Local dog became shy in front of camera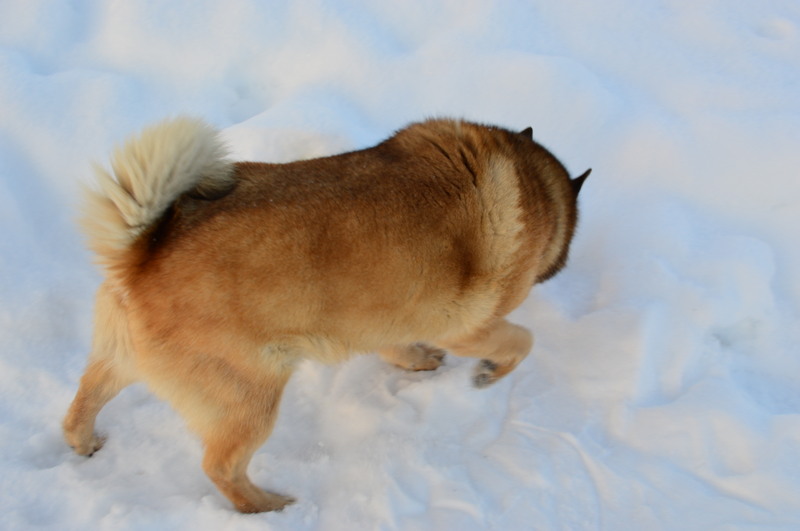 Start of the route, notice the blue sky...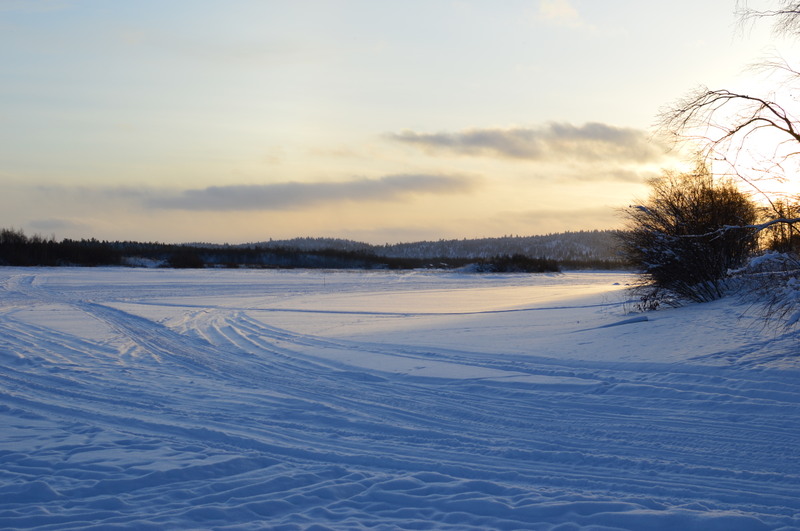 Overloaded pulk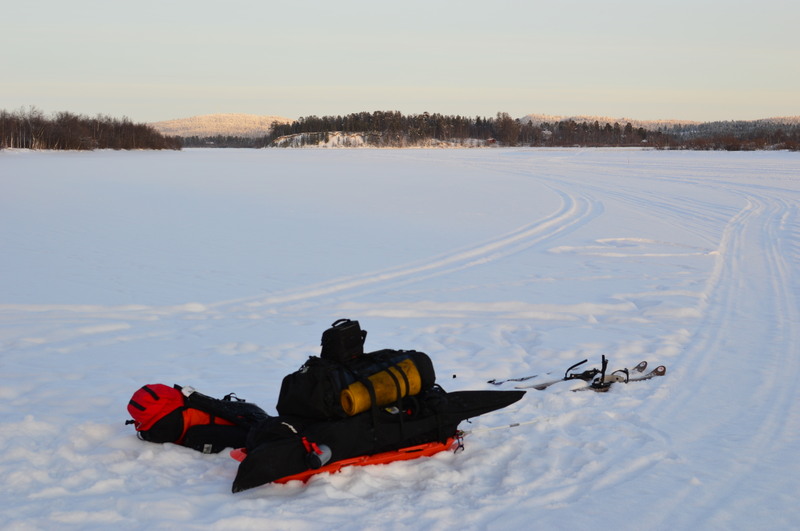 Sunset was at about 3PM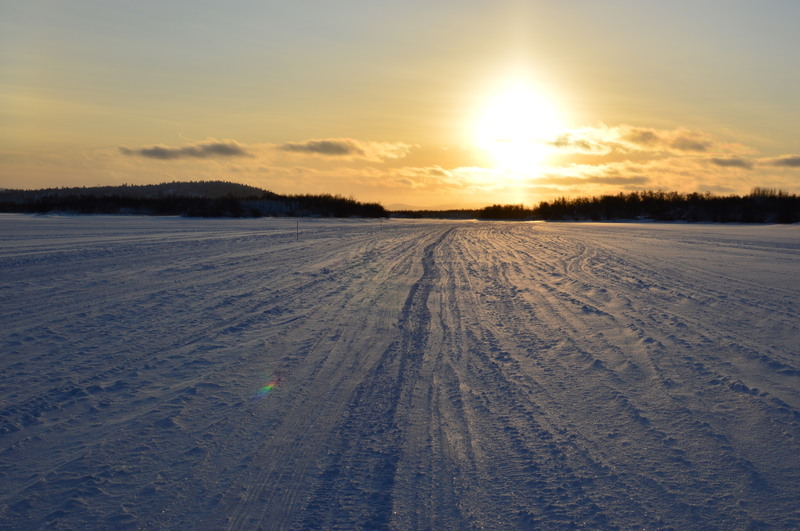 This was typical of the view for the first 5 days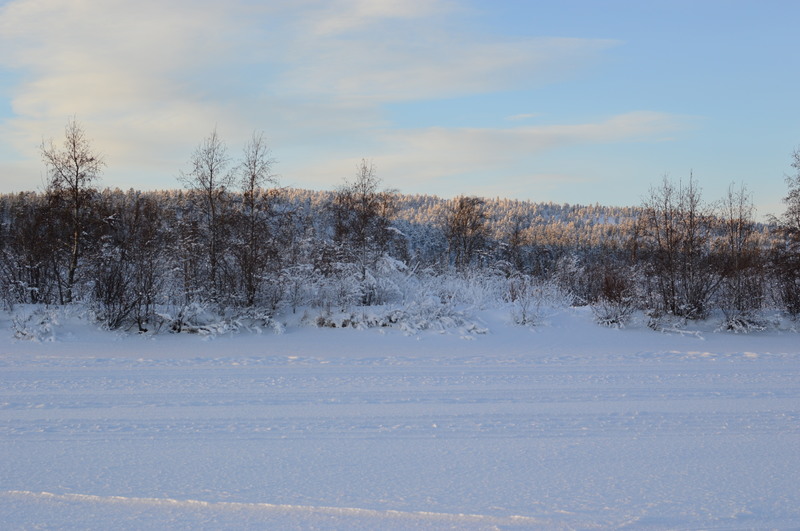 Tracking data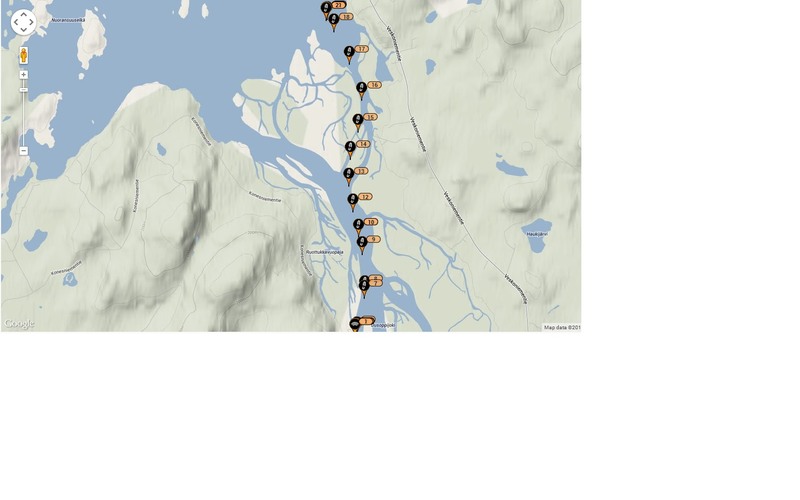 Roadsigns on Lake Inari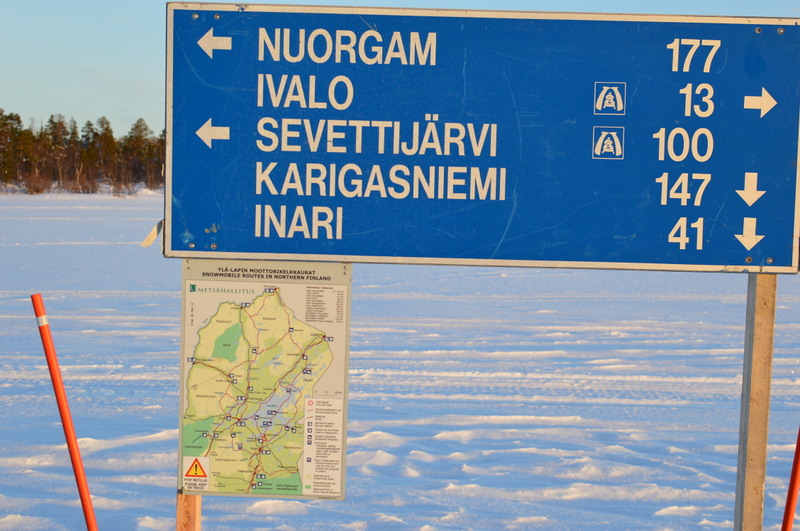 Skidoo trail map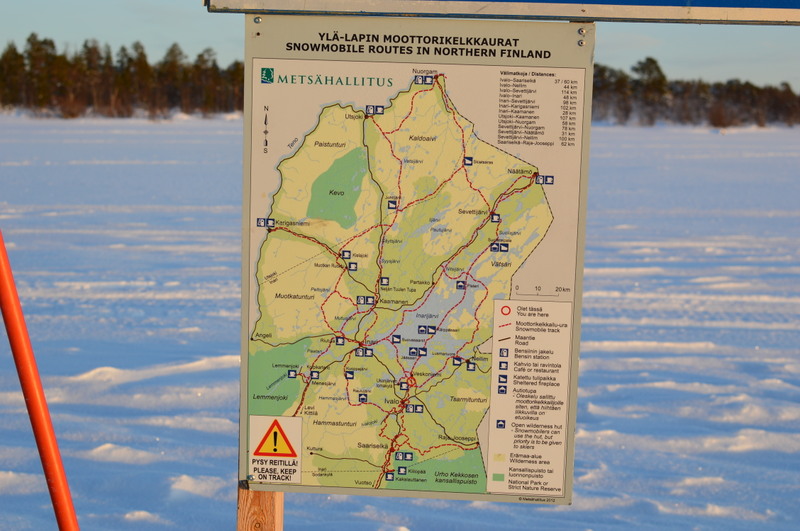 Kit once finally packed properly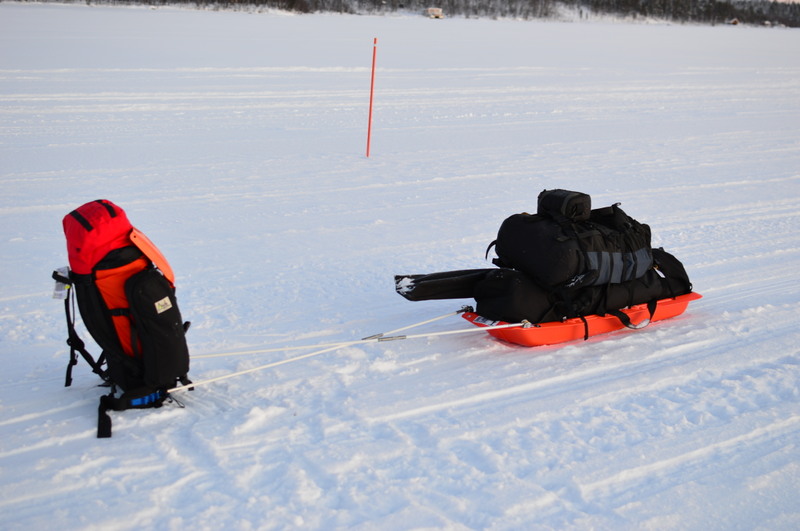 Travelling was not as easy as expected. Sometimes I needed the skiis, sometimes it was easier to walk. If I strayed from the skidoo tracks travel became even harder due to the uncompacted snow. I pitched camp on the lake at about 4:30PM. My shelter was the flysheet from my tent, a Hilleberg Soulo. In retrospect I should have taken the tent inner too to help me cope with the powder snow which seemed to get everywhere. The flysheet, even though of a freestanding design, was held down by using buried anchors made from my skis and poles and I also used an ice screw to be 100% safe. My main stove was a brand new MSR XGK which I had purchased 2 days previously. I thought the fuel I had purchased was white gas but it was paraffin. After trying to light the stove for 30 minutes I gave up and resorted to using my backup stove, a Caldera Cone. Even the CC refused to light for a while, a problem not helped by the temperatures of about -18C. Fortunately I was carrying 3 litres of water in flasks and insulated Nalgene bottles so I didn't have to melt snow for a meal and a brew. I was cooking inside my flysheet due to the strong breeze, the downside of this was the condensation freezing inside the tent.
Frozen flysheet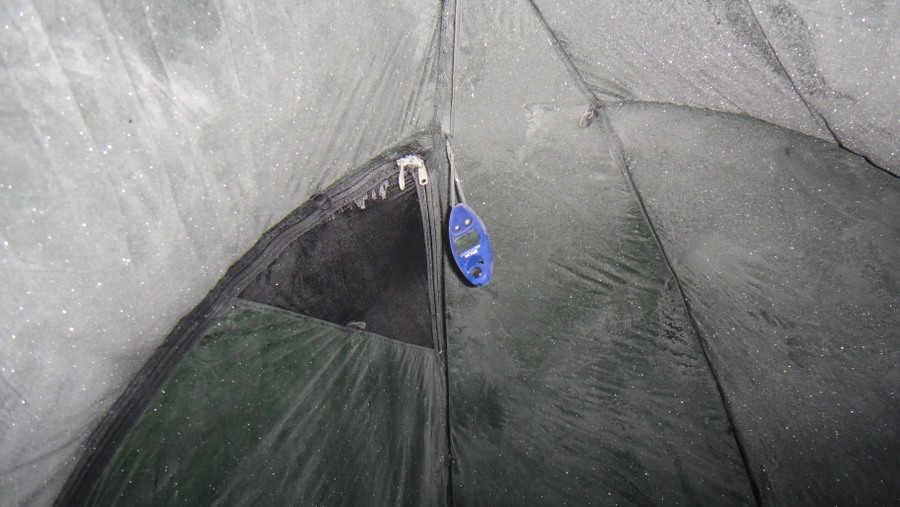 After my evening meal was finished I spent some time melting snow to refill my flasks then I had an early night. I slept for about 10 hours but had the weirdest dreams. I dreamt that I was chasing the Queen down a motorway, she was in a 1970s Roller and I was on my pushbike. I was trying to arrest her because she hadn't passed her 'dining at -10C or colder' exams!
Breakfast was porridge or pehaps museli accompanied by a brew. After breakfast I set off for a wilderness hut further north. The hut was only about 12KM away but the going was hard, again I was sinking into the snow despite following skidoo tracks. Powder snow would blow across the lake and quickly fill any tracks made by passing skidoos or dog teams. I was passed by 2 women and their dogs, I think they were taking hay to their reindeer who lived across the lake. After travelling for about 6 hours I was finally in the location of the hut however it was only marked on my 1:150,000 tourist map and not my 1:50,000 map. Needless to say I didn't find the hut and I spent another night on the ice.
Night 2 camp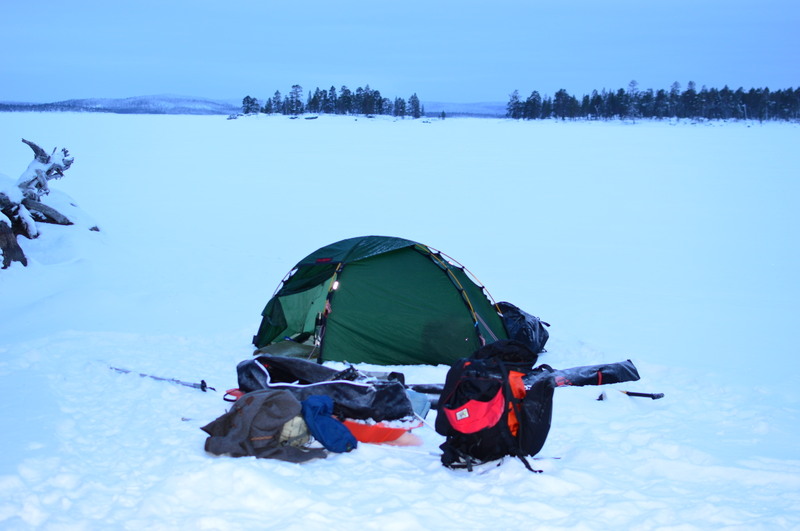 My nose runs constantly in cold weather...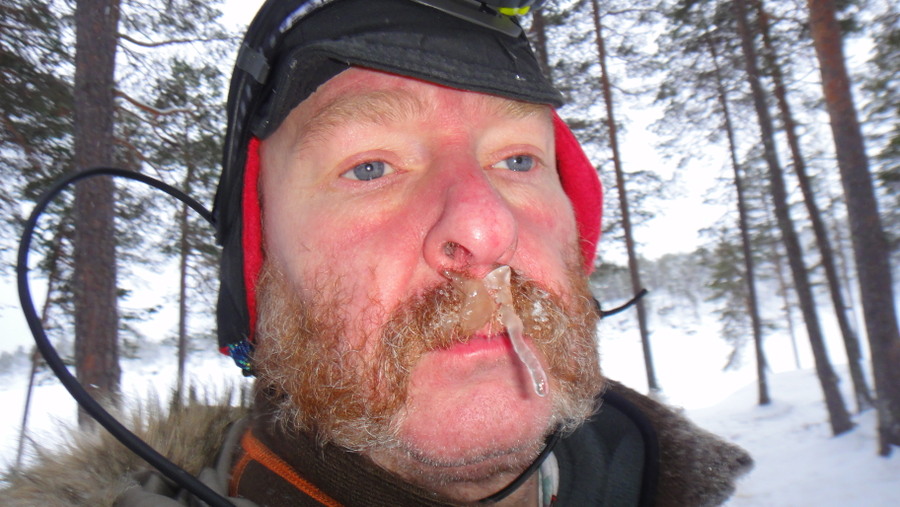 Tonight's wild dreams included a conversation with a spider about the difficulty of spinning a web on MDF furniture.
The following morning's breakfast was followed by a short walk to the hut which I had missed by about 150 metres.
Outside the wilderness hut
The hut complex consisted of the hut itself, a lapp pole tent (a square log cabin with a 4 sided sloping roof) 2 wood stores, a fire pit and 2 composting toilets. The complex gets more visitors in the summer from canoeists or tourists on organised boat tours. The log books in the hut and the pole tent suggest that winter visitors are few and far between.
I had been planning to travel north to Inari but I could not be 100% sure of catching the bus so decided to have 2 nights in the hut then head back to Ivalo where I would meet the rest of the team on Tuesday. During the days at the hut I was visited by 2 guys on skidoos. Their job was travelling between the huts and making sure they were in good condition. Best job in the world.
The neighbours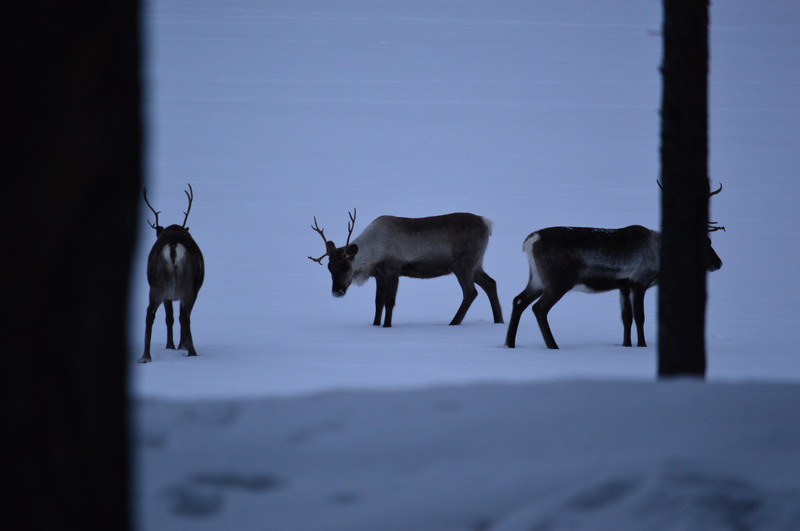 Gas stove in hut (summer only)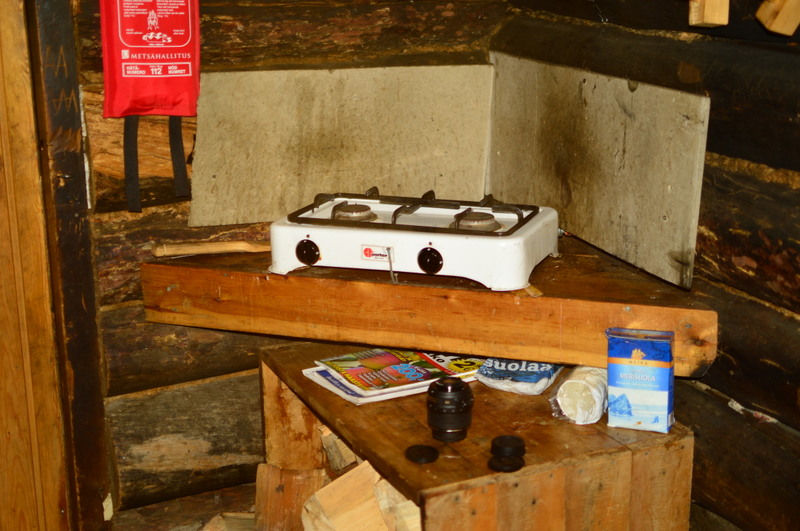 Rules and regulations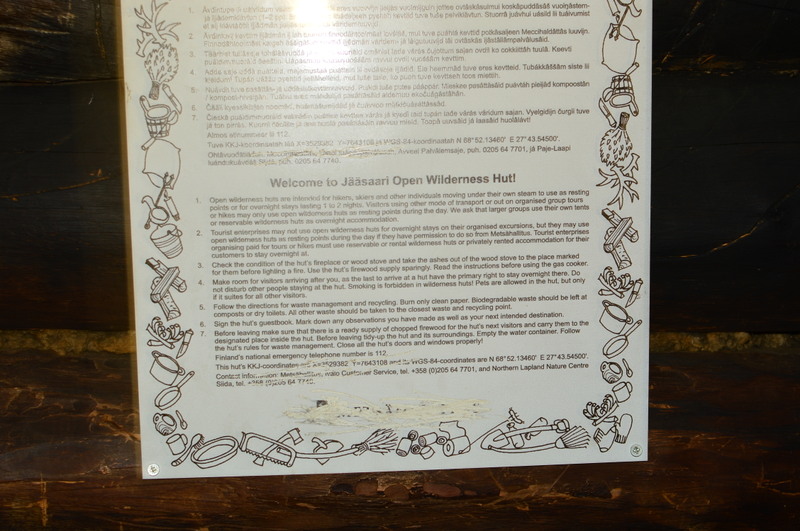 Route planning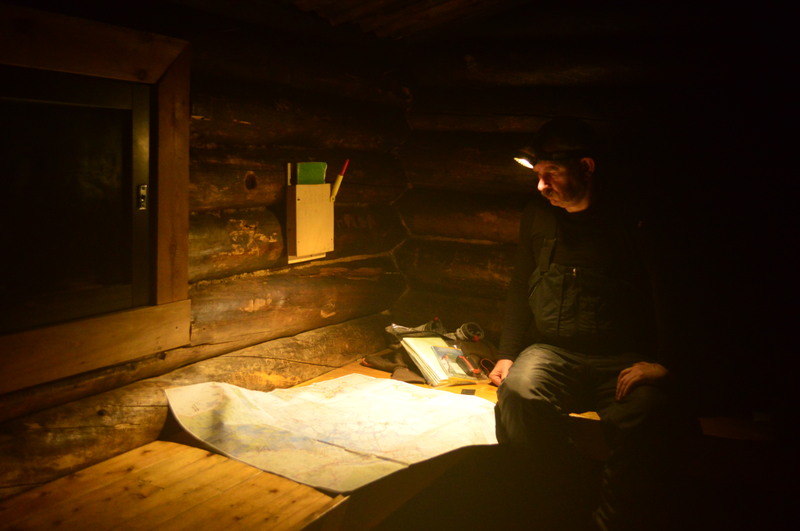 Melting snow on the hut woodburner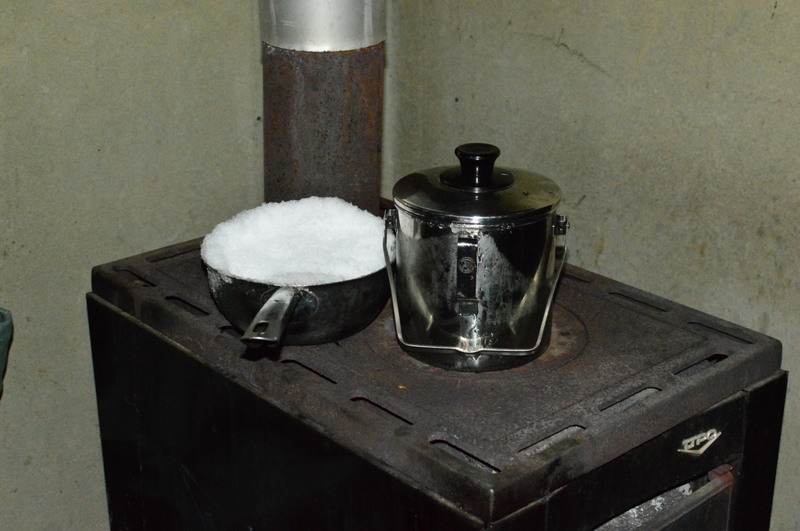 Feeding the stove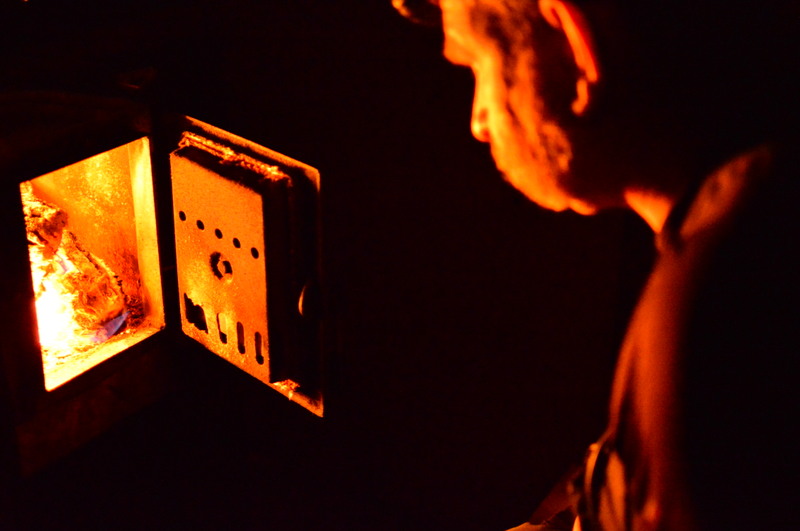 Bed time (6PM)
Last edited: