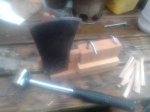 Not great photo maybe but here is a little jig I made.
Bought an axe head and needed to find a job for it. Carved a bit of hardwood to fit into the head, cut another to rest it on and a 3rd bit of softwood as a spacer. Drilled 2 holes on each to hold it together and job done.
Place wood on axe blade, give a tap or two and the result is some size tiny fire starters. Saves all that messing about picking up bits that fly off when batoning with a knife. Will split a hand sized lump or a finger sized bit of kindling. Tent pegs for bench or ground, nails for a wood round or stump.