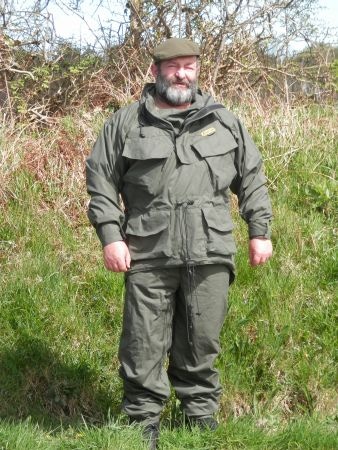 Review
By John Fenna
Recently re-introduced to the Snugpak range the Westwinds range of clothing uses a unique 100% cotton Ventile material, a classic performance fabric that is a natural fibre, yet one which is a true weather-beater.
Originally developed during WWII for immersion suits to give pilots on the Arctic convoys a fair chance of survival when they ditched their aircraft in the freezing water, Ventile is made from very fine, long staple cotton spun into a superior yarn which is doubled for extra strength and woven incredibly tight. This gives a fabric that is wind and weather proof, that "breathes" naturally and which cannot clog or delaminate like some man-made fabrics, is very tough and durable and is virtually silent in wear.
Once Ventile becomes slightly damp, the fibres swell slightly, stopping any water penetrating the weave so a single layer of Ventile gives good "everyday" protection, while double layers of Ventile provide superior weather resistance in the most testing of conditions.
Pin pricks and minor damage (once sewn up) do not seem to affect Ventile's performance, while I do not believe the breathability of Ventile can be equalled by a synthetic fabric. An extra waterproofing treatment to the cotton gives superb initial rain-shedding performance. The only drawbacks with Ventile are that when it does get damp, the swelling of the fibres means it get slightly stiff and, in very humid conditions, or if you are sweating excessively, some condensation may occur, or you may find sweat does not wick away.
It is not surprising that some immersion suits are still made from Ventile, even in these days of high tech synthetic materials, or that Arctic/Antarctic explorers still prefer Ventile for their performance clothing. I have long been a believer in the fabric. When I was at college studying clothing design, my final collection of outdoor clothing was 100% Ventile, and Ventile feels better the more you wear it!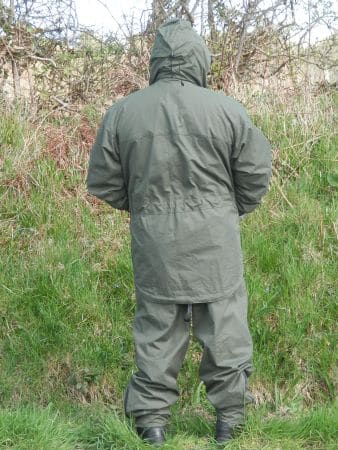 The Westwinds Antarctic Smock was originally designed for the British Antarctic Survey Expedition, but as well as a fantastic polar outer layer garment, being a superb windproof smock giving protection from windchill, it is ideal for more temperate regions as a very effective showerproof (almost totally rainproof in my experience) and very comfortable and practical protective smock.
Cut with lots of freedom of movement as a "shortie" hip length garment, the Antarctic Smock is quiet to wear, does not impede movement, is lightweight (approx 750gm av.) and is very well designed to give comfort and function, with many useful features.
Starting at the top, the Smock has a build-in hood that incorporates an elasticated volume adjuster (the plastic lock was missing on the review sample but as I had a spare it was easily replaced) , a deep wired peak and an elasticated locking drawcord front adjustment. The hood can be rolled up and secured by the volume adjuster tucked through the internal hanging loop for convenience, but when the weather is poor, the hood proves very useful and is well cut for comfort.
The front of the jacket has a chest length zip opening with a Velcro storm flap and full gusset backing panel to stop the elements penetrating, while allowing ventilation and ease of donning the smock.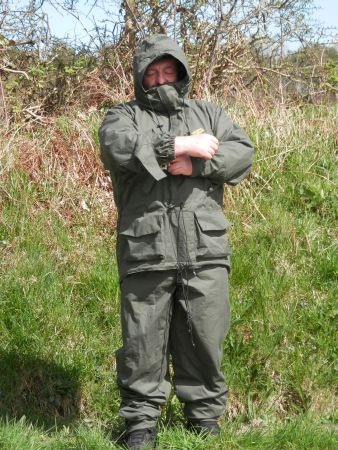 The smock's shoulders are seam-free to avoid water being forced through any stitching under bag straps, while the sleeves have not only Velcro strap adjusted cuffs, but also elasticated inner cuffs which will help keep out wind, snow and insects. Underarm gussets give superior ease of movement.
There are elasticated locking drawcords at the waist and at the hem, which is scooped very low at the back for extra protection. The drawcords allow control of the smock's ventilation, while there is the unusual feature of a crotch strap, with a fully adjustable quick-release buckle at the front, and this can hold the smock tight or be fastened with Velcro away in the lower back of the smock, depending on conditions. The cords are very long and can be trimmed to be less of a dangling nuisance.
The front of the smock boasts 4 huge boxed pockets, all with deep "envelope" fold-over top type flaps with generous Velcro closures. The top pockets are set low and angled for easy of access and are somewhat larger than the lower pockets.
The Antarctic Smock has proved phenomenal, keeping me dry and comfortable through some heavy rain as well as continual day-long drizzle. Weighing only about 925g (size XL) and packing to less than 11x21cm the Snugpak Westwinds Antarctic Smock will not overload your pack.
The Antarctic Smock comes in sizes S-XXL, colours Navy, Olive and Black, costs around £195.95, is tough, quiet and comfortable to wear and is lightweight and well designed for active use.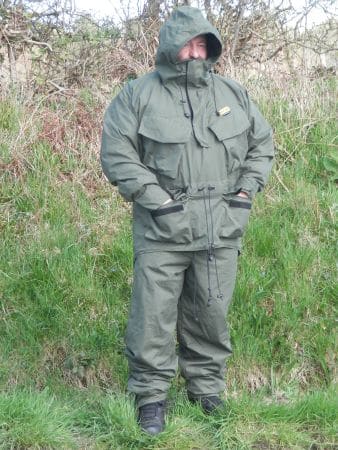 The Overtrousers are made from a double layer of L24 Ventile and are generously cut for freedom of movement and have the minimum of features. The elasticated waist of the trousers is aslso fitted with a shock cord drawcord with twin locking adjusters while the lower legs have 35cm coil zips, backed with twin "drip strips", to make putting the Overtrousers on and taking them off over your boots, easier.
Being double layer Ventile, with no through seaming anywhere other than the bottom of the legs and at the waistband the waterproof performance of the Overtrousers is superior to the Single layer Smock and will keep even the heaviest downpour of rain at bay for extended periods. I found the waist drawcord to be both too long and too lightweight to be ideal and plan to replace it with a sturdier shockcord or paracord item.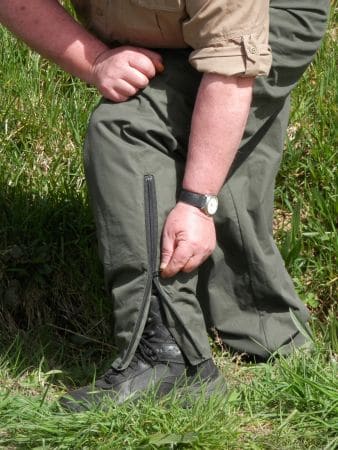 The Snugpak Westwinds Ventile Overtrousers come in sizes S-XXL in Black, Navy or Olive weigh about 800g in size XL, pack down to just shy of 20x 10cm and cost around £99.95
Made in the UK to the highest standards, the Snugpak Westwinds Antarctic Smock and Overtrousers are only available from the Snugpak website, are superior bits of kit and are made to order.
Since I started using the Antarctic Smock I have noticed several other folk in the outdoors wearing the same garment, so it would seem I am not the only one impressed by the design, and above all, the fabric of this smock.
For more information contact: Snugpak Ltd, Waterloo Mills, Howden Road, Silsden, West Yorks, BD20 OHA
www.snugpak.com
Tel:01535 654479