Just curious, has anyone had the idea of making a map of the problem areas? A somewhat revolutionary idea, I know, but it might even be helpful.

It can actually be slightly automated, if water height at one point in a valley is known on a digital topographic map it can fairly easily be "spread" with the same height. Does not solve all the problems but some.
If you really were that curious and taken the trouble to click on the third link on my earlier post you would have seen that the good folks at NRW have provided various tools including very detailed real time mapping of flooded areas and river levels.
https://naturalresources.wales/flooding/check-flood-warnings/?lang=en
I'm sure someone from Scandinavia could probably do a far better job (heavens you guys seem to have more than enough time on your hands) but that's what we knuckle-draggers are working with for now!
Apologies if the above sounds snappy I have spent most of the morning getting cold and wet dealing with fallen trees, soggy livestock and ensuring that the runoff from the fields above us passes safely round (rather than through) my house. I then did the rounds checking for storm damage and blocked culverts for elderly and absent neighbours.
It's pretty grim around here but having seen how much worse things were in South Wales, I naively thought that it might be worth flagging up to those headed to the Moot that this is now regarded as a major incident by the emergency services and the current advice is not to travel. I wasn't expecting floods of gratitude (can you see what I did there!), but I'm not currently in the mood for inane smart-@rse comments from someone who should probably be paying close attention to the current warnings and/or pointless advice from a thousand miles away.
The sun has put in a fleeting appearance and hopefully things will start easing up downstream but a lot of people in the area are going to have a miserable next few weeks drying out and repairing homes, schools and businesses.
FWIW, the forecast is for further heavy rain on Thursday which will be falling on already saturated ground.
I hope those travelling to the Moot arrive and get home safely and have a great time.
Edit: to add correct NRW link and screenshot of flood warnings in place for Merthyr Mawr at 16.00 on 16 Feb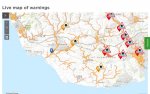 Last edited: