Oct 7, 2006
22,371
1,921
64
My work now includes, not only interpreting the Iron Age for school kids, but also the Stone Age.... so a new costume is being made!
So far I have made a fur cape (well - it is the back of an old fur coat held with a bone pin/limpet shell ring "penannular broach" type thing that I made ages ago) and now a few bits and pieces, roughly based on Otzi's kit and other established finds.
The main piece is a stone hammer made from a water worn pebble/cobble and a hazel pole. the hazel was split down to half thickness and this bit was boiled and wrapped around the stone, into which I had ground a "waist" to take the hazel. This was all bound into place with rawhide (from a dog chew) and waterproofed/glued with good old pine resin/beeswax/charcoal glue. For looks the handle was whipped with leather and a leather end binding put in place.
Also made were some antler beads/washers for toggles on pouches etc, an antler/chaga/antler bracelet, a mending kit tassel of thongs with an antler toggle, a couple of bone arrow heads, an antler javelin point, an antler/hazel "retoucher", an antler point an antler tine and a flint and a volcanic glass flake as well as a small pretty hammer stone for flint work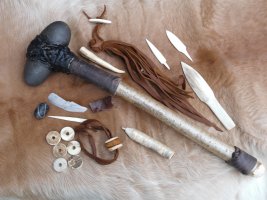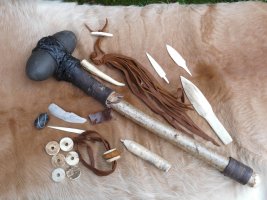 My kit will also use various bits I have made previously like some of the bits below - plus others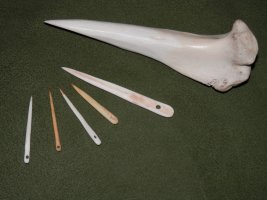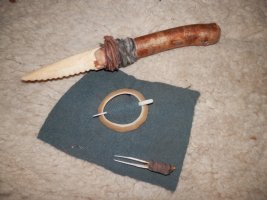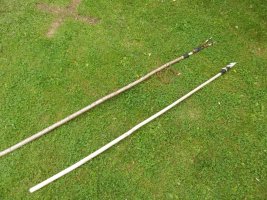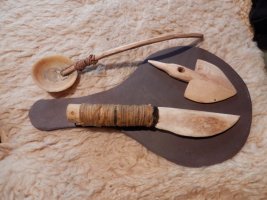 My next challenge is making a set of clothing ... I have just ordered a bunch of goat hides (like the one in the first photo) to play with ... and I have raided the local charity shops for fur/sheepskin coats