Oct 7, 2006
21,745
1,200
62
Well - it ain't no canoe!
Having been given some nice Finnish birchbark by Redkite (thanks Stewart!) I started playing....
My first Birchbark basket.
It ain't as easy as it looks - what with splitting out and cracking of the bark - but despite some issues I got a reasonably functional item out of my first try - 6.5" x 5" birchbark and natural cordage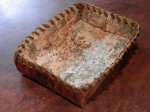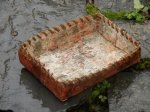 I plan some more trys tomorrow, building on my experience!