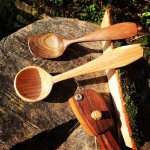 The upper spoon is an eating spoon I carved out of a piece of green cherry. After carving I left it dry at home for 5/6 days then baked it in the oven which gave it a lovely deep brown colouring. I then oiled it with pre-oxidised raw linseed oil (food safe) which really brought out the grain. I filmed the process and put it on my YouTube channel.
https://www.youtube.com/user/welshwoodsman
The bottom one is a coffee scoop out of Alder. I needed a scoop with a longer handle for my kitchen so I can reach the bottom of the coffee jar. It was only a quickie to keep me busy in the woods on Sunday morning but it turned out great. I'll be uploading the video of the process this evening.