Jan 14, 2008
10,937
306
38
Recently i purchased a pdf book by Woniya Dawn. Woniya came second in Alone Series 6 and she did itwearing self made clothing from hides so she not only talks the talk but walks the walk too.
The book is titled Buckskin Revolution (She goes by the instagram name of @buckskinrevolution too) and it is INCREDIBLY detailed and well thought out.
One chapter caught my eye and inspired another project
This is referred to in the book as Buckskin Sampler pouch
whilst i strayed from the sample pattern in the book a little i am happy with the finished project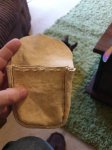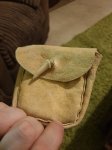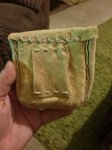 this is the simplest piece covered
the book details all clothing as well as mocassins and bags.
now i just need to process the hides in the freezer before i get cracking on the next project