Here's a little one I finished last week, I was a little sad to see it go but you can't keep em all (apparently)
I've probably only made about 10 of these Puuko's so far which I've named the
"Ratatoskr Puuko" After the mischievous squirrel that runs up the world tree In viking mythology, carrying messages from the serpent at the bottom to the eagle at the top... and creating havoc between them both.
This is the first one I've made with wood scales, these were Desert Ironwood with micarta liners, all the others have been made from Micarta.
The steel is 3.5mm and one of the tougher stainless steels available (AEB-L), the Rockwell sits at 60 for this model, the grind was a Scandi with a stropped edge and as you can imagine very sharp. I believe this steel at the 59-60 Rockwell mark lends itself quite well to both toughness and edge holding... kinda the Goldilocks zone for a smaller knife like this.
Anyway please enjoy the pics below .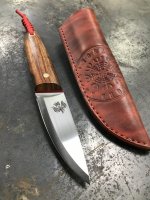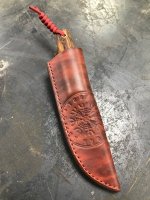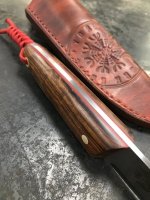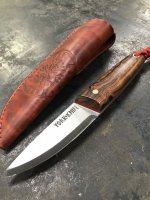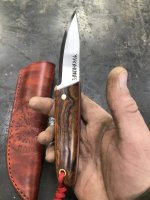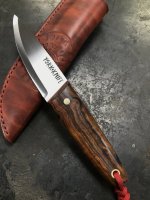 The scales are held on with brass pin, lanyard tube and G-Flex epoxy. The finish is a hand finish to 400 grit for a clean uniform matt look.
You'll notice on the opposite side to my makers mark There is an abstract Norse Raven, an image I just can't help but put on. The sheath is made by myself.... turns out you can't be a knife maker and not turn your hand to leather once in a while (much to my sore fingers dismay) it's stamped with my signature stamp which is a Viking Stave called the "Helm of Awe" and I hope sets the whole package off nicely.
I hope this has brought some of you guys and girls pleasure.
Luke