ITEM: Various torches.
CONDITION: Most LNIB
EXTRAS: Original packaging and candy with most.
LOCATION: West London
PRICE: See description
DESCRIPTION: If you need pictures of any specific one please ask and I will do my best to email them to you. Most are mint and only seen use at home, I have others that I use hence these are up. Most have original boxes and packaging (see individual descriptions). PayPal okay. No trades. Postage will be RM 2nd class. Descriptions and specifications for each can easily be found on the net. Discount considered on multiples. Any questions please just ask.


Items and prices:





1.
Manker E04
CW (XPG3) 550 Lumens. All original packaging inc. Home use only some handling marks. Rechargable 16340 battery Inc. £32 tyd.


2. Nitecore TM06 Cree XM-L2 3800 Lumen. All original packaging inc. Takes four 18650's not included in the price, can be negotiated separately. Never used and all in near mint condition. £120 tyd.


3. Lumintop Prince in Brass. Cree XP-L 1050 Lumens 18650 (not Inc.) with rear clicky. Forgot to take it out for pic. Discontinued now, this has no real patina as yet. All packaging inc. £43 tyd. If you need pics just ask.


4. Manker L A D Mk1 in Nichia. Grey model with all original packaging and chain. Has seen use but still near mint. Lovely warm tint. USB Charging. £32 tyd.


5.
**Sold**

Zebralight H51F 200 Lumens (Floody) . Has been used and has marks on clip. Original packaging Inc. never used headband. http://budgetlightforum.com/node/3256 £35 tyd.


6. Nitecore MH20 Cree XM-L2 U2 1000 lumens micro-USB Recharge.18650 ( Not Inc.) Palm-size spotlight. Never used outside and near mint. £57 tyd.


7. Sunwayman V10R Ti+Collectors Titanium fully variable magnetic control. Cree XM-LU2 CW 500 Lumens. Rear clicky in upgraded rubber, original metal one inc. Milled from one piece of Ti. Deep carry clip and spare lens. Also inc. is the Ti AA extension. https://www.amazon.co.uk/Sunwa…-Collection/dp/B00O42AB5O £95 tyd.


8. MecArmy BL43 In Titanium. Lightweight 130 Lumens. Has been used, signes of use. No chain, micro-USB rechargeable. **Torch only** £35 tyd.


9. Nitecore MH25 Cree XM-L2 T6 Micro-USB Charge. Upgraded 18650 3100mah Inc. All original packaging and bits are Inc. Home use only near mint. £54 tyd.


10.

**Sold**

Olight S1R Baton 2. (the latest) 1000 lumens, compact rechargable edc. All as new (LNIB) with everything in the box. Never left the desk. £45 tyd.


11.

**Sold**

Olight M2R Warrior XHP35 1500 Tactical Lumens. Magnetic USB Charging. Batt. Inc. Light use. All bits in the original packiging, like new. £65 tyd.


12.

**Sold**

Lumintop Tool AAA Copper Cree. Rear clicky, 110 lumens. Used with signs and has patina. All original packaging. Lovely little thing. £27 £25 tyd.





Thanks for looking.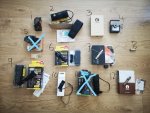 Last edited: