I'm tweaking my kit at the moment not so much in terms of weight but more size to fit into cycling bags. My current hammocks I made years ago and they have (and still are) served me well but they are quite bulky. I was looking at the Alpkit Mora hammock but Sarge mentioned the Sea to Summit Ultralight. Anyway a couple of days later one miraculously appeared in the mail. The pack size of this is tiny and it weighs just over 200g including straps: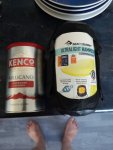 Apologies for the feet...
Anyway it terms out that once you take off the cardboard packing material it gets smaller again.
I took down the old hammock I'd been using during the lockdown and pitched the new one: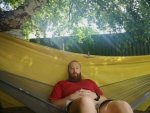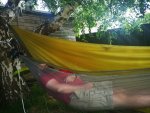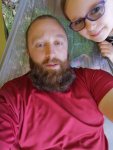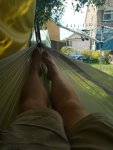 Pitch time is very fast using the suspension straps and clips it came with and it had no problems holding my bulk.
It's surprisingly comfortable and I found it long enough although it is a bit snug around my shoulders. I could move around and sleep slightly diagonally which helped with this, I'm going to need to spend a few nights and see how comfortable it really is.
My main concern... the thing is completely see through!
I'll let you know more once I've given it a proper testing.