About 20 months ago I posted a thread about a possible move to Brittany or the Peak District.
Well we have taken the plunge but its neither choice. Post Brexit we gave up on the France option as I do have some health issues and was concerned about health care should I need it once we had exited from the EU. So I started paying more attention to the Peak District. Regular checking of properties online and a few visits and we soon realised that it was not going to be easy finding a property in our price bracket that met our needs.
That's when a friend suggested North Wales. A quick check and it was nice to see how far your pennies go in this area. We viewed a few properties in Snowdonia and Anglesey and were looking for a character property in a village location. The one that best suited us was in the village of Penmachno in the Snowdonia national park. We found it last September but due to holdups with the chain we did not move till early march, two weeks before the lockdown!
The property needs a little work but its full of character being 160 years old. Any jobs will have to wait till the country is moving again but its not a bad place to be in lockdown.
The locals have made us more than welcome as they were happy the property had not been sold as a second home. Its only a small village 4 miles from Betws y coed. There will be plenty of choice for walking and bushcraft once we are able to explore the area more. We are already feeling completely at home.
I thought I would post this update for anyone who is thinking of getting out of the rat race and looking for a bit of inspiration. We have also made many good friends through our old local meets at North Wood in the midlands. If any of them are in the area after lockdown feel free to drop me a line or phone and pop in for a coffee or beer.
I have only taken a few snaps on my phone in the current situation. I am sure there will be some better photos in the months to come.
Thanks all
Greg & Alison
Our house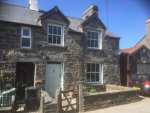 Back garden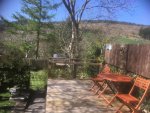 Penmachno