Hi all;
I have for sale a pair of leather embossing stamps with footstep images (bare feet):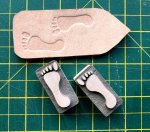 The imprints are (approximately) 30mm x 12mm.
These are laser engraved on a recycled plastic called "Necuron". As a result, "stamp" is a bit of a misnomer as you don't use a hammer to get the imprint. Instead, you need to "case" the leather (wet it) and press the design in with a G cramp or a vice and leave it under pressure for about minute or so. (I use use an arbor press which means you don't have to wait so long.)
£12 the pair to include P&P.
PM me if interested.