With an upcoming canoe trip in Sweden coming up in September I decided to make a kydex sheath for my knife today. We'll encounter some rapids so there is a chance that we'll capsize. Kydex is easier to dry out than leather.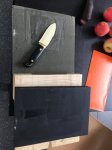 Selfmade kydex-press, black foam is special kydex-foam, the green one is a recuperated sleeping mat (foam).
Kydex heated to around 175 degrees Celsius.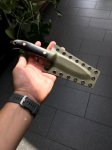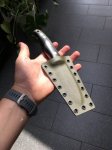 Now I'm on the hunt for some webbing/nylon to make the belt loop with.
Last edited: