Hedgehog, of the fungi kind ofcourse
with a glut of hedgehogs it was time to try them in a stew.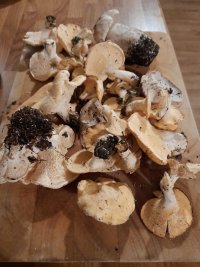 First get your onion cut and sweated down. You can quite easily use leeks, spring onion, red onion etc. Then take your sausages out of the skin and pull into little bitesize lumps. When the onions have softened, turn the heat up and brown the sausage meatballs off.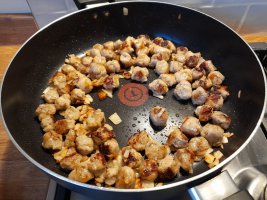 Add some chopped veg in. I used potato, green pepper, carrot and cabbage. Potato makes a nice thick texture to the sauce as it dissolves but any veg will work, I've never made this stew the same twice. Add a bit of colour to the veg. I've chucked some baylead and rosemary in at this point.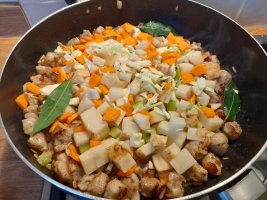 At the same time, get some butter and a little oil melting in a pan, and fry off your hedgehog mushrooms, adding a little garlic as they fry.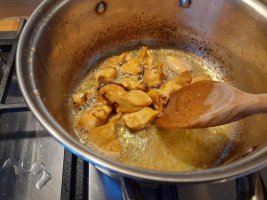 Next just cover the veg with water and bring up to the boil. I've added a little corn, green beans and peas, but any pulses will do, they add a great texture to the stew. Sling in a chicken stock cube, some black pepper and a dash of mild curry powder, use sparingly you don't want it to taste of curry.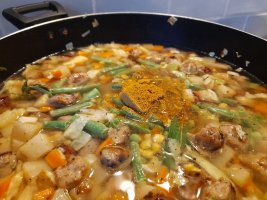 When the mushrooms are getting nice and golden you can add the lot to the pan including the butter, and if you want to be super fancy you can deglaze the mushroom pan with some caramel vodka and flambé it and add to the stew (Posh eh?)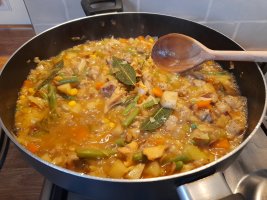 Cook slowly until the veg is soft, then click the heat up to reduce the sauce until thick, whilst trying not to burn anything. Watch it closely! You can then remove the bayleaf and rosemary stalks and serve.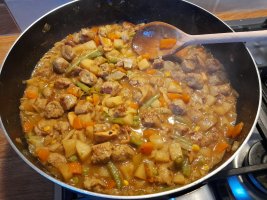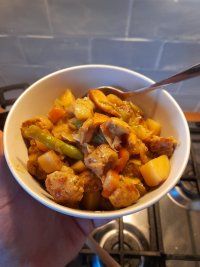 Give it a go.