I have been trying to get a Fox skull for a while now, and this is my third attempt, both previous ones were either in bed or scavenged and I lost them. Probably because they were in a forest a walk away from my house so I couldn't check them regularly.
However, one for hit by a car near my house, and crawled onto the ditch alongside my boundary where I park my car, so this time i weighted the body down with old tyres and made sure the head was covered so it couldn't be robbed. I then left it for a year, until it was just bones.
I then collected the skull, cleaned it with soap and water and then soaked it in a biological detergent and water mix for about 6 months to get the dried skin and grease out of the bones. Then they had about 12 hours in a 6% hydrogen peroxide solution. Before air drying them for a couple of days. I then glued the teeth back in and reassembled the skull.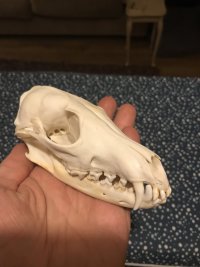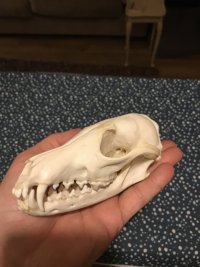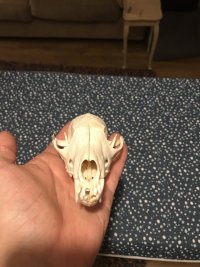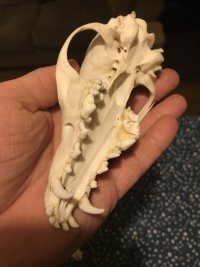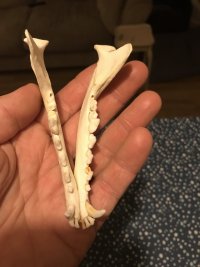 I was quite pleased with how it came out abs it got me thinking if I could rearticulate the rest of the skeleton, so I went and collected as many of the rest of the bones as I could fine. I hope I got them all (but probably not!)
this time they didn't need the soak in water as they had been out in the open air for an extra 6 months are were completely clean and dry, so I just bleached them with hydrogen peroxide.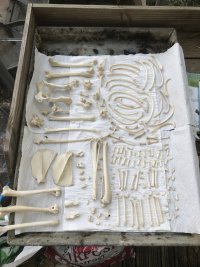 all the key components appeared to be there (some not pictured) so I then started to assemble the spine. Took a bit of fiddling but the bits either feel 'right' and that they should fit together or they don't. Sacrum is at the top and neck at the bottom of the below immage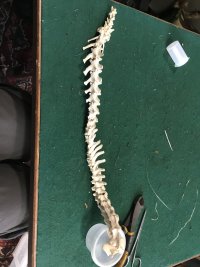 that's as far as I have got for now, I am sure the small feet bones are going to be quite the challenge…..
This may take me a while…..