Apr 16, 2003
23,106
1
1,189
51
HEADS UP! We love Theresa and many of you know her from the
BushMoots
so we're happy share these courses with you.
If you want to learn Tanning then get on a course with Theresa, she's brilliant and you'll learn some amazing skills. Here's two opportunities to learn from her and work on Deer or Fox tanning, or both!
First we have the Fox Tanning course 12-13th June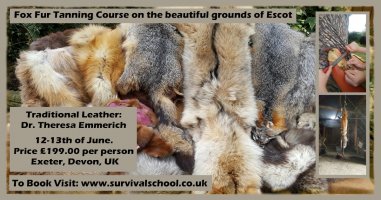 Then the Deer Tanning Course 18-20th June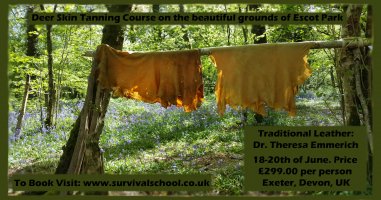 Theresa's Instructor Bio
:
I am an avid practitioner of traditional living skills and primitive technology of all kinds. An interest which came in part from growing up in the Rocky Mountains in the USA, where backpacking, hunting and fishing were part of the culture. I have followed this interest into the academic field of Experimental Archaeology in which I hold a PhD from the University of Exeter in the UK. I have been tanning skins using traditional technologies for over 25 years. Learning to tan was a natural offshoot of the attempt to use as much of the animal as possible and had the added bonus of producing a beautiful end product. I include in my instruction a diverse range of information, from skin morphology to helpful hints in dealing with the numerous and frustrating problems which are often encountered when first learning to tan.