** STILL AVAILABLE**
Selling my generation 1 Dutch Army Sting rucksack and side pouches in DPM.
This is the dutch army lowe-alpine licensed copy made by Awry (supplier to the dutch army), so while not genuine Lowe Alpine, is still built to a high quality and standard, and is basically the same as the lowe alpine item. It is about 50 to 55litres in the main body, and each pouch is probably 10 litres. Has a great back adjsutment system - i find the lowe alpine APS system very comfortable as it can be adjusted nicely for your actual abck length
Selling because i have found an olive version so this is now surplus to my requirements (and the wife says '1 bag in = 1 bag out') and this just wont get used.
Good points:
- all zips, grab handles, straps and buckles are fully working and intact.
- all pockets and pouches are intact and in good order, no seams fraying etc.
- all adjustments work fine
- elastic round the lid is still 'elastic' and not baggy
- the main bag is intact, and all the padding on the straps is in good order
- the snowlock is intact
- the water bladder pouch is intact
- there are the straps for making the rocket pouches into a small day pack
- the side pouches have their external straps intact (these are often cut off apparently)
So, negative points now for full disclosure.
- This is an army surplus bag so has some wear, nothing that detracts from the use or function and has had 2 minor repairs in the past before it came into my ownership - 1 small hole on the base approx 5mm diameter has been sewn up, and one slightly larger tear on the main sack that has also been sewn up - these have been done to a good standard so presumably while it was still in service
- the colours of the main bag are quite good in general, but the 2 pouches are slightly faded
- there are 4 bar tacked areas by the flaps for the zips but i dont know what these are for, they were there when i got the bag
- there is no sternum strap, there wasnt when i got it but i dont use one anyway. One could be retrofitted i guess if you want
- there is some very faint writing under the area covered by the top flap, faint enough i dont know what it says - probably the owners name in service.
I made some modifications to it when it got it, in the form of 3 velcro fields - a larger one on the top flap (50mm wide velcro) and 2 smaller fields on each pouch - i used the fields on the pouches to label the contents (FAK etc) and the top flap area for some de riguer morale patches. I also added velcro strap tidies to each strap
Otherwise good honest pack, big enough for longer trips but with out the pouches is a decent enough size to use for shorter days out etc.
I would like £55 + £1.95 paypal fees (so total of £56.95 INC postage if paying by paypal). Happy to post it but NOT via hermes. I am also happy if anyone wants to inspect and pay cash in person, although would have to be an outdoors meet. I live near Haywards Heath in Sussex, and work in Redhill, Surrey and am happy to meet around those areas.
Photos. I am happy to take any extra photos anyone might require.
Bag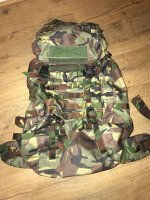 Strap tidies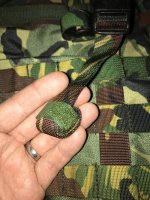 Velcro field on top flap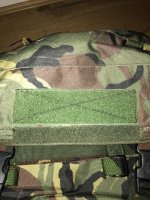 side of bag, other side is the same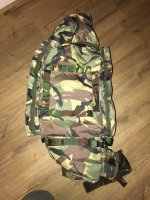 top flap elastic intact all the way round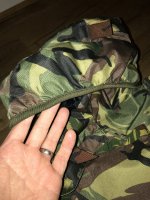 base of bag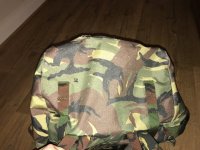 inside is intact, as is snowlock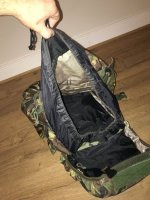 small area of writing, no idea what it says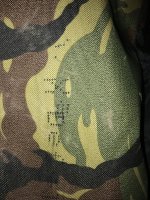 repair 1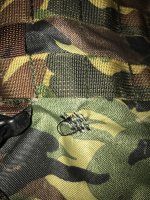 repair 2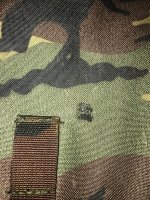 Any question or for further photos please PM me or reply here
thanks
Ed
Last edited: