Hornets are my favourite insects. Got up early this morning to go over Kinver looking for a nest. Took Paul Ks book so I could relax by the river and read it later on the way back. But I forgot it as mom was taking forever to dry my trousers and in the end I just wore them damp, but that was OK as they dried quickly. But I forgot my book. And my Wookey Hole cheese too, which caused a whole load of disgruntlements in me when I found out.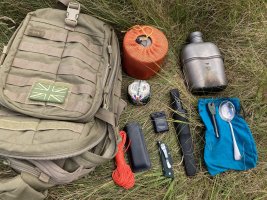 I still had a pork pie and a chicken on a stick. Had to eat that before I took the photo though. I have a solo stove to make pine or nettle tea later. And I keep honey in my first aid kit. I can't remember why, but dad reckons it's good for something apart from eating. I like that in tea.
I didn't even see one hornet, which was rubbish. But saw a spawk and loads of deer. And found this feather which I think is a tawny owls wing feather. Yeah?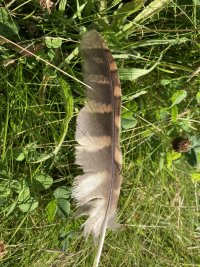 pulled up loads of Himalayan balsam on the way back and made a real mess but it's better out than in.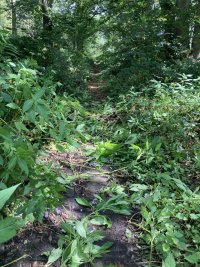 Tomorrow I will remember all my stuff and find some hornets. But my cheese got eaten.
Last edited: