I stumbled upon a bit of a 'who dunnit' yesterday - a roe carcass on the shore of Coniston Water. Now, I have a theory, but I'd like to get the opinions of the board before I expound on it. There are links below to some of the pics I took, I'm not going to embed them in the thread as these can sometimes show in the 'New Posts' and 'What's new?' sections above, as well as on Tapatalk feeds.
If you're not offended by such stuff, continue below:
The carcass has been partially consumed and the majority of the internal organs are missing. It is headless, but the rest of the carcass appears intact excepting that which has been eaten. There are obvious marks where the neck has been gnawed/chewed. There were some insects, but no obvious larvae. I had a brief search for the missing part of the carcass, but couldn't find anything obvious. Some corvids were putting up a heck of a racket in the trees a bit away, I'd guess within 100 yards, but with my wife and 3 year old daughter in the canoe with me, I didn't have time to go tramping off looking for it. By the noise the birds were making, I'd say they were squabbling over something so it's not a bad guess it was the missing part(s) of the carcass.
My daughter and I paddled round the same section of Coniston water the day before at approx. 16:45h, there were other people in boats and a couple sun bathing on the shore about 50 yards from where I found the carcass - so the time frame is some time in the 12 hours after that, any later than 12 hours I think is unlikely due to the state of the carcass and this being a pretty busy area during the day.
Location:
Just North of Low Peel Near, East shore of Coniston Water - Google Earth screenshot below.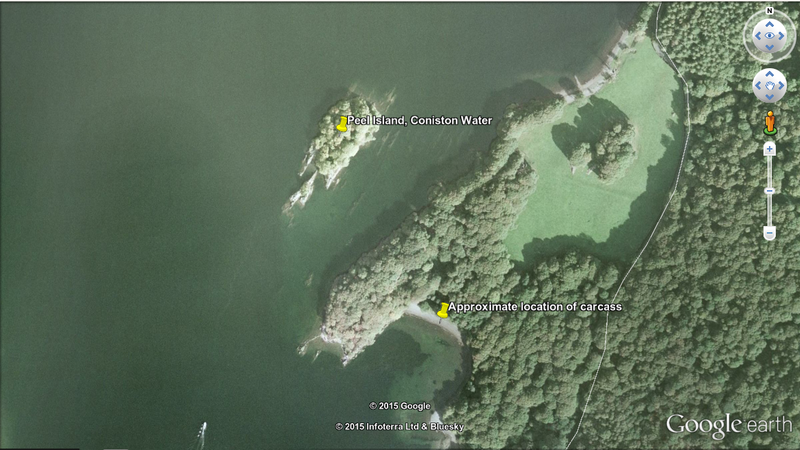 Carcass pic1
Carcass pic2
Carcass pic3
Carcass pic4
Detail of distance of carcass from the waterline
Nearby scat (less than 5m) - possible scavenger?
Go on then... let's hear your thoughts?