Review by Lucas Payton
Hammocking is becoming a very popular alternative to using a tent for camping.
The appeal comes from the ability to easily find a place to set up camp in areas where no flat ground is available and the secondary use as a place to "hang-out", socialise and relax during the day without worrying about sitting on the wet ground and being safely away from any creepy crawlies who may be wandering around. When combined with a tarpaulin a dry, spacious shelter can be made.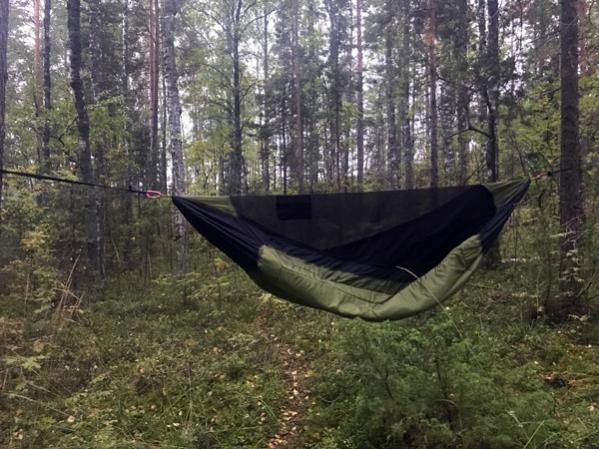 Manufacturer description
Full size hammock with integrated bug net (mosquito, midge and fly proof). This model has a fully integrated bottom insulation (pat. pend.) and does not require any additional underquilts. This is our flagship model with all components integrated into one, easy to set up package.
You will need some form of top insulation in the shape of a blanket or sleeping bag. Down to +10C sleeping bag can be used unzipped like a duvet, when you get close to the +5C limit it's best to zip it up to preserve the heat.Temperature rating of this hammock can be further extended by using conventional under quilt, lining hammock with blanket etc.
Netting can be stored at the foot end using shock cord loop installed in the hood. Comes with a loose storage bag for long term storage. Like all other hammocks, a suitable tarp (min 3m long) is required to protect from the elements.
XL:
Temperature rated down to +5C.
Weight: 1580g hammock + 280g suspension (carabiners – 80g + Tapes – 200g), compresses down to 14 litres.
Size: 3.3m (11ft) long body, 274cm ridgeline, 290cm from carabiner to carabiner. Fits people up to 200cm height.
120kg recommended weight limit.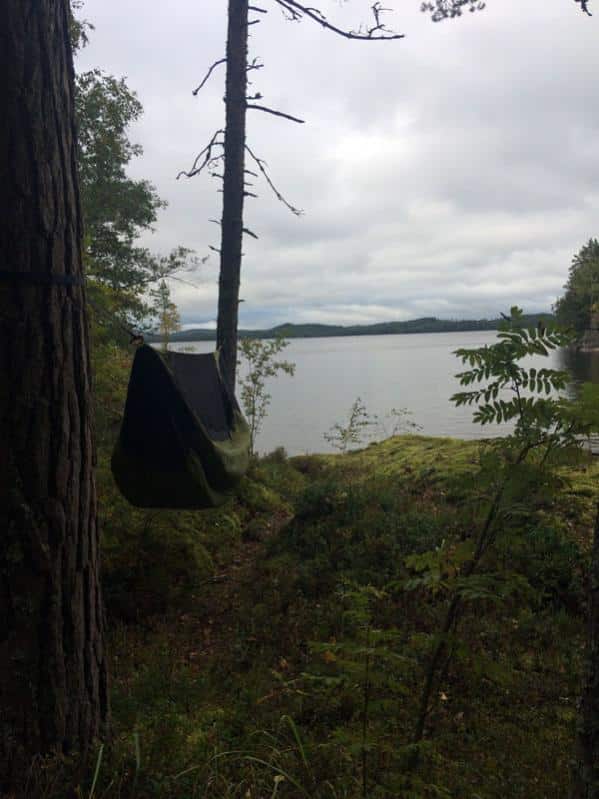 The following is a practical experience review of the MKII XL Hiker hammock from EasyHammock (henceforth referred to as Hiker in this review). The review took place recently in Finland (Sept 2017) on a Forest Knights expedition with weather varying from very wet and windy to calm and slightly sunny. My set-up of the hammock used the included suspension straps and a DD 4x4m tarp with a lamina 20F sleeping bag. The large length of the XL Hiker means that a large tarp or a diamond configuration is needed to keep rain off the ends.
Having had an opportunity to talk to the owner at the 2017 Bushmoot earlier in the year I had a good idea of the product that would be delivered; an all in one hammock system. When it arrived I was pleasantly surprised by the improvements made to the insulation (development of a flat underquilt), and extremely pleased with the quality of the materials and fabrication.
Space in the XL Hiker is certainly not an issue. Whilst I am only 6ft tall I chose the larger model after discussing with the maker about how "If you spend a lot of time in the hammock (not only sleeping) XL will allow you to do some "yoga" without the risk of a cold knee or elbow." and the slightly heavier weight was not an issue for me.
In my opinion its good, very good. Warm; (provided you use a suitable sleeping bag) at decently low temperatures, comfortable; as you swing calmly over sharp rocks and branches and easy to set up even after a day of paddling as you only have to tie two knots into the carabiners. (four knots if you count the required tarp). The ridgeline being integrated into the Hiker makes set-up incredibly easy as one does not have to worry about "bananaing" (the act of shaping into a banana), as it self-tensions when one lays in it.
While other members of the expedition team reported being cold or uncomfortable during the night I experienced no such problems. At +5 degrees the Hiker is comfortably warm with no cold spots and no temperature drop through the night enough to wake me.
The suspension straps have a stitched loop in one end and a loose tail, allowing for any number of suitable knots to be tied onto the included carabiners with the other end looped around a sturdy tree. Due to the testing location being in Finland with an abundance of trees finding two suitable was not an issue for myself, however, the included straps could prove to be limiting due to their length if hanging points were scarce.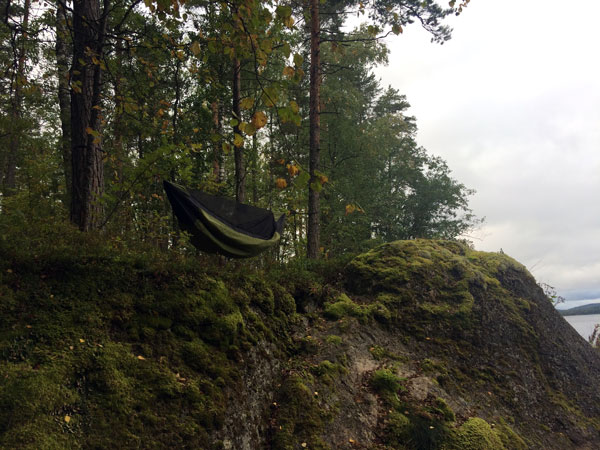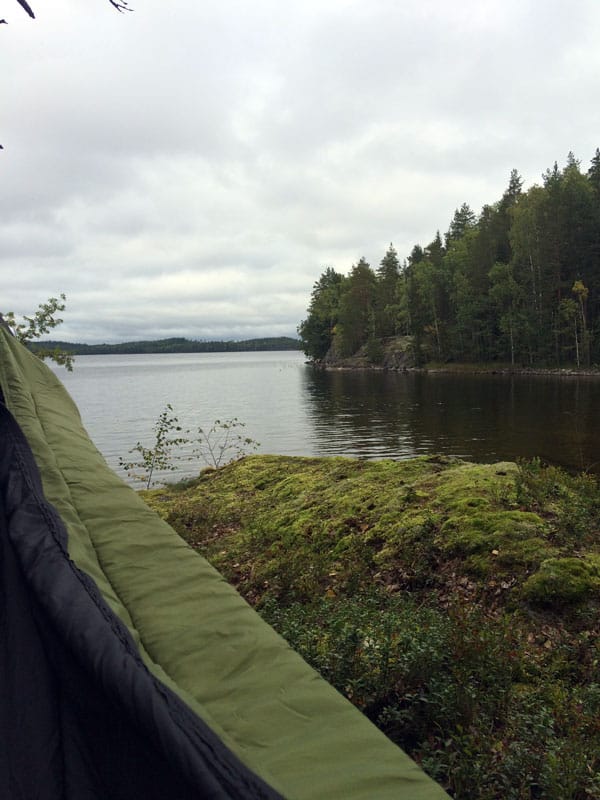 Conclusion
If you're looking for an almost all-in-one hammock set-up (still need a tarp) the EasyHammock Hiker is a very good choice. Meeting all of my expectations I would definitely recommend it to anyone who was looking for a comfortable experience. However, if one was searching for an ultralight backpacking hammock, you're facing in the wrong direction as the large pack size (14 litres) and weight of 1.58kg would I imagine prove to be a little heavy for some
Fit for purpose 5/5
Versatility 4/5
Durability 4/5
Value for money 4/5 £160 for the XL model reviewed
Overall 4/5
For more information visit:   Easy Hammock