Hey,
Thought you'd enjoy this little beauty that I finished today, nice palm sized belt knife or neck knife.
80crv2 at 59-60 Rockwell
G10 coarse peel ply with orange liners
Custom Raven (Huggin) etch
Full flat grind with 17 degree per side secondary bevel
Black torx fasteners
lovely little knife to use and just a "handy" size for little jobs.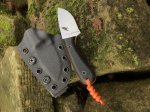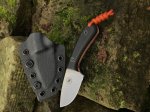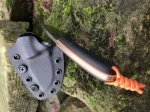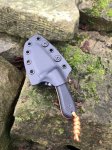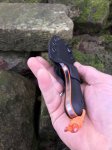 Hope you enjoyed the pics.
Luke