Good Morning All,
I'm having a bit of a clear out and have this Webley Hurricane up for grabs. It's all in good working order and is quite a fun plinker which is surprisingly accurate.
Comes with:
DPM pistol holster,
Tin of pellets,
.22 pull through (Boresnake)
£90 all in.
Please don't be offended if I ask for age verification.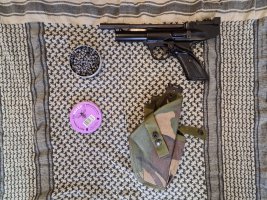 Last edited: