Whilst family camping recently, we needed somewhere to hang coats, rubbish bags, jumpers and so on.
It annoys me to have rubbish bags on the floor as they're just a bit of a faff to use, and keeping things off the floor is always good.
I came up with these tree hooks.
They're probably not original. I've used forked branches before. But I had a hazel log instead and split it down.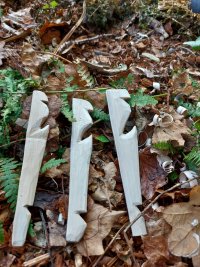 They're a bit rough, not the cleanest carving I've ever done, but I quite like the look of them and they were great fun to carve. I'll probably tidy them up a bit.
They're very strong and you're only limited by the size of the tree you find and the length of cord you've got.
Using your jam knot of choice they're quick and easy to put up and take down too.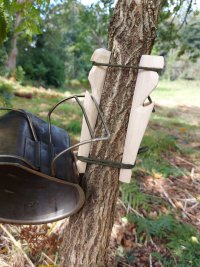 Handy place to dry your mug too!