I see the TBS Bushtool is available for preorder. The larger "Grizzly" version looks to be close to Esee 5 dimensions and price. It's also similar in size to the Fox Bushman which I own and enjoy using. The Bushman has rather specific uses since it's not small enough for fine carving nor long enough for slashing or heavy chopping. What it excels at is lighter chopping/limbing, splitting with a baton and also kitchen work. I find carrying longer knives or hatchets on a belt is pretty annoying so this size is a reasonable compromise.
Any thoughts? Interest? TBS sound pretty excited about this knife and it's quite a departure from their usual range.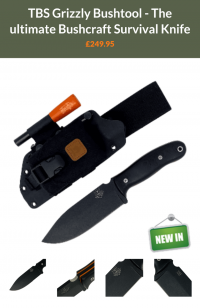 N690co Stainless Steel - 5mm Thick
6" (150mm) length blade
5" (125mm) length handle
11" (275mm) Overall
Black G10 Handle with thong tube and Orange Liners
Multi Carry Kydex Sheath
Front pouch option
High Scandi/Sabre Grind
Firesteel cutout on the spine of the blade
Black Traction coated
Lifetime Guarantee against any defect in manufacturing, material and workmanship.