After rooting through the loft I found an old Swedish smock I bought years ago. Nice light cotton canvas that will be great for a warm summer evening to keep off the bugs.
I've not called it a snow smock as it is green. I believe it is the original colour as the buttons matched (past tense - you will see why) and the military markings have not been erased. It is also an excellent size to wear over just a t-shirt. Not like the later balloon size smocks.
So, a renovation is on the cards. First job was to remove the buttons. They are going to be replaced with a set of small antler ones. Antler buttons in the UK are phenomenally expensive and not always that well made. I bought a set on Etsy from Lithuania. A well established seller...and they are superb!. Same size as the original plastic ones and each one is matched.
De-buttoned smock.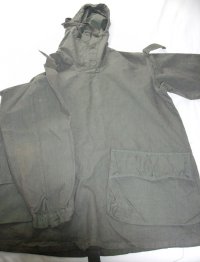 In the course of stripping the buttons, I found the military ink stamp under the pocket flap. I hadn't spotted it before - DATED
1942

The condition of the smock is superb...for almost 80 years old!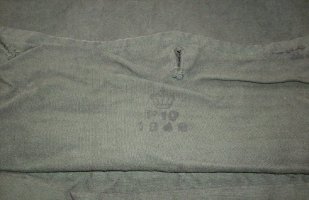 I'll update as I go as the renovation continues.
K