I was thinking it might be nice to have a thread devoted to 'Sheath Kits' or whatever you'd call them. This wouldn't necessarily be limited to comprehensive survival kits, but anything that rides on your knife's sheath. I have a feeling enough of us have unique set-ups that we can all learn a new trick or two. Maybe this thread can even gain sticky status.
Here is a set-up I have been messing around with. I have other little kits that I usually throw in my pack or pockets, like a psk or fishing/trapping kit, so this one isn't intended to be a survival kit. The purpose of this sheath kit was to have a little bit of redundancy for fire or water but mostly some supplies for my little guy to mess with if he's in his construction type mood when we are out and about. Whether he wants to tape sticks together and pretend it's an airplane or learn some new knots and build an improvised shelter... I have some stuff to aid in the MacGyvering.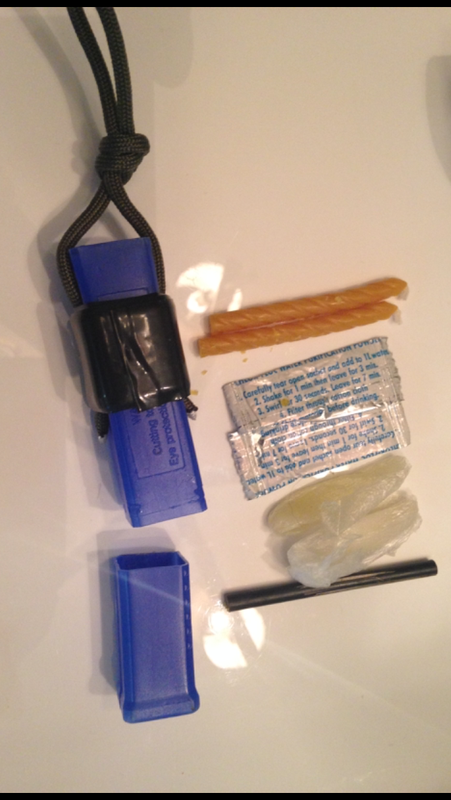 Birthday candle (2)
Water purification tabs (2)
PJ cotton in saran wrap (2)
Lil ferro rod
...stuffed in a little case from a tap and drill
The case is wrapped with a yard or two of electrical tape.
Dental floss
Pencil
Measuring Tape (free from Ikea. Gotta love that)
Scrap paper
A few Nails
Dermasafe folding razor
Wire
Twist ties (heavy)
Sharpener (I dislike the pull through type but this one has a folding diamond rod which I'd use)
Large plastic bag with draw string
Freezer bag - gal. size
550 - few yards
I stuffed a bic in there for good measure.
The compass pouch is attached with zip ties.
Excuse how clean everything is... I just started using the 5 within the last couple of weeks.