For sale as a job lot bundle only:
Mora Companion Robust "30 years of bushcraft" Woodlore edition. Light storage marks on blade, otherwise unused.
Mora spoon knife, right handed version. Very light use carving through lime once. Still has factory sharp edge.
Old Hickory butchers knife. Used but sharp. Small amount of rust from storage. Scuffs on blade.
Marksman Stainless steel slippy. 4 inch blade. Nice strong detent. Used. Has scuffs on blade.
2 x Sharpening stones. Small; approx 3 inches x 2/3 inches. As new.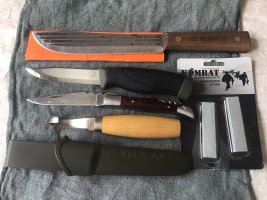 £50 net to me via PayPal. Includes delivery.
Over 18s, U.K. postage only
Last edited: