These have worked out a treat, so thought I'd share the recipe.
First up, brown off the meat to go in the slow cooker (there are pheasant legs, breasts and a partridge here, I dare say any game bird, rabbit squirrel pigeon would work)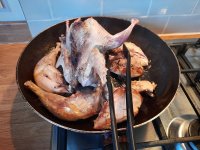 Then deglaze the pan with green ginger wine, I used about 1/3 of the bottle here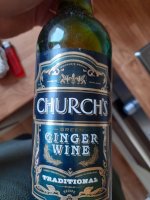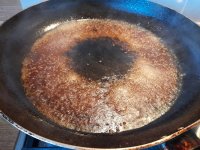 Then shove the lot in the slow cooker. I also fried off some chestnut mushrooms and popped them in the slow cooker. I used a pack but 2 would still have worked well if you want to bulk it out. I added chicken stock cubes and water to the slow cooker, and cooked on high for about 10 hours.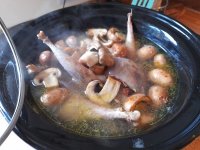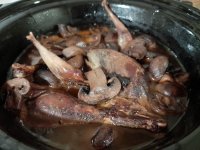 Using a colander I drained the juices into a bowl, removed all the meat from the bones and saved all the mushrooms. Throw the lot in a pan and reduce down until it almost burns on the pan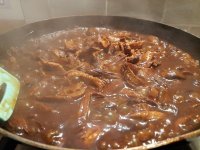 Let it cool, pop into puff pastry pockets and egg wash. 30 mins at 190 for these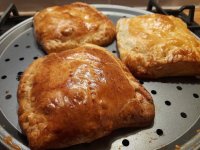 They are bloomin yum.