Just a small thing but something I've been meaning to do for a while which was to make some coils of waxed thin natural cord tapers. I found a roll of about 1.5 or 2 mm jute string under the work bench and had a double boiler with a vouple of pounds of freebie beeswax so thought why not? Hemp would probably be better, the tiny rolls you get in head shops made by Raw are hemp/linen, but jute is what I had.
Simply I ran the cord through the molten wax slowly enough for it soak all the way through and pulled it through a rag to make it smooth then coiled it up tight and squished them together. To use just pull the loose end up at about 70 degrees and light, pulling out more as required.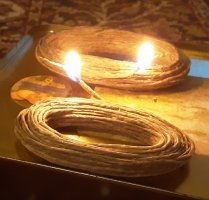 I tried double dipping the roll the front but it doesn't seam to have made any difference In burn time or brightness.
When I get some thicker wick I'll try to make a bottle light like I saw in a book on American Civil War material culture. It looked like a thick parafin n wax taper coiled in a single, layer around around a labelless wine bottle. The top end was pulled away from the bottle and lit and more pulled out as it burned down. I'll Inflict a pic on you when it's done. May dig out a old beer bottle...
AtB
Tom
Last edited: