Now that was marketing gone awry.

I agree that the hole is a shame, but was unavoidable for Spyderco. There are a number of things I think are legitimate criticisms of the knife in design or construction, at least in hind sight. I am sorry you have your objections. If you are going to object to the design not being evolved, not a working tool, just a marketing opportunity or a copy of another design, you should lay that at my door, not at Sal's or Spyderco's.
Their kitchen knives don't have holes, so it wasn't unavoidable, it was a marketing choice. Incidently, I have one of the blue handled kitchen knives. Sal sent out a few to BB members to try out. There wasn't any comment on them at all from anyone because we were all so shocked at how awful they were. A serrated chisel grind doesn't cut veg or anything very accurately. Their strength lies in pocket folders.
If you'd like it sent over, you're very welcome to try it out.
Here are some pics of the lovely PITS knife. Made from steel scraps and Harris tweed micarta it was one of 4 he made from workshop leftovers and is just lovely.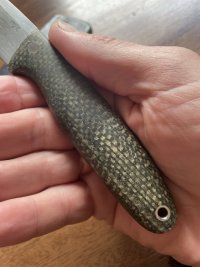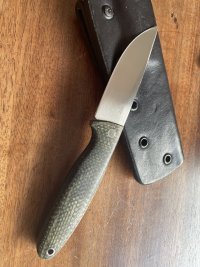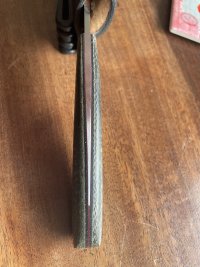 Last edited: