Having been hefting a few bushcraft type knives lately, I was wondering what folk here like in the way of knife weight? Lets stick to stuff with a 4inch blade, obviously there are benefits to lighter as you go smaller, and heavier if you go bigger, but at 4 inches its not a chopper and not really a compact neck knife.
At one of the weight (yeah, I know its really mass) end you have stuff with thin hidden tangs and moulded plastic, natural birch, stacked leather or stacked birch bark. Maybe with full flat or high grinds in sub-1/8th inch stock. At the other, you have full un-tapered tangs with stabilised wood, Micarta or heaviest of all, G10.
Let's ignore the sheath options.
What do your favourite knives weigh, how do you feel about knife weight, how much of a factor is it in what you like to use or carry?
Spyderco Bushcraft, 3.5mm full flat tang, fat G10 handle = 221g.
Spyderco Bushcraft, 3.5mm full flat tang, fat stabilised wood handle = 166g.
Spyderco Proficient, 3.5mm full flat tang, high flat grind, fat carbon fibre handle = 179g.
Lionsteel B41, 3.8mm full flat tang, high sabre grind, G10 scales = 191g
Benchmade Puukko, 3.5mm wide hidden tang, high sabre grind, rubber handle = 128g
Mora, 2.5mm hidden tang, Scandi, rubber and plastic handle = 82g
My own knife, 3mm wide hidden tang, full fat grind, Micarta handle = 142g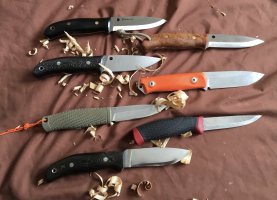 For me, knives start to feel a bit too heavy once they pass about 170g, especially if the balance point is fully back on my middle finger. Working with them heavier isn't a problem, but I am a lot less keen on adding them as pack-weight if I have to go somewhere and carry them. The Mora is great for pack weight, but feels a bit too light in hand when I am working.
I reckon my sweet spot is in the 120-150g range.
Chris