@Van-Wild

I've seen some of the long back Bergens for somewhere around £30, but then I am tempted by the smaller Dutch pack, seen one for £60. I need a few other bits so I'd rather keep lower prices lower where I can.
The Dutch army Lowe Alpine Sting is an awesome pack. Just checked the bay and there's quite a few on there for about 60 quid. The back support system is waaaay better than the PLCE bergan.
As others have said, take a look at the Berghaus Cyclops Roc. Similar to the PLCE but comes with different size frames to suit your height. If youre in the market for mammoth sized rucksack and you like the idea of an external frame, id really recommend the US Army Alice Pack. Those things really are bullet proof and have been in use since the 70s. The external frame may initially feel a little cumbersome, but its all about getting it to sit right on your back. Biggest plus with the external frame is the air gap, so no sweaty shirt soaked and stuck to your back.......
U S Large Alice Pack with Lightweight FrameOriginal United States Alice Packs, designed and developed in the 1970's as part of the the U.S ALICE system (All-Purpose Lightweight Individual Carrying Equipment). This backpack functioned in the United States military for around 3 decades. The bags...
www.goarmy.co.uk
Or....... if you like the look of the Berghaus Cyclops Roc or the Vulcan, take a look at the German army mountain rucksack (the modern type, not the old canvas version!). These are almost identical in look and build quality to a Berghuas Vulcan but slightly smaller.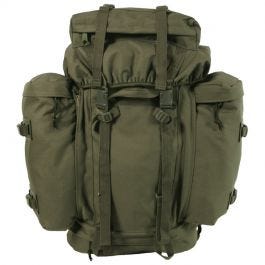 Olive German Army Mountain Bergen 80L is available now at the UK based Military 1st online store. We offer a huge collection of hiking rucksacks and tactical backpacks. Shipping across Europe.

www.military1st.co.uk
Sent from my SM-G970F using Tapatalk