Apr 16, 2003
23,107
1
1,191
51
We've got a number of these in stock and I've had a few people ask me about knives and a few other things as they've not been able to get to a Moot this year where they would usually stock up.
To purchase a Hultafors Outdoor knife with Firesteel you can Click on the Buy Now button in the side bar, email
info@bushcraftuk.com
so we can make arrangements or pay via Paypal to
shop@bushcraftuk.com
(please include your address, name and OK4 in the description)
The price is £27 including postage to the UK -
Please contact me for prices to Europe and the US
Outdoor Knife OK4​
Heavy duty outdoor knife with friction grip.
The cutting edge of OK4 has a Scandinavian grind for ultimate long-lasting sharpness and is also easy to re-sharpen. Thanks to the 82 mm tang inside the handle, both knives are suitable for batoning. The grinded spine of the blade is designe for starting a fire with fire steel. To withstand rust and corrosion, the blade has a protective electrophoretic deposition coating (EDP), as well as an engraved scale. OK4 has a holster that is equipped with a fire steel holder.
THE CUTTING EDGE HAS A SCANDI GRIND FOR SUPERIOR SHARPNESS AND IS EASY TO RESHARPEN. A PROTECTIVE ELECTROPHORETIC DEPOSITION COATING (EPD) FOR BEST RUST PROTECTION.

THE HANDLE IS MADE FROM SUPER-DURABLE PP PLASTIC AND FITTED WITH A SANTOPRENE FRICTION GRIP. A LONG TANG MAKES THE KNIFE VERY DURABLE.

THE TEXTILE BELT LOOP ALLOWS UP TO 80MM WIDE BELTS AND IS EQUIPPED WITH A POCKET FOR A FIRE STARTER. IT IS ALSO DETACHABLE IF YOU WANT TO ATTACH THE HOLSTER TO THE BUTTON ON YOUR WORK CLOTHES.

GRINDED SPINE FOR USE OF A FIRE STARTER AND THE SCALE ENGRAVED ON BLADE IS OPTIMIZED FOR OUTDOOR USAGE.
Images of the Firesteel
8mm thick, 76mm long steel, 108mm total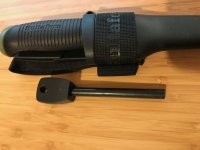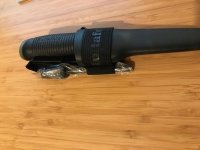 Last edited: