Evening, Anyone still making Flint Tools?, As I'm looking for 1 like this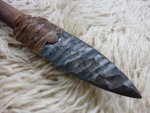 Ignore the Haft, I'm trying to get 1 with about a 2 1/4'' Double Edge that's 3 1/2'' Total length.
I've made Arrow Heads and Flat Backed / Non-sharpened Blades & axe's and the like, But I'm struggling to make 1 like the above Pic.
Soz if this post is in the wrong place.
Cheer's