Useful bits for someone. The titanium cutlery is Used but hey, it's titanium and will outlast us all.
Unused Large Light My Fire Spork. Unused. £6
Sea to summit knife and spoon £6 SOLD
MSR Ti Tool spoon. Tenner SOLD
Snowpeak Ti Spoon £9 SOLD
Folding Ti knife. Fiver
Aluminum German Army folding spork. New. FIVER SOLD
Bamboo mini spork. Unused. Fiver
Second photo:
LMF Large.Firesteel A few test strikes on both. Fiver each.
Zippo Fire Starter Striker and tinder. TENNER SOLD
Magnesium and Ferro rod. Fiver
Unused Scout style rid with striker. Fiver
Military survuval rod with mini saw striker. Fiver.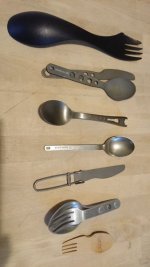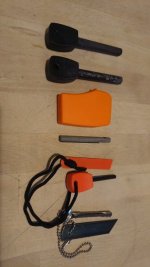 Last edited: