Jandao Chase Star 200lb recurve crossbow - clone of Excalibur Equinox, Excal's top-end recurve only with 200lb limbs instead of 225lb.
Purchased 7/11/12 (receipt still in the box), in shop-shelf condition and it's magic, a real powerhouse of a crossbow and as accurate as anything I've fired but...... the boss has put her foot down after I bought myself a new toy that I can't put down (American flatbow).
Ambidextrous thumbhole stock with soft-touch finish realtree camo - not a mark on it. QD swivel mounting points fitted as standard.
CNC machined aircraft-aluminium riser.
Comes with:
x 12 20" aluminium bolts - 8 with target tips, 4 with field (bullet) tips, half-moon nocks. Bow will perform to it's full potential with any carbon flat-backed or half-moon nock bolts - I fired a couple of Easton carbon's from this and they were superb.
Under-bow 4 bolt quiver (detachable and adjustable for left/right handed use).
Hawke RD 1x30 Realtree APG dedicated crossbow red dot (x3 aim points for 20, 30 & 40 yards) - brand new, boxed but fitted to bow for the pics.
Spare Dacron string.
Cocking aid (200lb by hand is doable but with the cocking aid it's a cinch!)
Stringing aid.
Peep/open sights.
Dedicated heavy-duty, padded Cordura carry bag.
String/serving wax.
Bog-standard xbow scope that came with the bow but, TBH, it's pretty basic hence my purchase of the Hawke.
I put this through a Scan chrono and it's doing 310 fps with bog-standard aluminium bolts and the standard Dacron string; get some decent carbons and stick a Flemish string on it and you're talking 340-350 fps - that's around 80+ ft/lb depending on the weight of arrow & type of head used.
I've shot this around 50 times, it's
never
been dry-fired so limbs are in tip-top condition and bedded in nicely.
Compatible with ALL Excalibur add-ons shown
here
plus a whole lot of other after-market xbow goodies.
The whole package cost me over £400 - yours for £275, that includes insured post but open to sensible offers. 175lb version currently retailing for £284 in Merlin Archery, £250 at Bowsports but with none of the extra goodies I'm offering
Usual methods of payment accepted.
Unbiased review of 225lb version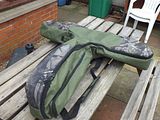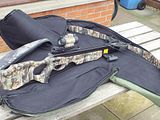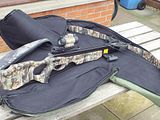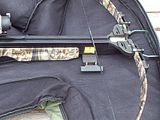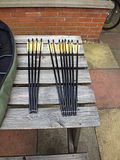 Last edited: